Rich's Home Exteriors, LLC.
150 Saratoga Road
South Glens Falls
,
NY
12803
Last Updated: August 10, 2017
| | |
| --- | --- |
| Sunday | Closed |
| Monday | |
| Tuesday | |
| Wednesday | |
| Thursday | |
| Friday | |
| Saturday | By Appt. Only |
Holiday hours: Closed all major holidays
Special hours: Monday and Friday evenings by appointment only!
About Rich's Home Exteriors, LLC.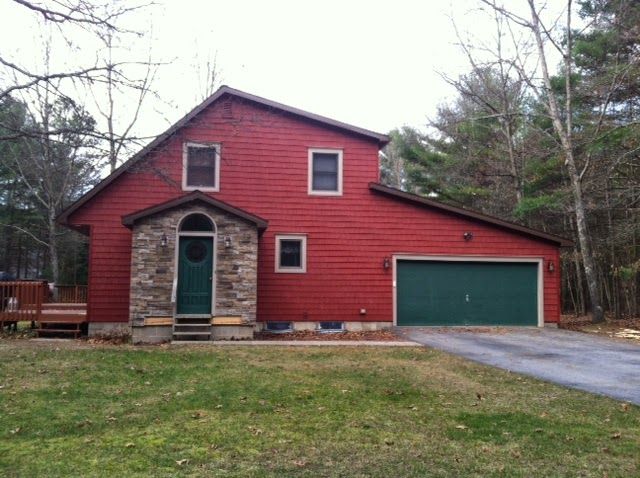 Rich's Home Exteriors, LLC. proudly services Glens Falls and the surrounding communities within a 40-mile radius by providing exceptional customer service. Family owned and locally operated, our company started in 1950 as Rich Aluminum. We changed our name to Rich's Home Exteriors, LLC. in 1997, but we didn't change our values or focus on customer satisfaction.
Our president, Cindy Rich, and vice president, Robin Bosford, are committed to servicing the Warren, Washington and Saratoga counties of upstate New York. With 65 years of total experience, we are specialists in residential siding, roofing, gutters, insulation on roofs, decks, custom doors and replacement windows. A main specialty of ours is maintenance-free house exteriors!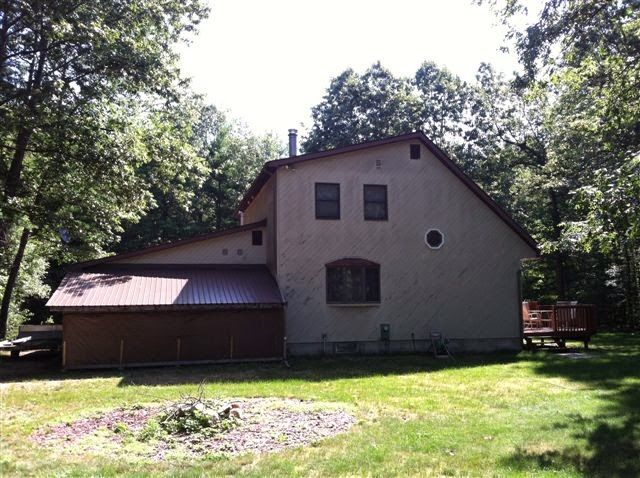 At Rich's Home Exteriors, LLC., we service and certify all of our workmanship for five additional years to the manufacturer's warranties. All of our employees are fully insured payroll employees because we do not utilize subcontractors. We even have our own custom gutter machine that makes and produces gutters of any length in 34 different colors.
In addition to being Better Business Bureau accredited, we are distinguished as a Certified GAF Master Elite Certified contractor. Only 2 percent of every 100 contractors nationwide qualifies to be considered for the Master Elite status. We are proud to be in that elite and prestigious 2 percent!
All of our roofs are factory inspected because the greenest thing you can do for the environment is to buy something that will not have to be replaced! We are fully insured with liability and workers compensation. Insurance certificates are available upon request.
Conveniently located at 150 Saratoga Road South in Glens Falls, we can be contacted at (518) 792-9000 to inquire about our free estimates or to ask about our lifetime roofing, siding, windows and doors! To also find our more information about our vinyl siding, roofing, replacement windows and doors or service and repair, you can visit our website at: www.richshomeexteriors.com. You also can email us at: crich@capital.net.
When it comes to roofing, we can take care of asphalt shingles, rubber roofing and metal roofing.
With doors and windows, we can handle fiberglass doors, steel doors, storm doors, patio doors, vinyl replacement windows and storm windows.
Rich's Home Exteriors, LLC. offers a wide variety of models, styles and types with each of our product lines.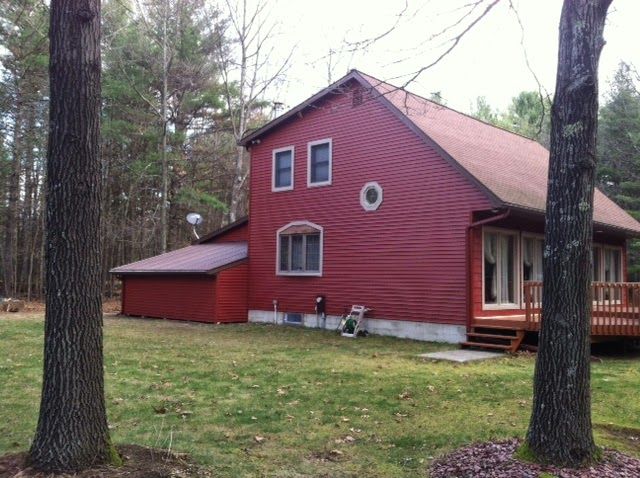 Service & Repair Department
Due to customer demand, our service and repair department has now expanded to offer more than ever!
Air Conditioners
Remove, clean and wrap for winter storage.
Gutters
• Clean gutters.
• Install gutter covers.
• Check to make sure water flows away from the house.
• Replace any broken or missing parts.
Roof
• Inspect roof deck for weak spots.
• Check for missing and loose shingles.
• Clean vent stacks of debris, bird nests and leaves.
Windows & Doors
• Remove, clean, wrap and label screens for winter storage.
• Repair torn screens before storage.
• Check for broken glass, rotted wood and proper operation of windows.
• Check for missing and broken hardware.
• Caulk interior and exterior of windows as needed to prevent air leaks.
• Check weather stripping and door sweep on doors.
• Check house and storm door for proper sealing.
• Install storm panels in storm doors.
• Clean cellar window wells of debris.
• Check for broken glass, rotted wood and make sure cellar windows are weather tight.
• Install window well covers on cellar windows.
Additional Services
• Frost covers on all faucets.
• Clean and wrap lawn furniture for winter storage.
• Check dryer vents for blockage.
• For security and safety, make sure all exterior lights have fresh bulbs in them.
• Install seasonal decorations and lights.
• Furnish and install custom shrub covers.
Remember that we have a "Just Ask" policy! If you don't see it on our menu, "Just Ask!"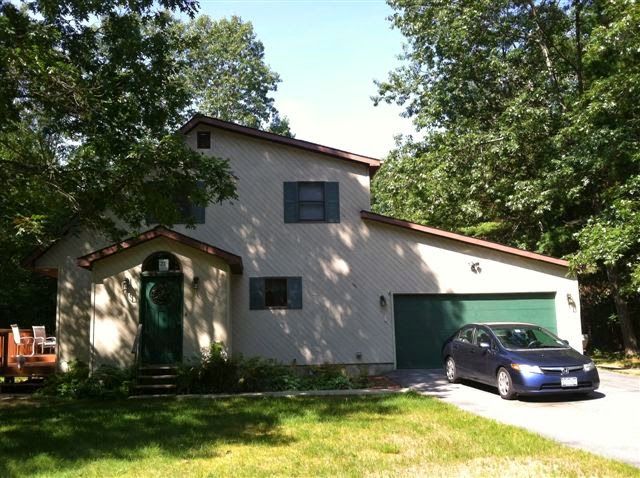 Customer Testimonials
"Had windows and a front door and storm door installed in the past two days and I wanted you to know how impressed I was with your crew. They were personable and professional. They obviously knew exactly what they were doing and did excellent work. They worked right through the day with no break except for a very short lunch. I could not ask for better results and I feel you are lucky to have three such good workers. I am having vinyl siding put on by you and if the siders are as good as these installers I will be more than happy. Thanks for the good job."
Harry Page
Bolton Landing
"Wow! I drive right by my house now, what a change!
I just want to tell you & your crews how happy I am, as well as Mom, with the job your company did on Mom's house!
From our initial consult with you and Rich, we could tell that your company was different from all the rest. You two are tops!
Your competitors came into the house, and gave us sales pitches.
When you and Rich came in, you treated us like old friends. It was so comfortable sitting with you and discussing what we wanted, what our vision for the was.
You LISTENED!!!!!!!! You didn't tell us what we wanted, like the other companies. The suggestions you gave us were in the form of, well I see where you are going, but what about this? Never forced any ideas on us, or never made us feel like we weren't up to date on the newest technologies of your business.
I can not begin to tell you how IMPRESSED we were with the professionalism of the roofing, windows & construction, and siding crews. They were like members of our family! Courteous, friendly, bent over backwards to facilitate anything we asked. Never said no to anything! They gave me a new house! New roof, windows, doors, siding, repaired the porch, BEAUTIFUL!
Please pass along to your crews our THANKS and APPRECIATION.
They are all more than craftsmen, they are ARTISTS!
Finally, I cannot believe the phone call I received from your company this morning. I had over paid, and Rich Aluminum is sending me a check. Are you for real!!!!????!!!!!! I'm sure there are some companies who wouldn't have said a thing.
I will ALWAYS recommend your company to anyone who has building concerns!
A hometown company with hometown pride, you're the BEST!"
THANK YOU ALL!!!!!!!!!!!!!"
Richard & Patricia R.
"Sometime in July my wife and I paid a visit to the Rich Aluminum Inc. showroom. We were greeted by a lady who asked if she could help us. We expressed an interest in getting information on doors and windows. She directed us to the Sales Mgr. who spent quite a bit of time with us, giving information and showing products on display that were of interest to us. We thought about it for a couple of days and called back and gave them the OK to proceed. A gentleman came to our home, brought a contract and took measurements for a job to be completed in app. 4-6 weeks as soon as they received our order from the factory. They contacted us in 6 weeks and made arrangements to arrive on a Monday morning and begin work. They arrived as scheduled, with 2 trucks and 4 men. These men were all pleasant, polite, well groomed, and not a hint of an attitude was present at any time during their visit here. The work performed and the care taken were done in a professional manner. Runners were put down before work started on every phase of the job, and as the runners shifted from walking on, they were constantly moved back in a protective position over our carpet. Clean up was immediate and after each phase.
To sum this up this, was a "Class Act" from start to finish. Everything was done in the time frame given. The pace everything moved would be envious I'm sure to other establishments in this line of work. The quality of the work was first rate. We were very pleased with the quality of the materials and the price. If you are in the market for this kind of a job you should give these people a look."
Jim
Athol, NY
"Thank you for your excellent work.. My daughter loves her new roof!"
Gary W
"Just a note to thank you both on my replacement screens. we have been very pleased with the service and installation by Rich. Keep up the good work."
Ron & Jen O
"Thank you for the fast service. Tell Gorman it is nice that his old rules are still in force."
Russ
"This is a much belated note of thanks to you and your employees for all the work you've done out here in Fort Ann on our house. We are very pleased with the results especially the new dining room door."
Mary M.
"We are pleased with the new windows! Your men did an excellent job. Their workmanship is excellent. Very well done! There were also courteous and left no messes! You can be proud of how they represented your company. We will gladly refer other people to you. We wish you much success."
Chris & Paul W.
"Thank the guys for the whole big job, for all small areas, for going the extra mile to do the added things, for working in the heat of the day, for getting it all done on time for the children being here and for taking care of Artemis, (the dog)! We continually have compliments from those who see it from the road and from the river."
The Renauld Family
"I thank you for the beautiful doors. Your work crew is superb."
Amy & Kathy
"I am very pleased with my new window. The two gentlemen who installed this window left everything very neat and did a very good job with the installation.
Many Thanks,"
Leila
"Sincere thanks to all for the fantastic beautification of our home.
We, believe it or not, thoroughly enjoyed the project itself due to our siders, Jerry and Ron. They couldn't have been more efficient, neat and delightful to be around. Even when weather conditions were nasty, these guys maintained a pleasant demeanor - quite a feat!
With knowledgeable management and staff such as yours, it's no wonder Rich's Home Exteriors, LLC has such a fine reputation.
Sincerely,"
Leslie and John
"This letter is to inform you that after receiving a new roof, new windows and doors, and new siding from Rich Aluminum and Vinyl Siding that our 27 year old home looks "better than new", to quote several of our long-time neighbors. Thank you for giving us everything we expected and much more! Your staff's attention to detail was great.
We picked your company over two other large local contractors because we were looking for accountability and confidence, since our job was very big and expensive. Our decision came after two meetings (and phone conversations) with Cindy and Bryan. You see, we also had meetings with your competition and my wife and l simply felt you meant what you were saying and were willing to be very flexible. By flexible we mean that if we wanted a specific siding or roofing product you could accommodate us. You and your staff not only did that from the early stages, but throughout the entire job. We always felt like we were very special customers.
Each one of your work teams (roofing, windows/doors, and siding) was there to not just do a job, but to solve any problems that came up. There were always consultations with us to tell us what was going to be done and that it was the right way, not the fastest way to do it. Never did we feel like they we rushing the job and possibly be taking shortcuts. The few times "roadblocks" came up it was amazing the amount of concern and communication that took place between the workman, us, and if necessary management.
We are also confident that you will always be there for us down the road and treat any warranty issues that could arise properly.
Please feel free to use my wife and I as references for anyone considering using your services.
Sincerely,"
Gene and April
"I just wanted to let you know how nice and professional the men who worked on our roof were. It was a pleasure having them here & I look forward to having more work done on our home next year."
Thanks,"
Carla
"Sorry to miss you on Friday. We are very pleased with the work done on our roof. The crew worked well, were pleasant and considerate. I'm enclosing a couple of snapshots I took on their last day. The wind and cold temperature made their job tougher, but they did it well and we are grateful!
I would be happy to give you all great references if you ever need them."
Sincerely,"
Tina
"Rich Aluminum recently installed 22 replacement windows at my owner occupied two family house. I own several Apt. houses and over the past few years I have hired many contractors. I have never hired a contractor that was so professional as Rich Aluminum. The installers were professional and considerate. They came on time and while in the house they were always concerned about keeping the house as clean as possible. The installers were friendly and when the job was completed they vacuumed and removed all debris pertaining to the job. The total job took two days as promised. We are very happy with our new windows and have already given Rich Aluminum a deposit to put in 28 replacement windows at one of our other rental properties. I would highly recommend Rich Aluminum to anyone.
Thank you Rich Aluminum, you did a great job!"
Paul
Accepts:

American Express

Cash

Cashier Check

Check

Discover

Insurance

MasterCard

Visa