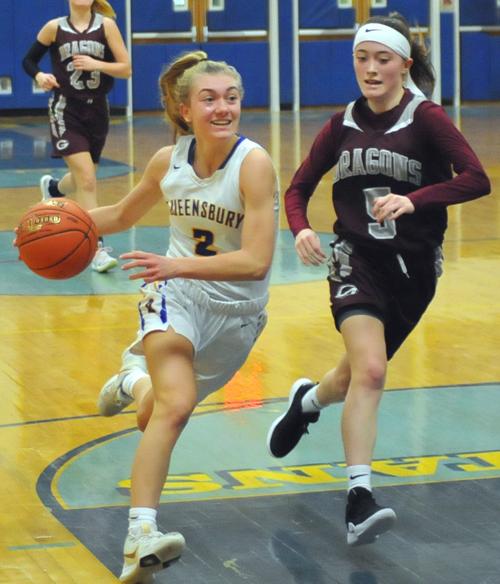 Meghan O'Connor was upset Friday when she heard Gov. Andrew Cuomo announce his decision to close schools across the state for the remainder of the academic year because of the coronavirus pandemic.
That was followed by the New York State Public High School Athletic Association announcing that all 11 of its member sections had canceled all remaining spring sports, including Section II.
O'Connor, a Queensbury senior, had been looking forward to a comeback season in girls lacrosse, after she had missed her junior season with injuries.
O'Connor said she had initially closed herself in her room, but was cheered up later by a Google Meet conference call with her senior teammates and their coaches.
"It was definitely heartbreaking, personally and for all of us seniors," said O'Connor, a three-sport athlete for the Spartans. "I had convinced myself that we had a chance to still play a few games at the end of the year, like late May, June, after we came back. Now, we knew we'd never get the chance to play together as a team again."
NYSPHSAA and Section II had canceled the state and sectional playoffs on Monday because of the shrinking time span to fit them into any potential schedule, if schools were to reopen. Section VIII and XI, the two Long Island sections, had already canceled their spring sports seasons on April 21.
"Many throughout our state were hopeful students would have the chance to participate in high school athletics this spring and return to some sense of normalcy," NYSPHSAA Executive Director Dr. Robert Zayas said in a statement Friday. "Unfortunately, the COVID-19 crisis has taken a toll on many aspects of our lives and high school athletics is one of them."
NYSPHSAA's press release said that association president Paul Harrica would begin selecting representatives for an ad hoc committee to address any potential impact on the fall 2020 interscholastic athletic season.
"Obviously we're living in unprecedented times," Queensbury athletic director Rich Keys said. "We'll yield to the experts in the field, the health professionals that know the best for all of us.
"My heart goes out to our seniors that didn't get that closure at the end of the year," Keys added. "We had a number of teams that had high hopes for this year. Our girls lacrosse team had three Division I signees and were looking forward to making some noise in the postseason, and certainly our hockey team making it to the state final four. For those things to come to an end is extremely disappointing."
"It's hard — you grow up your whole life and you can't wait do to all of those senior things, senior skip day, senior special days, graduation. It's definitely hard that it's all over all of a sudden," said O'Connor, who will play D-I women's lacrosse at the University of Vermont next year.
Keys said he appreciated the measured approach that NYSPHSAA and Section II had taken amid the coronavirus shutdown. When schools initially closed on March 14, the state organization took another nine days before canceling the winter sports championships. NYSPHSAA gathered information for another month before canceling the state spring playoffs.
"We all knew the likelihood was going to be slim that we were going to come back, but they didn't make a rash decision a month and a half ago and shut everything down," Keys said. "They listened to the experts, they gathered information and they based their decisions on the timelines. Right up until today, we still had an opportunity to at least play some games, some league contests. We would have done whatever we had to do to give kids one more chance to play."
Friday's decision ended that hope and no doubt disappointed thousands of student-athletes across the region and the state. Keys said he hopes this will make the Class of 2020 even stronger.
"We teach leadership throughout our program, and this experience is a lesson that they'll be able to carry into the rest of their lives," Keys said. "There's disappointment in athletics all the time and it parallels the real world. I'm confident that our young leaders will rise above this, and this will inspire them to do bigger things in life."
"There's nothing like playing high school sports with people you grew up with," O'Connor said. "Us as a senior group, we told the younger players to play every game like it's your last game, because you never know. None of us thought that last year was going to be our last game."
Follow Pete Tobey on Twitter @PTobeyPSVarsity.
Be the first to know
Get local news delivered to your inbox!