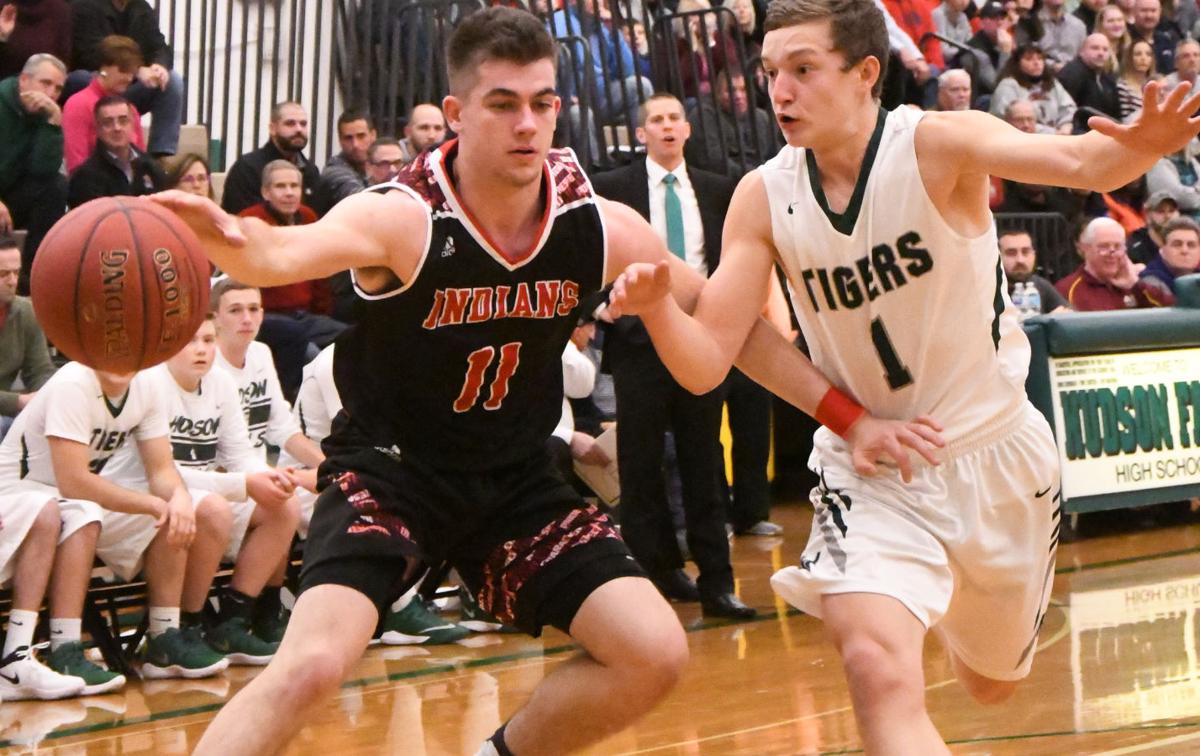 It is playing out like a modern-day storybook.
Hitting the game-winning 3-pointer in his first varsity basketball game as an eighth-grader, breaking his childhood idol's school scoring record, and setting the Section II scoring mark a month later.
Sprinkle in a 2016 state football championship, 17 NCAA Division I scholarship offers — the latest of which from the University of Michigan — and averaging nearly 50 points per game halfway through his junior season at Glens Falls High School, and Joseph Girard III's resume is still growing.
This week, Girard is expected to pass New York state's all-time boys basketball scoring record of 2,946 points, held by current Indiana Pacer Lance Stephenson. Girard should become the first boys basketball player in state history to eclipse 3,000 points shortly after.
After 3,000, there are no more boys state records for Girard to covet. He'll be in uncharted territory, sitting atop every boys New York state basketball player who ever played.
"It is blowing me away," said Doug Kenyon, former director of the state boys basketball championships. "We all knew he was good at an early age, but I don't think anyone thought he would accomplish to date what he has or what he is likely to accomplish in the future."
Girard has scored 2,908 career points, 39 points away from breaking the state record. Glens Falls is 13-2, sit atop the Foothills Council and are ranked 10th in Class B. Girard's next game is Tuesday at Amsterdam High School.
With a year and a half of high school eligibility remaining, it is impossible to predict how high the numbers will climb.
Standing at 6-1, Girard rips opposing teams' hearts out by nailing long-distance 3-pointer after long-distance 3-pointer. He has made more than 400 in his career. His athleticism and ability as a true point guard gets him to the free throw line often. In a recent game against Hudson Falls, Girard went 25 for 25 from the line.
Just how monumental is scoring more than 3,000 points in a career?
Consider Lebron James scored 2,657 points in his high school career. Of course, James went straight to the pros and was the No. 1 pick in the 2003 NBA draft while Girard is still trying to decide what college to play for in 2020. The situations are very different, but the numbers give some perspective.
Girard's totals also top such New York City legends as Stephon Marbury, Sebastian Telfair and soon Lance Stephenson.
To surpass 3,000 points, longevity must intersect with opportunity and skill. Girard stands at that intersection.
The national high school scoring record is 6,702 points scored by Greg Procell of Noble Ebarb High School in Louisiana. He graduated in 1970.
Girard is not even halfway to that mark, but Procell played more than 40 games per season. Depending on playoff seeding, the most games Glens Falls can play in a given season is 26.
When Girard reaches 3,000, he'll join a group of only 100 or so players in American high school basketball history who have scored 3,000 points or more, give or take a few, because it is impossible to find any definitive national high school basketball records.
According to data gathered by The Post-Star, only 18 states have had a boys basketball player eclipse 3,000 career points. Thirty-two players in Kentucky's history have reached that mark, which is the most of any state. A handful of states have seen only one player reach that milestone.
A few Google searches of the first 20 players below Girard on the state's all-time scoring list show that one's position on the list is far from a clear indicator of how successful their basketball career would be after high school. Some went on to stardom, but others never did much beyond high school.
Regardless, 3,000 points is a lot.
Girard is rewriting history with each passing game while shouldering the pressures and criticisms of a massive scorer. But above everything else, he is simply trying to win.
"In our minds, the best way for us to win is for me to go out there and score a lot of points," Girard said. "I'm most effective going out there and facilitating the offense, scoring the ball and finding open guys."
The history
Kenyon remembers watching many of the players Girard passed on the state scoring list when they played in the state tournament at the Civic Center in Glens Falls.
He recalls Christian Laettner, Ben Gordon and Mark Jackson. He'll never forget taping Elton Brand's monstrous ankles, and the size of his gigantic hands.
Or how sweet Brand's family was.
Dominant scorers like Bernard Blunt, who holds the record for most points scored in a tournament game (47); King Rice, who won back-to-back state championships with Binghamton High School; and Felipe Lopez, who graced the cover of Sports Illustrated before even playing a collegiate game, all race through Kenyon's basketball historian-like brain.
Don't forget Glens Falls' own Jimmer Fredette, whom Kenyon refers to as a "dream come true" seeing him play in the state tournament.
Kenyon hasn't missed a tournament since 1981. When comparing Girard to the high school legends who fill Kenyon's bank of memories, he said Girard shares several characteristics with the state's all-time top players.
"Instinctively, he has almost a sixth sense," Kenyon said. "He knows all 360 degrees of his environment. Some great athletes have that, and he definitely does. Along with an uncanny knack for seeing the action and being a step ahead of it."
Bill Wetherbee, longtime public address announcer for the state tournament and editor of the state program for two decades, recalled many of the same great players Kenyon did. He mentioned Adonal Foyle, who scored 92 points in two 1994 state tournament games, and went on to play at Colgate University.
The moment he remembers most, however, is Joel Wincowski's 30-foot game-winning shot that secured the 2015 championship for Lake George.
Talking hoops with Kenyon and Wetherbee is like having coffee with an encyclopedia of New York state basketball history, and both feel Girard is a player they'll continue to buzz about for years to come.
"What he has is the ability to reduce the game to make it look like a simple achievement," Wetherbee said. "Unless you've been out there or watched others and realize how difficult what he is doing is."
The consequences
On Sundays, Girard hits the gym with his father and his cousin, Trent Girard, for a two-hour workout prior to an additional two-hour team practice. During the school week, Girard said he fires up about 200 shots a day and usually stays after practice to shoot free throws.
"It isn't all about just shooting or dribbling a basketball," Girard said. "I also do speed and agility training in the summer and go down to Saratoga Peak Performance to keep up with strength."
Once Girard passes 3,000 points, there will only be one person in New York state high school basketball history who can relate to him.
Caryn Kovatch, formerly Caryn Schoff, scored 3,550 points playing for St. Johnsville High School and won three state championships. She has scored more points than any player, boy or girl, in state history, and her record still stands more than 20 years after she graduated.
"I knew that my role on the team was scorer," Kovatch said. "For me, I just knew I had to keep scoring because I wanted our team to keep winning."
Like Girard, she was a master of scoring three points, but unlike the outside artistry of Girard, Kovatch mastered the three-point play — often making her shot despite being fouled — then sinking the following foul shot.
Kovatch knows what it is like to have a bull's-eye on her back every night. She was a dominant scorer who once won more than 60 games in a row playing alongside her older sister, Wendi. Her father, Phil Schoff, who played basketball at Syracuse University with Jim Boeheim, told his daughters to always strive to dominate.
"My father taught me that you do not do anyone any favors by playing less hard," Kovatch said. "I've carried that over to every other aspect of my life. If you are going to be on a team, put a uniform on and go on the court, then you are going to give it your all."
As a consequence of scoring like she did, Kovatch remembers opposing coaches griping about upcoming matchups, almost begging for her to take it easy on them.
"When you are on the top of your game, wherever you are, whether it's in sports or the corporate world, you are always going to feel that (heat)," Kovatch said. "It is almost an indicator that you are doing something right because there will usually be someone talking."
Just win
Girard's climb to the top of the state's scoring list was forecast going into this season. Barring an injury, he was going to break all these records at some point in his career with the pace he was on.
What no one expected, including the Girards, was how quickly he'd reach these milestones.
"To be averaging 50 points per game after 14 games is not normal," Girard's father, Joe Girard Jr., said. "I think why he is doing it is because we're not thinking about (records), and he's not talking about it. It is all about winning and they are doing that."
For Kovatch, it was never about the points. She was simply hellbent on winning.
Girard is the same way. He never knows how many points he has in the middle of a given game, but the speed and rate at which he is scoring does not sit well with everyone.
Rather than paying attention to the criticisms great scorers shoulder, Kovatch said she hopes Girard is enjoying his historic run.
"I guarantee he sacrifices every summer," Kovatch said. "He is allowed to enjoy all of his hard work through his achievements. So I say shoot it up."
But by checking the comment sections or listening in the bleachers at his games, it is clear some people are sick of Girard and Glens Falls.
There is talk of Girard running up scores or chasing numbers, but he scored 42 points in the first half of a home game against Hudson Falls on Jan. 19, compared to the 16 points he netted in the final 10 minutes before sitting out most of the fourth quarter.
In the same game, a shoving match late in the second half turned into a pile of players, coaches and officials and resulted in a police officer needing medical attention after tempers settled.
Players from both teams were ejected and sat out additional games.
Girard was standing at midcourt when the altercation occurred and did not get involved.
"I don't know why, but some people just like to tear people down," Girard III said. "It could even be Lebron James and there is always going to be something negative to say about him. Certain people don't like others who have worked hard for things and have succeeded because of it. But me, my family and the community know what goes into this."
Criticism comes with the pressure of scoring in the bunches he does. It is a pressure that results in Glens Falls winning games and has immortalized Girard in New York state's basketball history.
As for Girard's basketball story, it is far from over.
"Along with winning comes scoring points," Girard said. "If I was scoring points on a team that was 2-12 rather than 12-2, then it would not really mean anything."
Follow Ellis L. Williams on Twitter @BookofEllis
Be the first to know
Get local news delivered to your inbox!