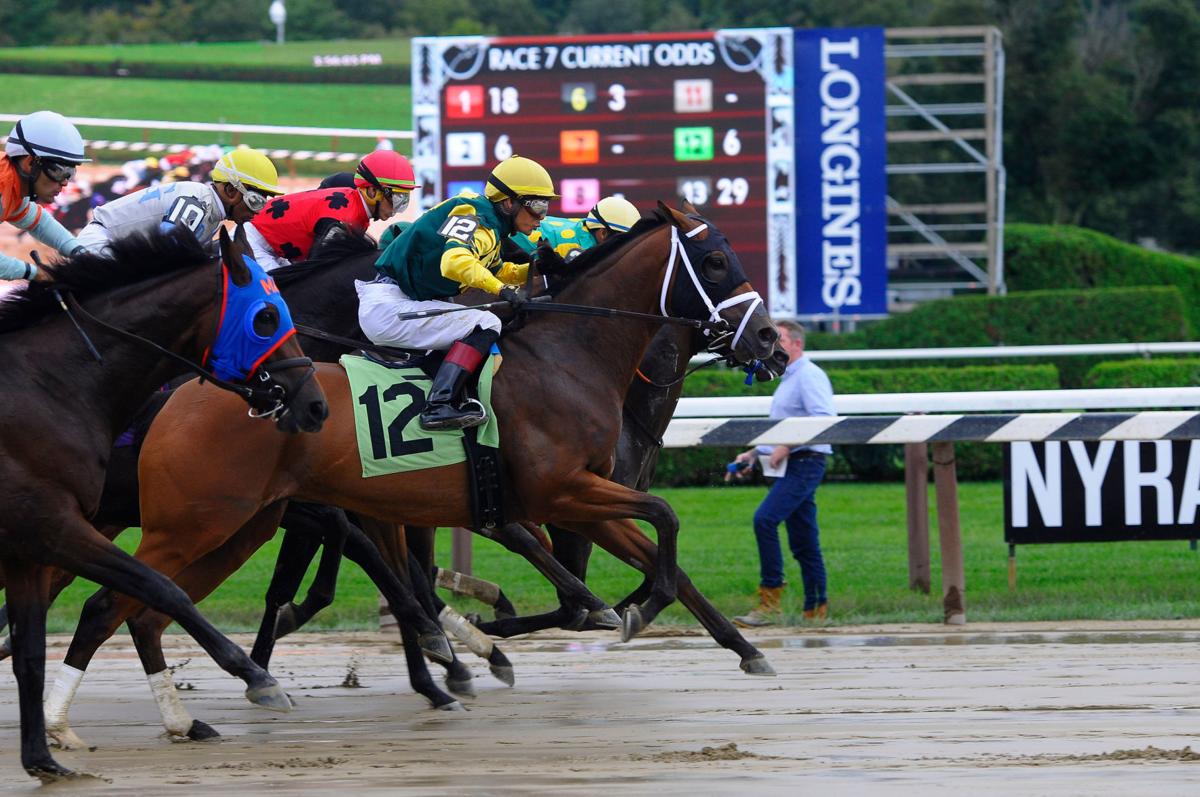 SARATOGA SPRINGS — There was a time that you would only consider Todd Pletcher-trained 2-year-olds, and while he's still to be respected, Steve Asmussen is making a big name for himself with that age group.
He put a nice bow on his 2019 Saratoga Race Course summer meet with a trifecta in the 115th running of the Grade I Hopeful on Monday. Basin won the $350,000, 7-furlong race by 6 ½ lengths ahead of stablemate Shoplifted, who was a neck ahead of stablemate Gozilla, all over a sloppy track.
Basin was Asmussen's eighth 2-year-old winner of the meet. Asmussen finished third in the trainer standings with 14 victories.
Jose Ortiz appropriately rode the winner, for his meet-leading 60th win. It was Ortiz's third Saratoga riding title in four years. He showed why he's consistently going home with riding titles by keeping Basin out of the pace battle up front between Gozilla and American Butterfly.
"I saw them going at it for the lead, and 7 furlongs the first time for these babies, you've got to be careful, and I was," Ortiz said. "I took my time. I could have moved earlier, but I didn't want to. I gave my horse a really nice breather from the half-mile pole to the quarter pole. It was a big difference."
Ortiz, who finished seven wins ahead of brother Irad, said 60 wins wasn't a goal.
"No. But it looks better than 59," he said, chuckling.
As for Asmussen, a member of horse racing's hall of fame, he looked relieved in the winner's circle.
"Those are three very talented horses and hopefully that's the last time they'll run against each other for a while," Asmussen said.
The race lacked some of its star power, as 8-5 morning-line favorite Green Light Go was announced as a late scratch seven minutes before the day's third race. Trainer Jimmy Jerkens will, instead, point his colt to the Champagne at Belmont.
With so many talented 2-year-olds, Asmussen thought experience may have been the difference. It was Basin's third race, and just the second for Shoplifted and Gozilla.
"I think he benefitted from those two races," he said. "I've always been surprised how much speed he showed. Physically and pedigree-wise, we were excited about him running long and we were surprised at how sharp he was the first time he ran."
It's his race
Qurbaan hasn't had a win since the 2018 Bernard Baruch, but he got an excellent ride from Joel Rosario in repeating the feat Monday.
With a dash up the rail in the stretch of the 1 1/16-mile race over a soft inner turf course, the 6-year-old horse won by 2 ½ lengths.
Winning trainer Kiaran McLaughlin joked his winning percentage would be great if he stuck to the Bernard Baruch.
"It was a great win, the meet's been a little slow for us, but it's nice we won three stakes," McLaughlin said. "It's nice for him, he's one of the barn favorites. Unlucky with so many seconds, thirds, but today everything went perfect. Joel rode him great."
Nice 2-year-old
It's never too late to discover the next promising 2-year-old, and fans can get their hopes up over Gouverneur Morris.
A $600,000 purchase by Team Valor International and WinStar Farm, the son of Constitution won the sixth race by nine easy lengths, with jockey John Velazquez hand-riding him all of the 5 ½ furlongs.
Other winners
In the least-contested race, Chad Brown cruised to his second consecutive training title, and third overall, with 41 wins. The Mechanicville native posted nine stakes wins at the Spa. Todd Pletcher was second with 21 wins. Either Brown or Pletcher has won every Saratoga title since 2010.
Klaravich Stables repeated as Saratoga's top owner with 19 wins.
Records everywhere
The meet concluded with four new course records, but course records were actually broken six times during the meet, especially on the turf courses.
Fatalities
Borough Boy, a 3-year-old colt, became the fourth racing fatality when he broke his front right foreleg in the stretch of the last race. He threw off jockey Eric Cancel in the process. Cancel later walked off under his own power.
Overall, there have been 13 fatalities since the Oklahoma Training Track opened in April. Four have been while racing, one was racing-related, as it happened as a result of an injury during a race, five happened while training and three happened either in surgery or in a horse's stall.
Be the first to know
Get local news delivered to your inbox!