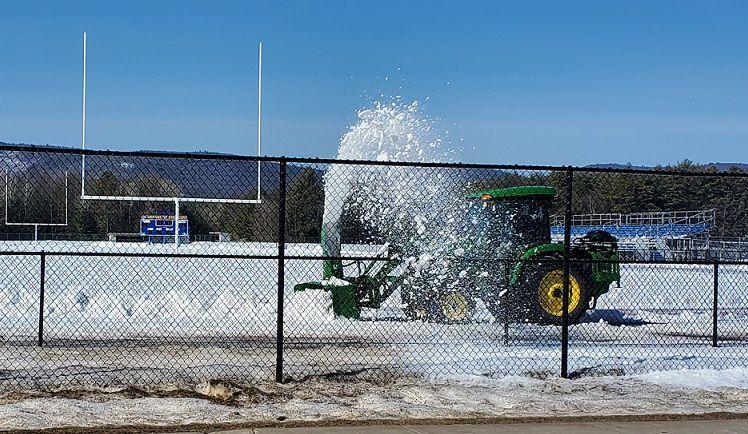 You won't find Lee Rounds or Rob Dewey listed on a high school sports roster.
But they are key players in the Fall II high school sports season. They're among the dozens of area school groundskeepers and other workers who are trying to get fields ready for the Fall II sports season.
Everyone is aware of the problem that comes with the Fall II concept: fall sports aren't meant to be played this time of year. There's still snow on the ground.
That creates a challenge for Rounds, Dewey and their counterparts at other schools.
"We want them to play on the best fields we can possibly give them," said Rounds, who is Queensbury High School's senior groundskeeper.
Fall sports teams are heading into an upside-down world that starts in the colder weather of winter and runs into the warmer weather of early spring. Teams are practicing wherever they can right now — parking lots, gyms and neutral sites, like Golden Goal in Fort Ann. Any piece of open real estate is fair game.
The first events in boys and girls soccer, field hockey, volleyball and girls swimming will be held as soon as Monday. Football starts next weekend. Cross country and golf in the Adirondack and Wasaren leagues start later.
Turf fields are golden right now, since they handle the weather better than grass.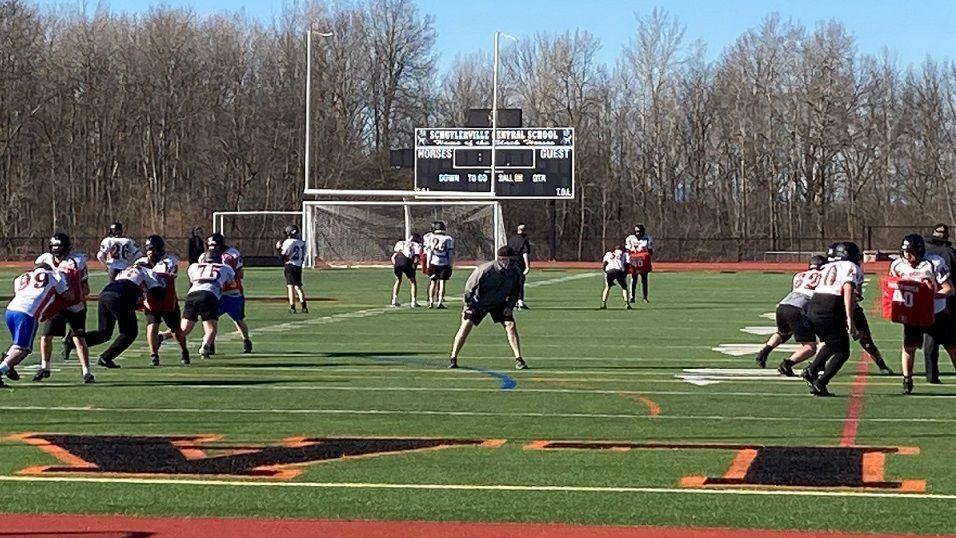 Schuylerville had its turf field ready last Sunday in time for the first day of Fall II practice. Dewey, the head groundsperson for the school, said they brought in turf experts to clear it. Chenango Contracting used small plow trucks equipped with roll bars instead of blades, to protect the turf from damage.
Glens Falls High School also has its turf field up and running.
Opening up the many grass fields in the area will take longer. Even after the snow is gone, it's several days before they're ready for games. Getting on the field too early could leave it muddy, and possibly lead to injuries.
"You don't want anybody running around; the compaction will damage the grass before it's established," Dewey said. "The more you're on it and put pressure down, the harder it is for grass to grow."
The nice weather of the past week has been a big help, but until the frost is out of the ground, those fields remain idle. Groundskeepers are doing the best they can. Rounds removed snow from the track around the Queensbury football field recently, hoping the clearing would start from the outside and work its way to the center of the field.
For schools in higher elevations, it may be quite a while before anyone sees the grass. Warrensburg football coach Mike Perrone said on Thursday there was still plenty of snow on the Burghers' tree-shaded field.
"We're hoping to get out there at some point," Perrone said. "We really don't know when."
The Burghers are practicing in the gym and hoping to get some time at Chase Sports or Golden Goal. Other schools are making similar arrangements.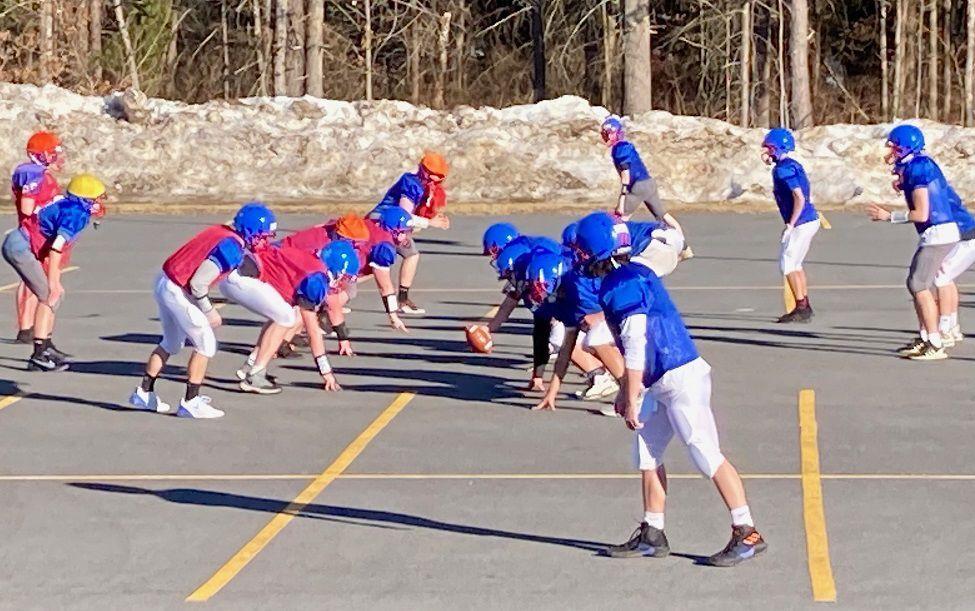 South Glens Falls teams are practicing in parking lots and gyms at all hours. Athletic director Matt Griep said the school has purchased 7,000 feet of indoor turf that should arrive in the coming days.
Hudson Falls has no fields available and Assistant Principal Bill Levett said there's no timeline for when they'll be ready.
"We are at the mercy of Mother Nature on that," he said in an email.
The Fall II schedule will be crammed into a seven-week time frame. Almost all of the early season outdoor games have been scheduled for turf fields. Games will take place with a limited number of fans in attendance, and sometimes none at all.
Aside from the use of face masks, the games will be played pretty much the way they've always been played. But there's a lot of stuff happening on the side that coaches are dealing with.
"I don't think the approach (to soccer) is any different," South High girls soccer coach Stephen Philo said, "(but) the dynamics have changed — where you can practice, when you can practice, the coronavirus protocols you have to move through. It's not like you can just say 'hey, we have a practice today,' you have to be mindful of everything else."
Still, it's a chance to play. Glens Falls field hockey coach Michele Venditto pointed out that without Fall II, her players would have gone without the sport for almost two years.
"Yesterday when I was out on the field, I said to (assistant coach) Bryan (Seybolt), 'doesn't it just feel good to be outside and talking field hockey?'" Venditto said.
The league structure will mostly be the same as during a normal fall season, with a few quirks. Bethlehem will play a Foothills Council schedule for some sports, and some of the northernmost schools will not play soccer.
Of course coronavirus-related issues could affect the schedule at any time. Most schools got through the truncated winter season with few issues, but there were some shutdowns. The North Warren girls basketball team, for instance, missed games because of health protocols.
The weather looms as a huge factor, but the news isn't all bad. An early layer of snow this winter may have insulated the ground and kept the frost from going too deep.
A big snowstorm could be trouble. Whether that stops the outdoor season in its tracks may depend, in part, on the next day's weather.
"If we get 6 inches and it's 30 degrees, that could be a problem," Dewey said. "If it's 50 degrees, it'll be gone in a day."
Follow Sports Editor Greg Brownell on Twitter: @glensfallsse.