Bascue gives region someone to root for in Olympics
Whitehall can thank Alan Bascue for starting an Olympic journey 15 years in the making. When Codie Bascue took his first slide down an icy track in a bobsled, it was merely the first push in a journey that's taken him halfway around the world.
When Bascue takes his place in the driver's seat of the USA-1 bobsled on Feb. 18 in PyeongChang, South Korea, residents of Whitehall will be along for the ride, watching one of their own in the Olympics.
Bascue — who grew up in Dresden, just outside of Whitehall — will be living his dream, the culmination of years of hard work and sacrifice.
"I'm ecstatic, I'm super excited," the 23-year-old said from Calgary in a phone conversation in late January. "Being named to my first Olympic team is just an unbelievable thing. It's really cool to see it all come to fruition."
Whitehall has mobilized in support of his Olympic bid, with banners on banks, businesses, restaurants, Stewart's and the Elks Club, to decorations at the elementary school and yard signs popping up on snowbanks everywhere.
Francis and Cheryl Putorti of Putorti's Broadway Market ordered 75 vinyl banners and 155 yard signs, and they all sold.
"They're all over town," Francis Putorti said. "We've mailed yard signs to Whitehall people in Texas and Florida, so they're all over. People have gotten creative with them, put lights around them."
Another group created T-shirts and sweatshirts commemorating Bascue's Olympic bid. A couple of fundraisers have been held to help Bascue's parents, Craig and Pam, with travel expenses as they are in South Korea for the entire Olympics.
Whitehall High School will host a live-stream viewing of Bascue's Olympic events — Feb. 18 and 19 from 6 to 9 a.m. for the two-man competition, and Feb. 23 and 24 from 7 to 10 p.m. for four-man. The events are free, but commemorative cowbells and fan towels are available for purchase, with proceeds to be donated to Bascue's 2022 Olympic quest.
Bascue expressed his thanks and appreciation for the support from his hometown on Twitter before leaving for the Olympics, saying he was "happily overwhelmed."
"The support and praise I've been getting from people in Whitehall is amazing," Bascue said. "It's really opened my eyes to how big this is. Coming from small-town Whitehall, it's not something that people usually get to experience."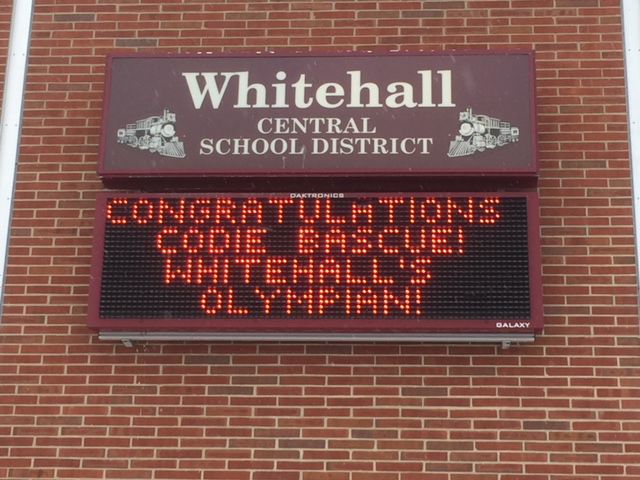 Early start
Bascue's Olympic dream rose from the humble beginnings of Whitehall's youth bobsled club, started by his grandfather, Alan Bascue.
"I wouldn't be where I am if he hadn't put me in a sled and pushed me down a hill," Codie Bascue said of his grandfather.
The elder Bascue, a recreational slider in the 1980s and early '90s, started the bobsled program at Whitehall Central School, where he worked as transportation director. The club brought 10 to 15 kids up to Lake Placid, nearly two hours away, on winter weekends to learn about sliding at the Olympic training center.
"During my sliding career, I noticed we didn't start kids as young as other countries did, and that's probably where we lacked a bit," Al Bascue said last week. "With me working at the school, I thought it would be a good idea to start a bobsled program. Everybody thought I was a bit crazy ..."
At the time the Whitehall bobsled program started, Codie Bascue was not quite old enough to slide — 8 was the youngest age for the pee-wee program.
"He was too young to slide, but he still wanted to watch the kids slide, so he would tag along with me," Al Bascue said. "When he was 8, I popped him in a pee-wee sled, and the rest is history."
Codie Bascue progressed through the program and was soon winning gold medals in Empire State Winter Games competition in Lake Placid.
"The right people saw him and moved him up through the system," Al Bascue said.
A 2012 graduate of Whitehall High School, Bascue was a solid athlete in football, baseball and track. But every winter, he was becoming a better bobsled pilot and winning medals.
"He was only 16 — they almost had to change criteria to let him slide," Al Bascue said. "That's when they realized they had something special in him. He always did show talent coming up, as far as his driving."
Bascue moved up through the ranks, from juniors to the North American Cup and World Cup tours, earning a full-time seat in 2016.
"When I started at 8 years old, it was something that was fun for me, but once I started getting competitive and getting better, I knew that this is what I wanted to do," Codie Bascue said. "So I set my goals to make the World Cup, then to win medals in World Cup, then to make the Olympic team. I decided to put everything into bobsledding and see how far I could take it."
Last month, he was the first driver named to the U.S. Olympic bobsled team.
Besides his parents, one of the first people he told was his grandfather.
"He's so proud — I called him the other day after the team was named and thanked him for everything," Codie Bascue said. "He had tears in his eyes. He's my biggest fan."
The young guy
At 23, Codie Bascue is the young guy on the U.S. bobsled team, but since he pretty much always has been the youngest, he said he's used to it.
Unlike most bobsled athletes, Bascue started off as a driver and continued working his way up through the ranks.
"To be a driver at 23 is unusual," he said. "Most people come out of college and become push athletes, and then become drivers in their late 20s, early 30s."
"He's the only pilot in the U.S. that's never been in the back seat," Al Bascue said.
At 5-foot-8 and 195 pounds, Bascue has grown from a decent high school athlete to one who can hang with elite push athletes.
"That makes Codie unique — he was an average high school athlete, not from a big-time athletic program," Al Bascue said. "But he just plugged along and held his own."
While those elite athletes are the ones providing the push, it's Bascue's job to steer them down the track. He is currently ranked eighth in the IBSF four-man standings and 13th in two-man — the top-ranked American driver in the world.
"Codie has always shown his ability as a talented pilot, but this year we have seen him match those abilities at the start as well, which now makes him competitive with the best of the world," said Ashley Walden, the director of Internal Operations for USABS. "He's really stepped up this season and we expected great things from him."
Al Bascue said driving a bobsled is less about steering and more about "feel," and that's how Codie drives. Bobsleds — which speed down the track at upwards of 80 to 90 miles per hour — are steered using a pair of handles attached to ropes in a sort of pulley system. The runners move only slightly, no more than 3 to 4 inches.
"As far as driving them, everybody has his own technique," Al Bascue said. "Codie doesn't like to see — he doesn't want to get too much visual input because you're moving too fast. He tends to drive by feel. You have to steer for the corner coming up, because you're into it so fast.
"It's a born instinct between hand-eye coordination," he added. "Codie just seemed to have it, even as a little kid."
Devastating loss
Bascue and his USA Bobsled teammates suffered a devastating loss last May.
Steve Holcomb — the most decorated bobsled driver in U.S. history and a friend and mentor to many, including Bascue — was found dead in his room at the U.S. Olympic Training Center in Lake Placid. Autopsy results reportedly found alcohol and prescription drugs in his system.
"It was absolutely heartbreaking for everybody on the team," Codie Bascue said. "He's not an easy guy to replace and I don't think we ever will. I've never seen a guy on his level as far as ability and professionalism.
"Steve Holcomb was a huge influence on bobsledding as a whole, not just the team," he added. "In my eyes, he was the best bobsled driver in the world."
Bascue said he got to know Holcomb pretty well over the last three or four years, while he was on the World Cup team.
"When something wasn't going right, I could go to him. He knew every track in the world," Bascue said. "Even with some of the hardest things, he was so lighthearted and he really had a way of explaining things that made sense."
Bascue misses Holcomb's presence as a sounding board and mentor.
"It's been difficult not having him as another brain to pick — even the coaches went to him to ask questions when they couldn't explain it to us," he said. "It's just a huge loss to the entire sport of bobsledding."
Ready to go
Bascue got a chance to test out the new Olympic track at the Alpensia Sliding Center in PyeongChang during an official test session for teams last March.
"I drove the track pretty well," he said. "In two-man, our start was 21st best, but I drove us up to ninth. If I can go back and drive like I did then, and have this push we've had for the last few weeks — we have a top-three or top-five push — we can do really well."
The fact that this is a new track will work in Bascue's favor because everyone else will be learning the twists and turns as well.
"Not many people have had many runs on that track, so it kind of levels the field for everyone," Bascue said. "Then it's a matter of who can learn the track the quickest and it comes down to pushes after that."
Providing the push for Bascue at the Olympics will be brakeman Sam McGuffie, who will team up with him in both two- and four-man, and push athletes Evan Weinstock and Steve Langton. All are exceptional athletes who came from other sports, including football and track.
Bascue said Germany and Canada will be the main competition, but he has high hopes, especially in four-man.
"It's hard to go into any competition and not want to do your best and get on the podium," he said. "I think we have a great group of guys who will surprise people. These three guys are the best push athletes we have."
Bascue said they won't have much down time once the Olympics start, as they will begin practice runs.
Beyond the thrill of competing at his sport's very top level, Bascue is hoping to see some other events and take in more of the culture.
"I'm going there to try to not take the experience for granted," he said. "I want to take a step back each day and reflect on it, try to enjoy the experience."
While he hasn't been back to Whitehall since August — other than a few days for Christmas — Bascue is thrilled to be representing the U.S. and his hometown as he competes at the pinnacle of his sport.
"I'm proud to be where I'm from, where everybody has been so supportive for so many years," he said. "To be where I am now is more than I could ever ask for."
Follow Pete Tobey on Twitter @PTobeyPSVarsity and check out his blogs on poststar.com.