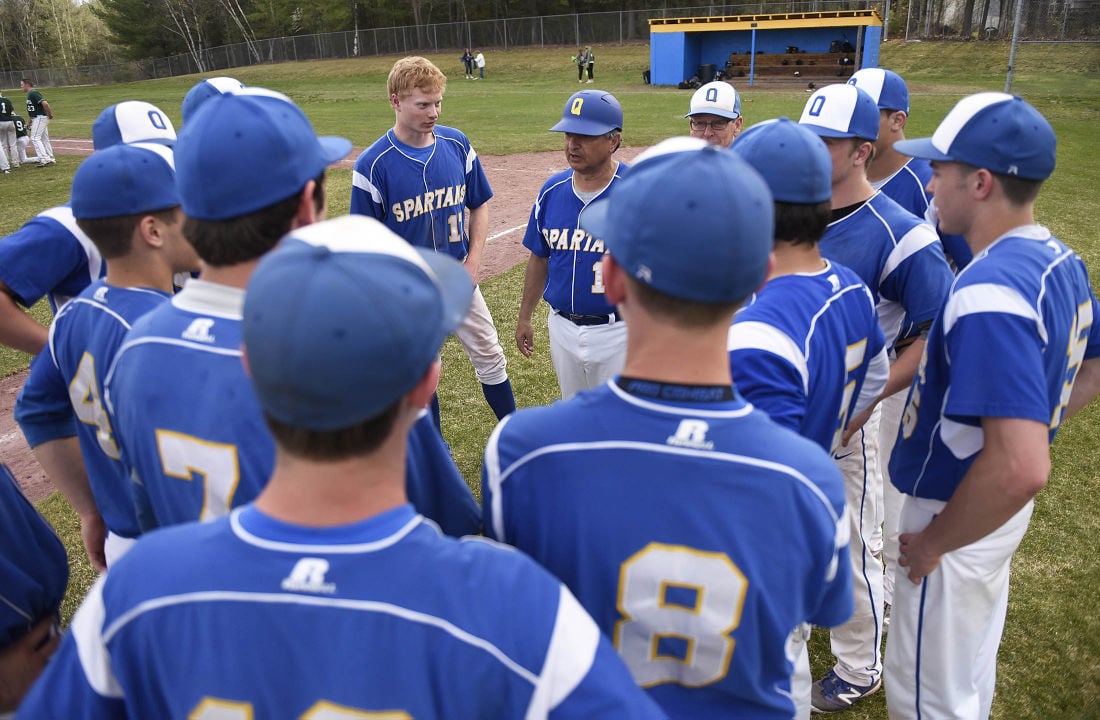 Jay Marra always said he never doubted whether he wanted to keep coaching baseball.
"When I needed to think about it after this season, I knew it was time," Marra said.
So, after 41 years of coaching the Queensbury varsity baseball team, one of the state's best has decided to retire. He and longtime junior varsity coach and assistant varsity coach Joe Lehet will go out together.
"I was going fishing with Joe, and I had forgotten all about it, and he brought it up," Marra said, chuckling.
It would be easy to look at all the successful teams and players Marra had and think that's the story, but the veteran mentor said it's also about the little victories.
"You've heard the philosophy, 'keep it simple, stupid?' Mine is 'keep it real simple, stupid.' Just pound the basics and just get the kids to understand the game and situations," Marra said.
"I've always said that one of the best teams I coached had one of the worst records, but they all loved the game so much," he added.
Marra finished with a record of 689 wins and 283 losses, for a winning percentage of .709. His team won a large number of Foothills Council titles, 11 Section II titles (three in Class B, three in BB and five in A), seven regional championships, was a state runner-up four times and won the 2018 Class A state title.
"You've got to be good, but you've got to be lucky too," Marra said of the state championship. "We always seemed to face the pitcher from Long Island who was about to be drafted by the Yankees until that year."
The Section II record book and the game of baseball is filled with Marra's players. The names include former Major Leaguer Brendan Harris, Bill Anderson, Charlie Peltz, Brett Rodriguez and Mark Scialabba, the director of player development for the Washington Nationals.
Harris played for Marra for four years, and he recalled as a wide-eyed freshman understanding that Marra expected to win, period.
"He was disciplined and structured in everything," Harris said via phone. " 'We will win the league, we will win this.' The mindset he instilled in guys is one of the biggest takeaways for me."
Harris said he also remembers Marra boosting his self-esteem.
"I (played) up north and was from a small town, before travel ball exploded," Harris said, "and he came back from visiting family in Florida during the winter of my sophomore year and said a school down there has one guy going to Clemson and someone else to another Division I school. And he said, 'you're better than them.' It just kind of changed my calculus on things."
Dave Casey, a former longtime baseball coach at Glens Falls, said he always enjoyed playing Marra's teams and matching wits against him.
"I used to say they don't graduate kids, they just reload," Casey said. "And that's a credit to him and his whole program.
"When you played Queensbury, you knew you were going to have to play as good as you could to have a chance of winning," Casey added. "I really admire and respect Jay. He meant so much to the school, to the league and to the section."
Marra said Queensbury was able to reload because of the work of Lehet and current JV coach Jason Gutheil, noting that the whole baseball staff stayed together for a while, including modified coaches Rocky Jackson and Rhory Johnson.
"We have had great athletes, great support from the school and administration and especially the parents. It truly has been a team effort," Marra said.
Queensbury Athletic Director Richard Keys said Queensbury baseball and Marra have been synonymous. He also recalled how politely Marra told him the news.
"He just said, '41 years is enough,' " Keys recalled. "I said, 'Are you sure? Because I'm in no hurry to replace you.'
"Jay is an attention-to-detail guy who knows the game of baseball in and out," Keys added. "He teaches baseball as an avenue to teach discipline and commitment. My four years as AD I've really enjoyed working with him, speaking with him, and being in the dugout when we won the state title in 2018 was a memorable moment."
Marra is a firm believer that for all its tweaks, the game hasn't changed that much. And for those who insist that kids changed a lot during his 41 years of writing lineup cards, he doesn't buy it.
"Honestly, I haven't experienced that," he said.
When some coaches step aside, they say they want to stay away to give the new coach time to develop his own style. While Marra's nephew, a baseball coach in Naples, Florida, has offered him a bench coach's job, Marra said he'll help him when he can but prefers to stick around and watch the Spartans.
"Oh sure," he said. "I know all the kids coming up."
Follow Will Springstead on Twitter @WSpringsteadPSV.
Be the first to know
Get local news delivered to your inbox!