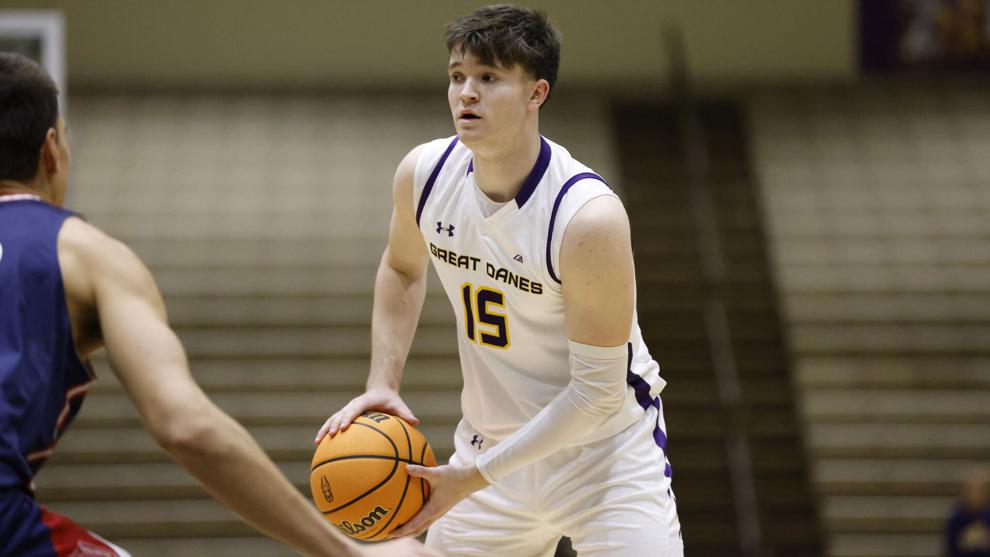 Jonathan Beagle's basketball odyssey brought him back to his comfort zone.
Basketball has taken Beagle from his hometown of Hudson Falls, to the AAU circuit with the Albany City Rocks, to Connecticut, and back to Albany.
Beagle, 19, has fit in very nicely indeed as a freshman starter for the University at Albany men's basketball team. So well, in fact, that he has started 17 of 18 games for the Great Danes.
The 6-foot-10 forward earned his fourth America East Rookie of the Week award this past week, and on Wednesday night, Beagle scored a season-high 21 points to lead Albany in an 86-69 loss at Bryant.
"It's all a comfort thing — my coaches and my team making me feel comfortable, being comfortable and confident," said Beagle, who is averaging 11.8 points and 6.7 rebounds per game for the 6-13 Danes. "Individually, I've gotten better every game. I've showed flashes of what I can do, but I haven't put it all together yet. It's getting close — I can feel it coming, feel it clicking."
One of his most interested observers is his former high school coach at Hudson Falls, Greg Smith.
"There's nights where his full complement of skills aren't shown, but that's college basketball," Smith said before his team's game Friday night. "There's other nights where he looks like what he is: one of the best freshmen in the league and potentially one of the best players in their league."
Second-year Albany head coach Dwayne Killings knew what he was getting when he made Beagle one of his first recruits — a skilled big man who can play outside as well as in the post, who plays unselfish basketball with a steady demeanor and competitive fire.
"I love him — he's a great kid, he's got a really unique personality. He's fun to be around," Killings said with a chuckle earlier this week. "Before every game, he'll come up to me and ask, 'Are you nervous?' I always say, 'No, I've got you.' ... He has an amazing feel for people — he really watches the game, but he also watches people."
Killings can rely on Beagle's physical talents, but that competitive drive sets Beagle apart.
"Losing doesn't hurt some kids, but it hurts him," Killings said. "He wants to win for his teammates, his school and his family back home. He's getting more and more mature on the court. He has so much talent, and he tries to will things to happen."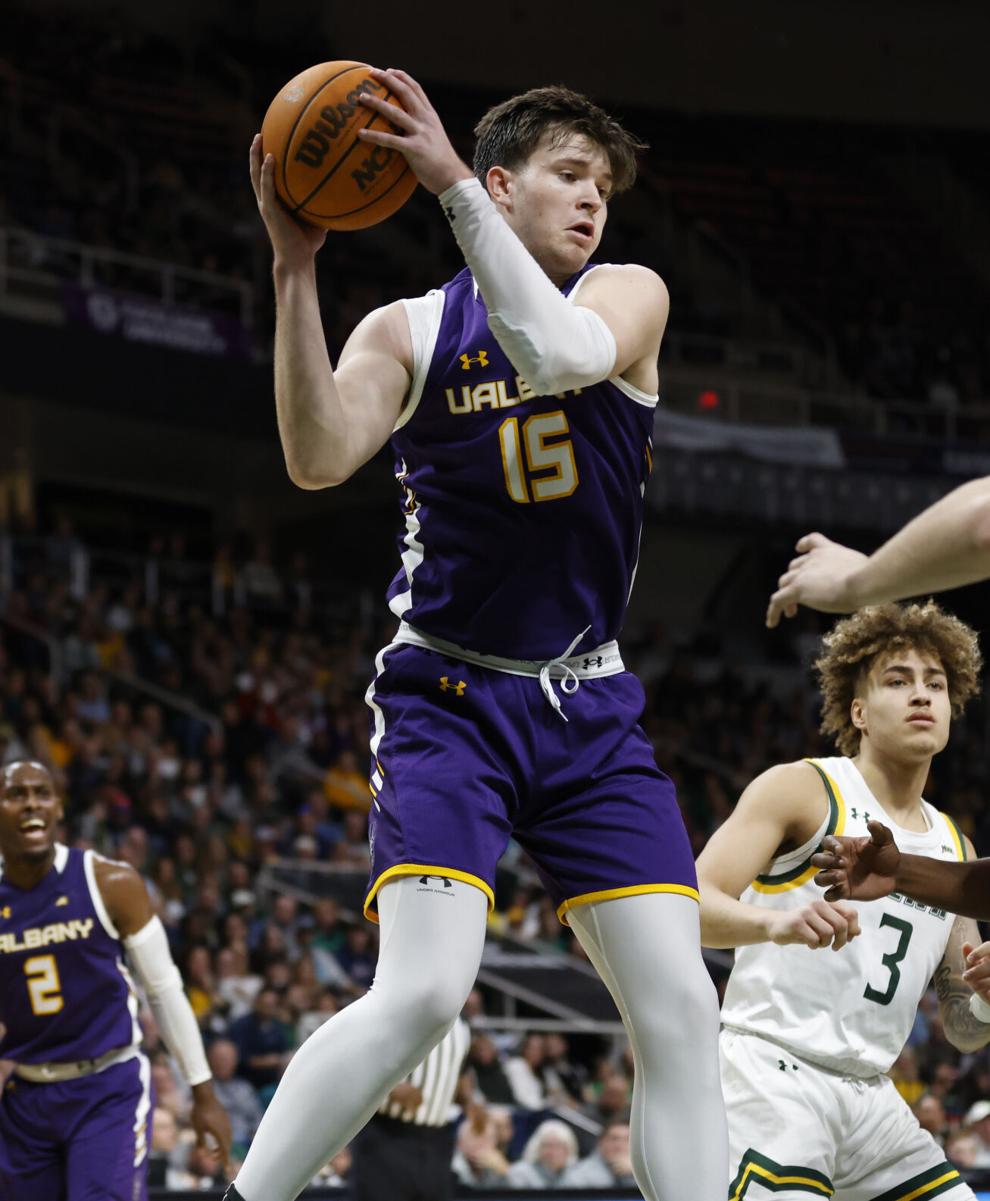 Beagle's basketball journey began on the courts in Hudson Falls, but he also made his talents known in another sport.
"As an athlete coming up, he was actually a better baseball player than a basketball player — he was probably the best Little League baseball player I saw with my own eyes outside of going to Williamsport," said Smith, who coached Beagle in JV and varsity basketball at Hudson Falls. "The kid could throw, he could hit, he was just a natural athlete — he was bigger, stronger than any kid at his age level."
Beagle ended up playing three years of varsity basketball at Hudson Falls, making the Foothills Council all-star first team as a junior in 2019-2020. He also played for the Albany City Rocks, a noted AAU travel basketball program that helped the likes of Joseph Girard III.
"He carves out space in the post, he absorbs contact, he finishes with either hand around the rim," Smith said of Beagle. "He knows the game — he has a good enough handle and a good enough jump shot to stretch the floor. He can make the right play, make the right pass. It's been fun watching him grow up and mature."
Part of that process, however, included leaving his hometown after his junior year to transfer to the St. Thomas More School, a prep boarding school in Oakdale, Connecticut. Being young for his grade — his birthday is in October — he opted to reclassify to graduate in 2022, giving him two years to play at STM.
"I wanted to play at the Division I level, so I needed to play better competition," Beagle said. "Playing AAU for the City Rocks got me to STM. I played against guys going to the Big Ten, the Big East, the ACC."
He got more of that level of competition at STM. Playing with and against Division I-bound athletes prepared him for the University at Albany level.
"It was an easier transition than if I didn't go to prep school. I'm playing against older guys, guys who are 22, 23," Beagle said. "I just matured a lot, all around. I saw how hard it is to get there — I watched the guys going Division I and I saw how hard I had to work."
Beagle had no lack of college offers while he was at STM, but Albany presented the most attractive opportunity to him.
"Just coming back home to a comfortable environment after being away for two years," he said. "I had a lot of good options, but I'm most comfortable here, and I was able to play right away. I wanted to make an impact somewhere instead of having to sit and wait."
Former Albany assistant coach Hamlet Tibbs, who coached Beagle with the City Rocks, brought him to Killings' attention.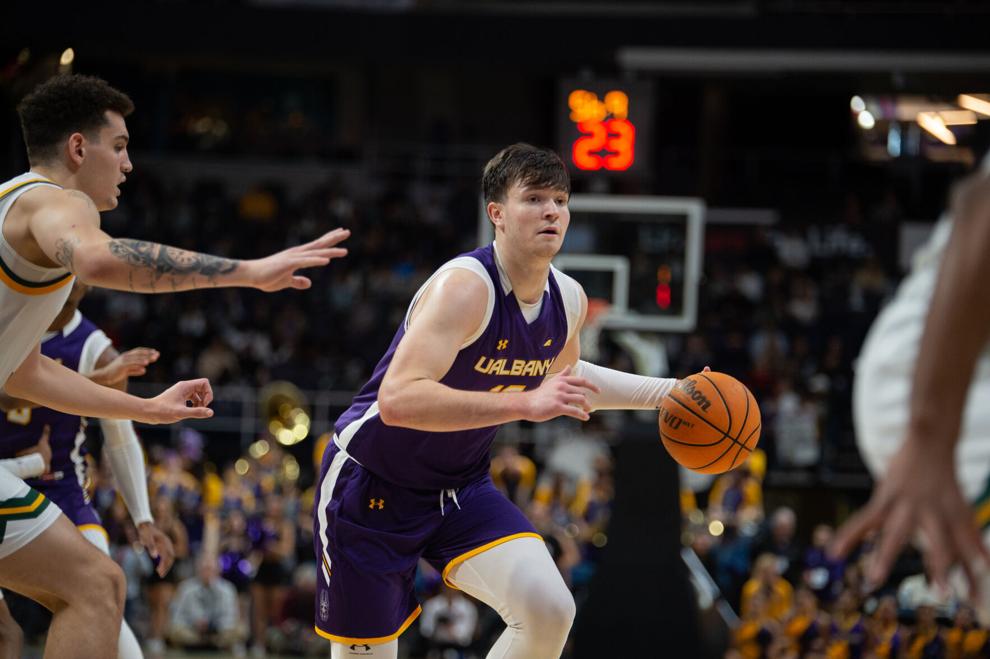 "He was the second player I ever offered (a scholarship) as a head coach," Killings said. "We wanted to get some cornerstone players for the program. Jonathan is a cornerstone player."
Killings called Beagle the potential Rookie of the Year for the America East Conference.
"He has the ability to be an all-league player," Killings said. "We've had so many injuries this year, I think it's accelerated his development, but you could see his abilities even in AAU and prep school."
Beagle is mobile for a big man. He can play the perimeter and the post, and he looks to pass more often than one might think — he has 35 assists this season.
"As good as he is at rebounding and playing the post, he's such a selfless kid and such a good passer. He makes everyone around him better," Killings said. "He has a great basketball IQ — he has a great feel for the game and a great feel for people.
"He can get a defensive rebound, push it down the court, then make the right pass," Killings added. "He's running the court and finding the open shooters, the open cutters."
Beagle said that part of the game always came natural to him.
"I think as a kid I was always able to read the court well," Beagle said. "My strength is my passing, it's a gift I have."
He said the physicality, size and speed of the college game took some getting used to. He put on muscle mass — he carries 240 pounds on his 6-10 frame — to better withstand the pounding he absorbs in the paint.
"He's got a confidence and a competitive desire about him. He's super competitive and tough, and he has such great poise on the floor," Killings said. "This year, he's playing Vermont, UMass, Loyola of Chicago — he's playing against some of the best big men in the country, and he's holding his own. This will be a big summer of development for him."
"Coming into the season, you don't know what you have — no one does," Beagle said. "I'm in the middle — some things have been easier than I thought, and some things have been harder than I thought."
One thing that has eased Beagle's transition to big-time college basketball is the support from the Hudson Falls area. He has been enjoying his own fan following from the area.
"Most of the team went down to watch him play UNH," Smith said. "(Albany is) an hour away, it's nice to be able to get down there and see him. There was probably 50 people to watch him the other day. It's been great for him."
"There's been some games where I've had 25 people come down to watch our games," Beagle said. "I have a big family; we'll get a lot of people from Hudson Falls coming down."
Those fans have seen an Albany men's team that has been inconsistent in going 6-13 overall this season.
"We're up and down, but we're young. We have a lot of talent," Beagle said. "We just beat the best team in our league (UMass-Lowell) on Sunday by 26 points, but we'll also lose to a team we should beat. I think the future is really bright for us."
"We're getting better as a team because he's improving on the court," Killings said. "It's scary how talented he is. He'll make Hudson Falls really proud."