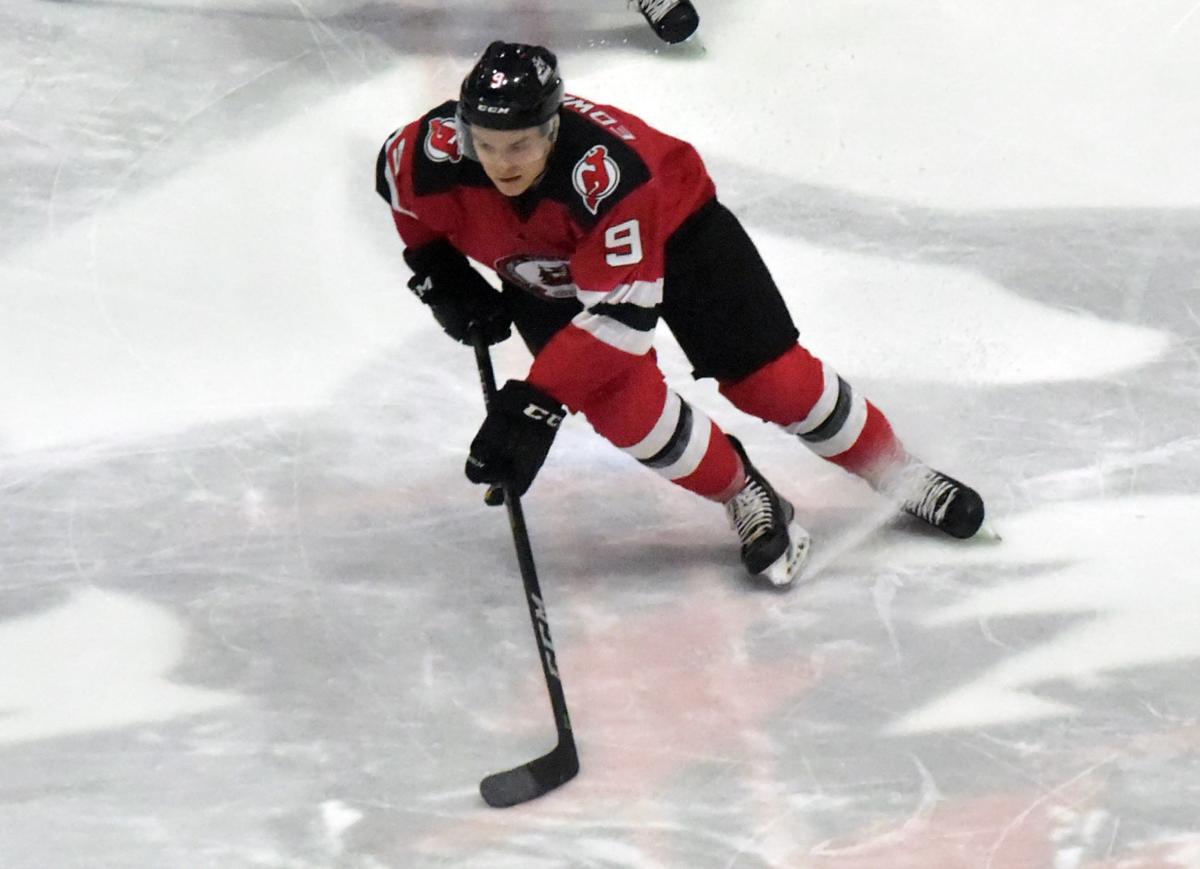 GLENS FALLS — Hot goalies, bad luck — the list of reasons the Adirondack Thunder haven't been able to score this season is as long as the ice itself.
So head coach and director of hockey operations Alex Loh knew what, and whom, he wanted to try to right the ship. The final pieces were put in place Monday morning, when the Thunder received forward John Edwardh, along with defenseman Alex Jaeckle, in a three-way trade, while giving up defenseman Gabriel Verpaelst and forward Alex Tonge.
Edwardh totaled 27 goals and 32 assists in 54 regular-season games with the Thunder last season, then added another goal and five assists in five playoff games. The UMass-Lowell graduate has a knack for scoring, and Thunder fans will agree that is the top concern this season.
"(Edwardh) was here last year on an American League deal, so he was a free agent," Loh said. "He figured he wanted to test the waters a little bit, and I said, 'no problem.' I had told him we wanted him back in our exit meetings last year. He kind of indicated at that point he was probably going to try something else, and you can't begrudge a guy that."
Edwardh originally signed with the Florida Everblades of the ECHL, but never played a game for them before going over to Cincinnati, where he compiled 11 goals and 12 assists in 33 games.
"I had inquired about John for a little while here, knowing he had gotten moved from Florida to Cincinnati," Loh said. "There just weren't the pieces available to make anything happen at the time. Toward the end of last week we were able to get things sorted out. You kind of have to wait for the weekend to be over to get the player movement clean.
"I think there's a role here for him that there wasn't in Cincy," Loh added. "They have more guys like him that are the opportunistic offensive player, whereas we had more defensive guys and we really needed a guy that could score goals. I feel like we've been out-chancing teams, but we haven't found the back of the net."
You have free articles remaining.
Adirondack has scored 117 goals in 40 games, and their 2.93 goals per game is the lowest in the North Division.
Loh is aware that trading Verpaelst — who quickly ingratiated himself to Thunder fans by providing a physical presence and sticking up for his teammates — won't sit well with all, but he feels the current defensemen are all capable. Verpaelst, who was a member of the Kelly Cup-winning Colorado Eagles in 2017-18, had three goals and six assists in 33 games with Adirondack.
"I'm excited to see what Alex brings to the table here as he comes into the group," Loh said of Jaeckle. "It's one of those things where you're never going to add a guy like John for free, so you've got to unfortunately move some pieces, and Gabriel was the piece that was moved."
Thunder captain James Henry said he had no plans to address the team regarding the trade any more than has been done.
"Players are always moving around in our league, so it's something that we're used to," Henry said. "But to bring in a guy so many of us are familiar with, the fans are familiar with, the staff's familiar with — especially a guy who had success personally when he was here, a guy that can put the puck in the back of the net. That's the kind of addition we can definitely use in our lineup."
Back to practice
The Thunder were more vocal with each other in practice Tuesday and taking every opportunity to address little issues during drills. Henry said it was all good, and something they haven't had much chance to do.
"I think you look at our schedule the last six weeks and you look at our limited practice time, our habits, they drop off a little, unfortunately," Henry said. "These practices are really valuable, where we can fine-tune some aspects of our d-zone, our line rush, special teams, those things that the last six weeks we haven't had the practice times to address."
Eamon McAdam was again the only roster goalie on the ice, as Loh confirmed that the Thunder will use emergency backup goalies in their next three games through Saturday, until the parent New Jersey Devils get regular starter Mackenzie Blackwood (upper body injury) back in the lineup. The shift in goalies has Evan Cormier, who's played nine games each with Binghamton in the AHL and Adirondack, in Binghamton.
Follow Will Springstead on Twitter @WSpringsteadPSV.