GLENS FALLS — The first day of the Adirondack Thunder's training camp meant different things to different people, but across the board it was as welcome as seeing an old friend.
Eighteen of the 24 players on the training camp roster took to the Cool Insuring Arena ice shortly before 10:30 a.m., when head coach Alex Loh blew the whistle for the first time for the 2019-20 ECHL season.
Thunder veterans Alex Carrier and Shane Conacher are part of the leadership group and duly helped the rookies and newcomers with the "Thunder way." Carrier has seen a lot of the arena this summer and fall.
"Me and (James) Henry skated together from August 'til now," Carrier said. "As soon as the ice was here, I called and was, like, 'all right, when can I get in?'
"I felt everybody was bringing a lot of energy, the young guys were pushing the older guys to do better and have a good, solid first practice and set the tone for the rest of the camp," he added.
Conacher said Glens Falls is like a second home to him.
"Obviously, you skate in the summer and play pickup hockey here and there, but getting out there with the guys and the competition, it's exciting to know the season's around the corner and preseason games in a week," Conacher said.
Conacher remains healthy after he returned from testicular cancer surgery during last year's mid-season.
"I know I've given a lot of thanks to the community and the coaching staff, but once again I can't thank everyone who was involved enough," Conacher said. "Alex (Loh) for kind of sticking with me and being with me the whole way, and Aisha (Visram, trainer) helping out as well. I was excited to come back here. There's nowhere else in the ECHL I'd rather play for and I can't wait to start the season."
Eleven of the 24 players on the training camp roster skated with the Thunder last season. That includes rookies Tommy Parran, Derek Petti, Hans Gorowsky and Ryan Walker, who all played several games with the team following the end of their collegiate seasons. Now they return hoping to stick around for longer.
"It's great to be back," said Parran, a defenseman. "I can't thank coach Alex and coach (Pete) Dineen enough for having me back because it's a great spot. I had a great three games here at the end of last season."
You have free articles remaining.
Parran said he and his fellow rookies had to shift their mindset and motivate themselves to work out hard over the summer.
"The only thing you have to worry about is coming to the rink and getting better every day, winning games, so that's nice," Parran said. "Just getting back into the swing of normal competition is huge. You can't simulate that in your summer workouts, it's not possible."
For goalie Ben Halford, playing with the Thunder is a chance to return close to home. He was born in Lenox, Massachusetts and spent the 2010-11 season at Albany Academy. He spent his rookie season last year with Kansas City in the ECHL and also was on loan to San Antonio of the AHL. He's glad he's now part of the New Jersey Devils' farm system.
"Absolutely, you see someone like Mackenzie Blackwood worked his way all the way up. You know there's an opportunity for goalies to develop and move up the ranks," Halford said.
Loh has been busy with off-ice details — such as housing and immigration — until Monday. He also spent some time at Binghamton's AHL camp with several Thunder players, so he learned from that. As usual, he ran an efficient, business-like practice, with all the players off the ice by 11:44 a.m., 16 minutes before the scheduled end.
"It's more about getting them comfortable, so when we get after it tomorrow, we have the opportunity for them to be at their best," Loh said. "It's just a good evaluation day; get your legs underneath you, get used to doing drills again."
Loh, Carrier and Conacher agreed that the team's first-round playoff exit left them unsatisfied.
"We were happy to make playoffs for the fourth (straight) year, but at the end of the day, a first-round exit is not that much better, so we want to make sure that we're just improving as a group and individually so we can make a better run this season," Loh said.
Notes: Second-year defenseman Jake Linhart was added to the Thunder roster later Monday. He played 64 games with the Thunder last season and five with Hersey of the AHL.
Adirondack Thunder first-day practice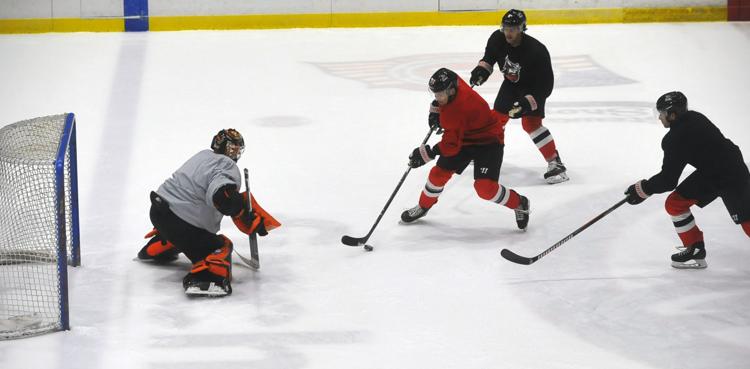 Adirondack Thunder first-day practice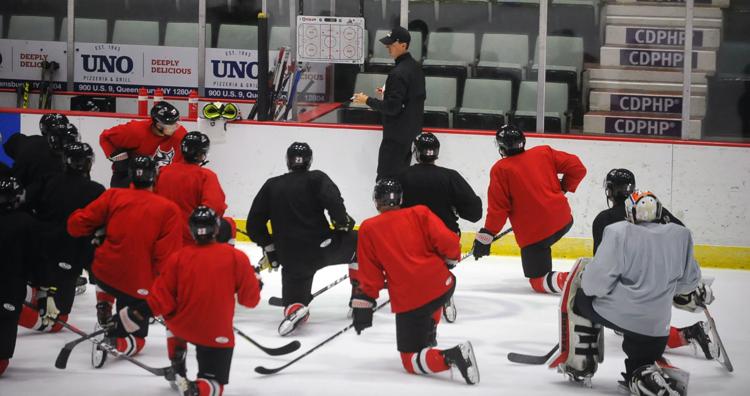 Adirondack Thunder first-day practice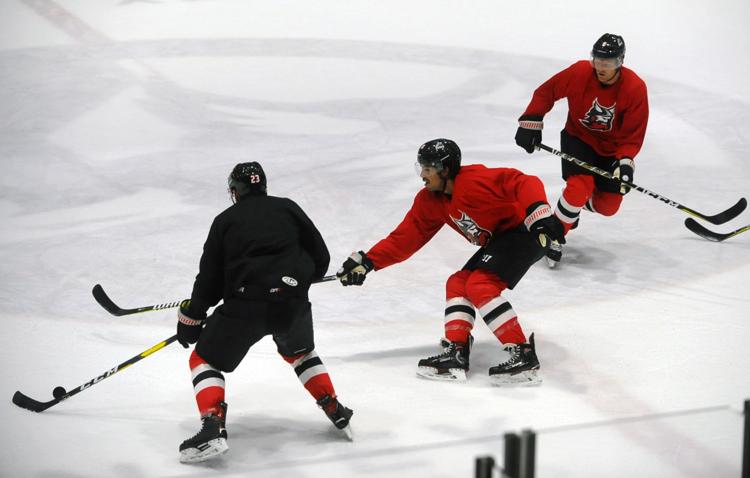 Adirondack Thunder first-day practice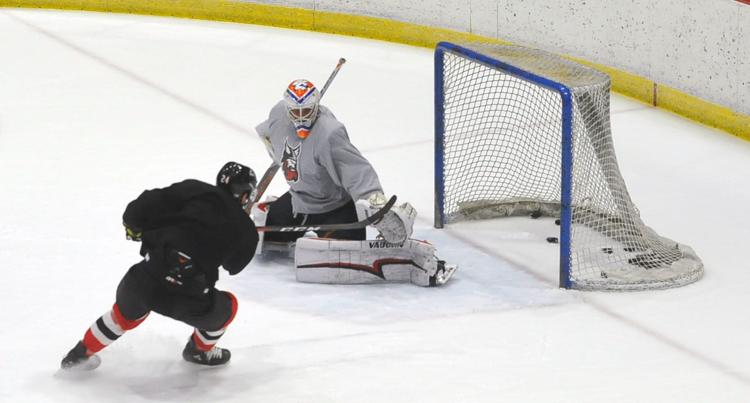 Adirondack Thunder first-day practice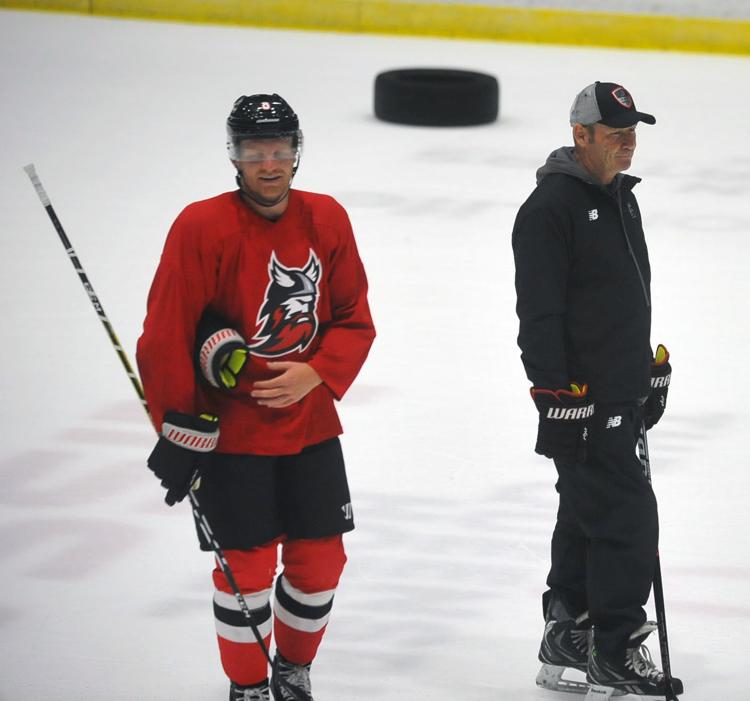 Adirondack Thunder first-day practice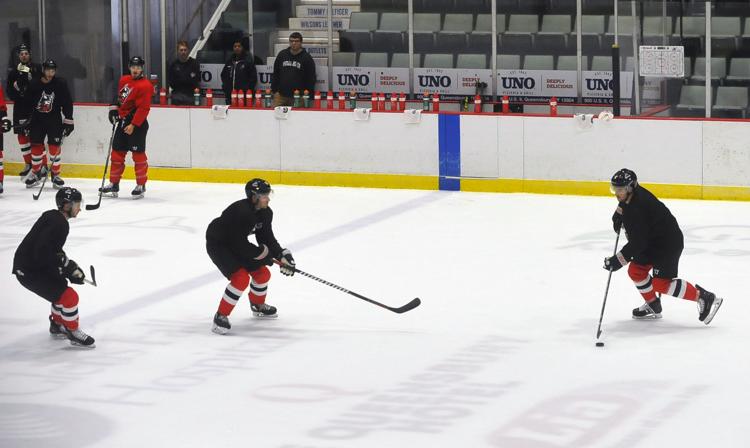 Adirondack Thunder first-day practice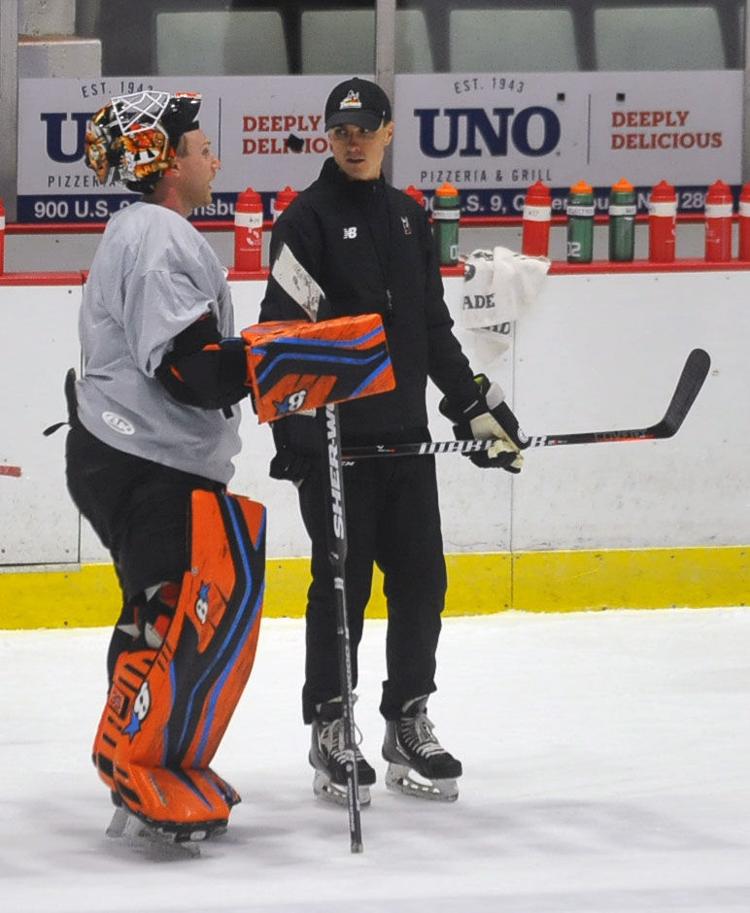 Adirondack Thunder first-day practice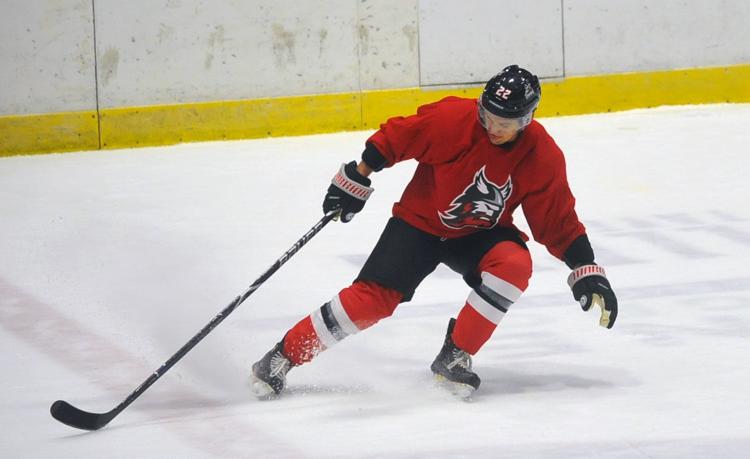 Adirondack Thunder first-day practice