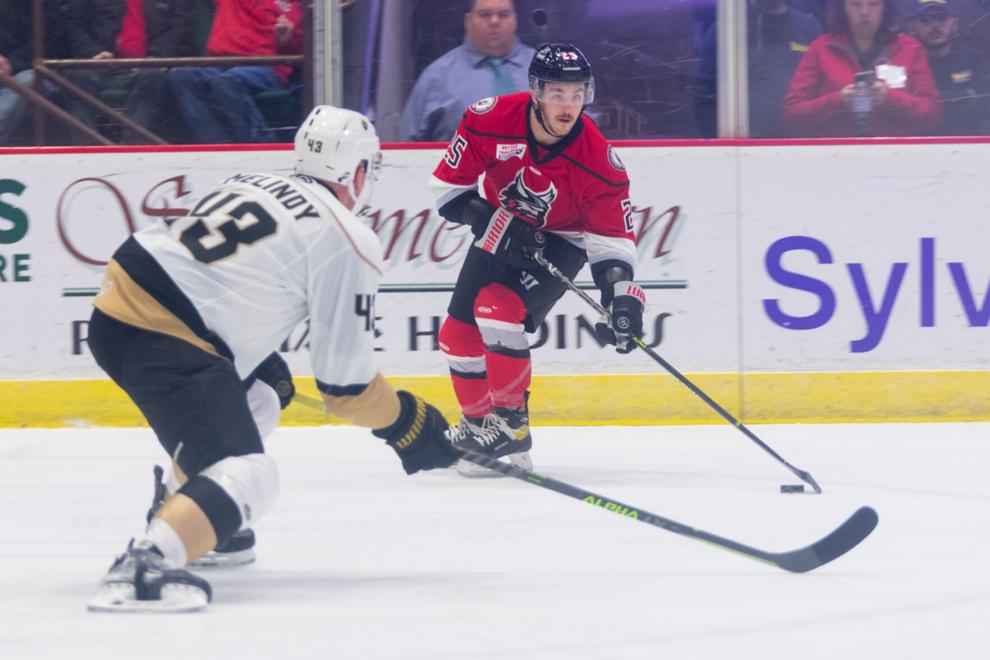 GLENS FALLS — Jake Theut got the biggest cheers of the night — first for picking up a roughing penalty in a scuffle in the final seconds, then for his shutout Saturday.
Theut recorded 41 saves and team captain Shane Harper scored twice as the Adirondack Thunder shut out the ECHL North Division-leading Newfoundland Growlers 5-0 before 3,729 fans at Cool Insuring Arena.
It was Theut's first ECHL shutout as he stonewalled the Growlers, a team that is second in the league in scoring with 146 goals.
"It felt good — it's been a long road ... it feels good especially for my dad back home," said Theut, who started the season as the Thunder's No. 3 goalie and quickly rose to No. 1. "I just stuck to my routines. I trusted in my stuff — kind of a baseball term, but just go out there, play, have fun. We had a great crowd out there tonight — I just want to put my best on the ice."
"He was so square to the puck, it must have looked like they were shooting on a walrus to them, because he was just all over it, reading plays early, moving really well," Adirondack head coach Pete MacArthur said. "Sometimes goalies make saves look harder than they are because they don't read it right — he made them look easier, and that's a good thing."
The Thunder, who improved to 12-17-6, caught up with fifth-place Trois-Rivieres (14-20-2) with 30 points in the North Division standings. Adirondack hosts Newfoundland (26-10-1) again on Sunday at 3 p.m., then plays Trois-Rivieres in a three-game homestand next weekend.
"It gives us a boost — top team in the league, big win at home, if we can beat them, we can beat anyone," Theut said. "Kind of viewing each weekend as a playoff series and we'll see how it goes from there, put our best foot forward."
Brady Fleurent scored his first goal with the Thunder, and Xavier Parent and Grant Jozefek also scored as Adirondack kept up the pressure in the offensive zone.
"We played hard, everywhere, all over the ice, winning races to the puck," said Harper, who opened the scoring in the first period and finished it with a shorthanded empty-netter late in the third. "So that's how we're going to have to play — it's not easy, it takes work, it's no secret. We did it again, though, so I'm proud of the boys."
Asked what he saw from his offense Saturday night, MacArthur said, "Confidence — working without the puck and hitting holes. Demanding the puck: 'I'm gonna hit this hole, give me the puck, I want it.' And they got jump — there's some chemistry out there. We look for pairs — it's hard to find three, but we've got some pairs right now that are buzzing together, that really like to play with each other, and that's fun to watch."
Parent scored his 11th goal of the season, picking off a Growlers pass and putting it past Newfoundland goalie Luke Cavallin in the final two minutes of the opening period.
Fleurent's first goal came on a shot from the right corner, as it bounced off of Cavallin's back and into the net.
"I tried to find (Yanick Turcotte) on a two-on-one out front and the guy kind of blocked it," said Fleurent, a late-December addition to the club from the SPHL. "And I knew the goalie was sliding over, so I tried to bank it off of him, and I threw it out front and it got right off his pad and in."
Jozefek added his goal on a wraparound 1:53 into the third for a 4-0 lead for the Thunder, who also successfully killed off all six penalties in the game.
"Our forwards are playing hard and fast, and a team like (Newfoundland) that's very fast and skilled, you have to be hard on them," Fleurent said. "I think that's the way we've been playing — hard, fast and physical."
"They probably have more skill than us, it just comes down to work — you have to outwork them, it's your only option, really," Harper said. "We have some clawing to get back in, but we have to string a few together — we have to continue this, that's the only way. You can't win two, lose two, you have to string them together."