GLENS FALLS — The Manchester Monarchs got some key contributions on Friday from players who know Cool Insuring Arena very well.
With a goal and an assist from Pierre-Luc Mercier, along with an assist and a lot of physicality from Stepan Falkovsky — both former Thunder players — Manchester earned a 4-2 win despite being outshot 52-27 in Game 1 of the division semifinals series.
"They just did a good job of taking advantage of the bounces, I think," Thunder coach Alex Loh said. "We did a lot to generate a lot of good things. They played a good road game. They played well, they scored on the opportunities they got."
Mercier, who played for the Thunder last season, scored on the first shot of the game at 2:34. He stopped Bokondji Imama's pass with his foot, then got the puck to his stick and put a sharp wrister past Evan Cormier's stick side.
The Thunder took a 2-1 lead into the locker room after the first period, however. Brian Ward tipped Blake Thompson's slap shot to the far side of the goal at 12:15. Adirondack took the lead at 16:51 on a power-play goal from James Henry, who scored deep in the slot when Peter MacArthur's pass to him went off his foot and in.
Those were the only signs that Monarchs goalie Charles Williams was human and not some sort of robot programmed to save everything. The 27-year-old Williams was as good as advertised — he went 6-2 in eight appearances for two AHL teams this season besides his work with the Monarchs — making even tough saves look routine.
"I think we probably could have gone to school a little better on our two goals," Loh said. "We got in front of his eyes and scored two goals. I'll look at the video and see if there's any other changes we could make. I think the biggest thing is get in front of him. He's obviously saving everything he sees."
Defenseman Danill Miromanov's goal late in the second tied it at 2 before Manchester put it away with two more in the third. Mercier gave a short pass to Nic Pierog, who put a nice wrister over Cormier's glove. Then Miromanov notched his second of the game on a long shot from the point on the power play.
"I think we had a lot of opportunities around the net," Henry said. "If we can bear down on some of our chances… As far as defensively, keep them to the outside a little more. I thought we did a decent job of that the first half of the game, then later on they were able to get inside, get some good scoring chances."
The 6-foot-7 Falkovsky was particularly physical in the third period, almost always to former teammate Henry. After getting banged around for several minutes late in the third with no calls to show for it, the 5-9 Henry went after Falkovsky in the crease, with Henry getting in some quick shots. The officials let that be, as well.
"Gonna compete, right in front of their net," Henry said of the tussle. "He has to protect his net and I have to do my best to get in front of their goalie and get some scoring chances and maybe draw a penalty or something out of it and go from there."
Game 2 is Saturday night, and Loh isn't worried about how his players will digest the loss.
"You have to park it, learn from what we did tonight, both good and bad," he said.
Game 1: Thunder vs. Manchester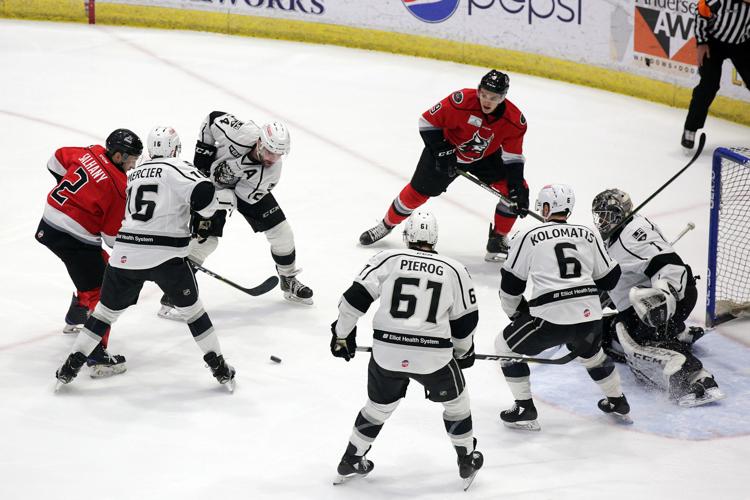 Game 1: Thunder vs. Manchester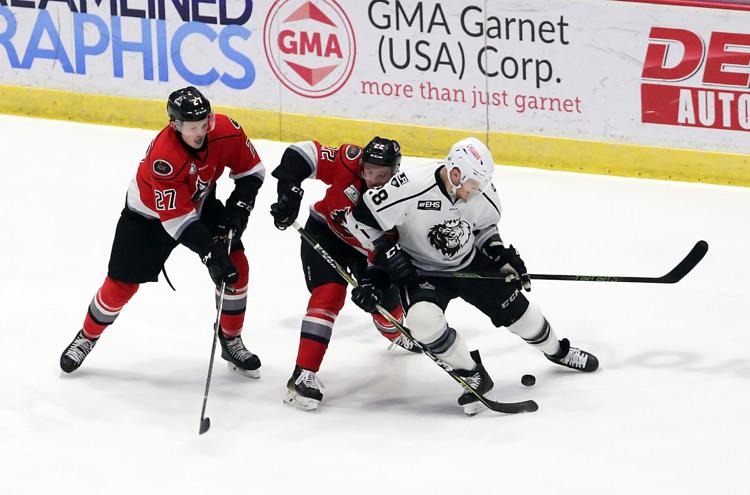 Game 1: Thunder vs. Manchester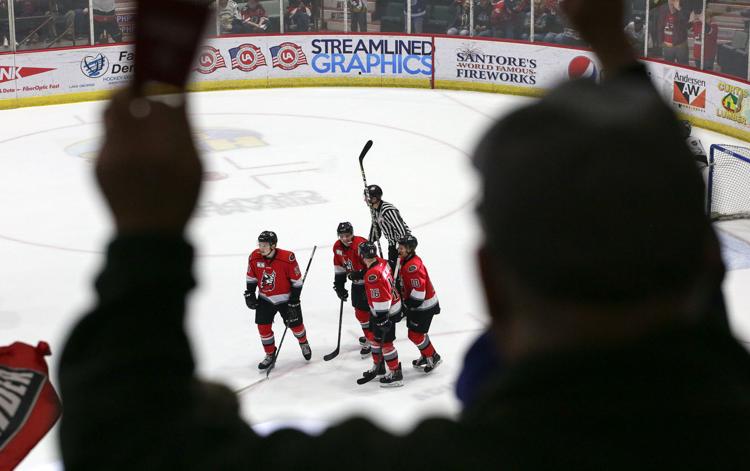 Game 1: Thunder vs. Manchester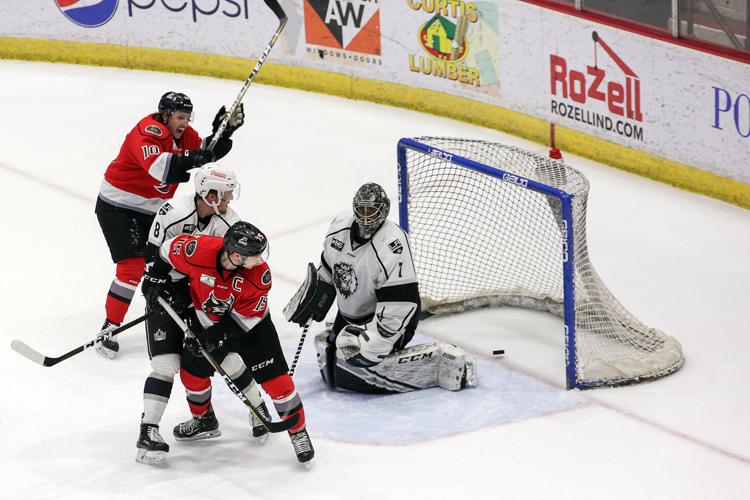 Game 1: Thunder vs. Manchester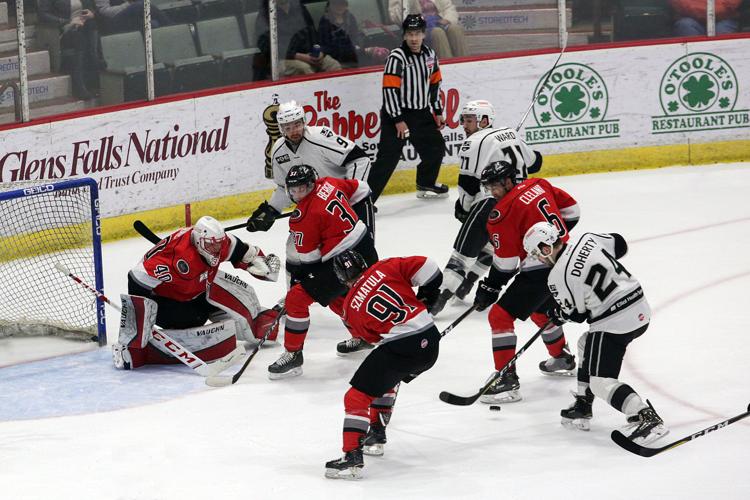 Game 1: Thunder vs. Manchester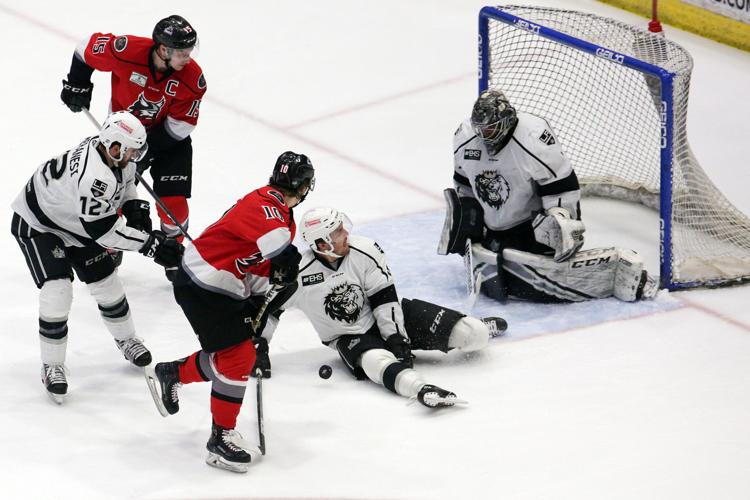 Game 1: Thunder vs. Manchester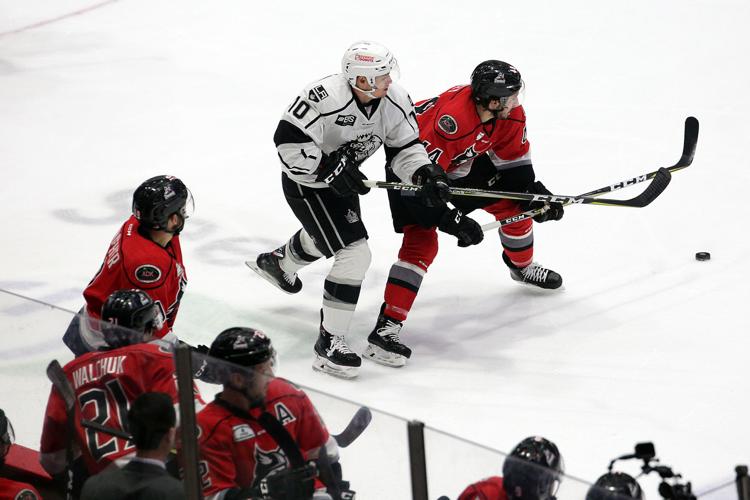 Game 1: Thunder vs. Manchester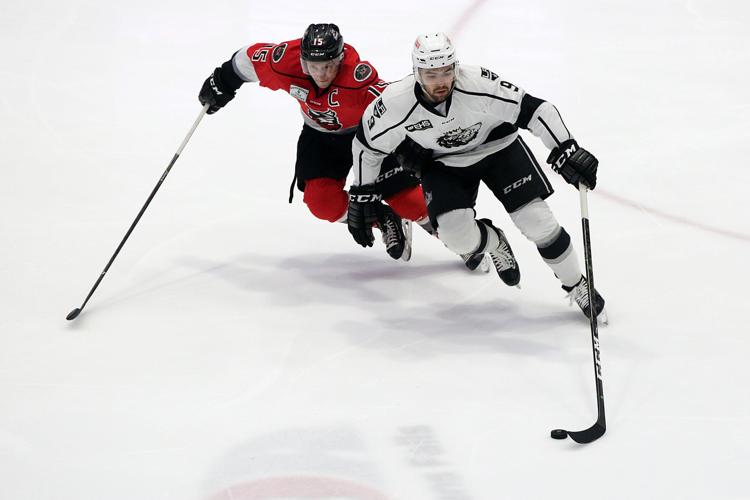 Game 1: Thunder vs. Manchester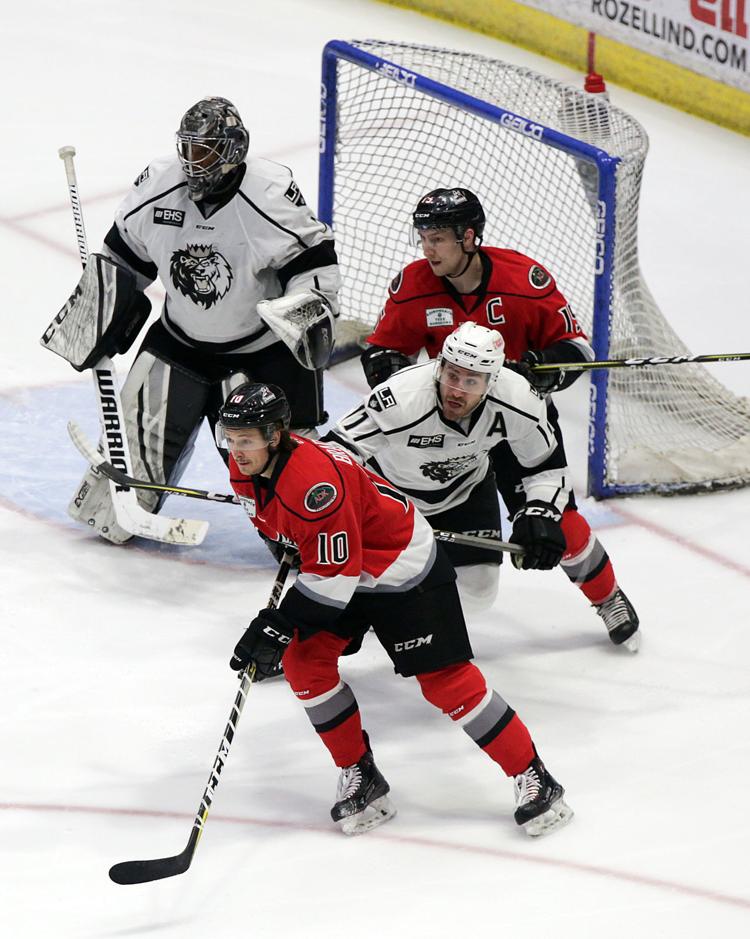 Game 1: Thunder vs. Manchester