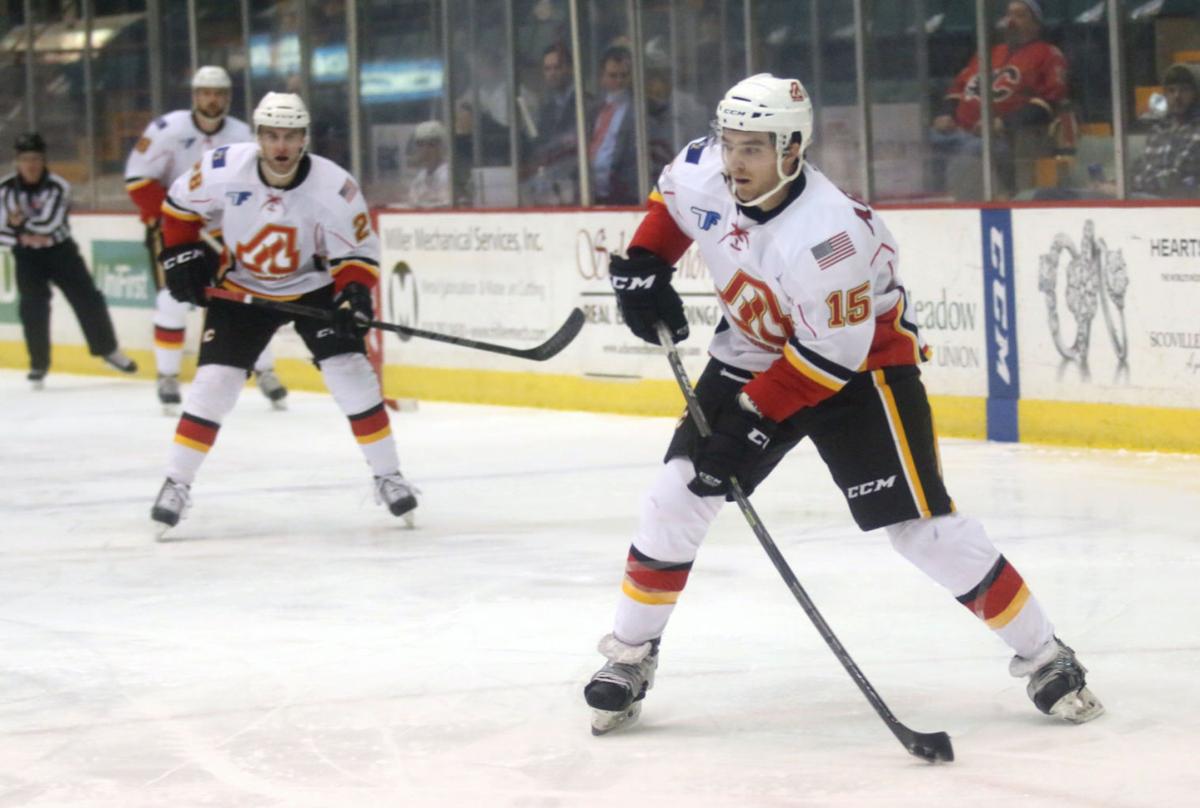 GLENS FALLS  Kenny Agostino lined up for a penalty shot two weeks ago and figured he was due for a goal.
"The guys have been giving me grief for a while now that I've had five or six breakaways and I'm 0-6," the Adirondack Flames winger said after that March 28 game against Oklahoma City.
So the rookie changed up his approach. Agostino faked a couple times as he neared the crease and tucked the puck around goaltender Laurent Brossoit's foot — the first goal of what is now a five-game point streak.
In the Flames' last five games, dating back to that win over Oklahoma City, Agostino has 10 points with four goals and six assists. That's a quarter of his total points on the season in less than a tenth of his games.
"I don't know," Agostino said about where the burst came from. "Since I got the opportunity, I've felt that's what I needed."
He started the season playing mostly in the bottom six, a more defensive role than Agostino was used to. In four years at Yale, he was about a point-per-game player. Agostino's least productive year was his freshman year, when he averaged 0.8 points per game.
So is Yale coach Keith Allain surprised by this recent streak? Not even a little.
"I know Kenny," he said. "He has really good offensive ability. I know it wasn't easy for him early; it's a tough adjustment coming out of college."
Agostino's acclimation period in the beginning of his rookie year mirrored that of his freshman year. In both instances, Christmas (about halfway through the season) was the turning point. Again, early in that freshman year, he wasn't playing a top six role. As he started to adjust and picked up his play, he earned that spot, which led to better play.
"I think he's done a good job," Flames coach Ryan Huska said. "I really think it came down to him understanding that he needed to compete harder and get his nose dirtier than he was early in the year. I think you see his confidence grow."
Huska asked Agostino to compete harder and the coach feels he did exactly that, earning the ice time he's now getting.
Agostino says there's a mix of contributing factors: maturity, learning the pro game and getting the chance. Injuries, trades and recalls shook up the lineup to create an opening for Agostino. Sven Baertschi was playing in the spot Agostino now occupies on the left wing of Bill Arnold's line with Emile Poirier. Baertschi was traded at the deadline and Agostino filled in, creating an all-rookie line.
The game has also slowed down for Agostino as he learned the faster professional game. Now, he can play his game: making plays, controlling the puck. Allain said Agostino was creative with the puck and had a knack for big goals. He's starting to show the skill that helped lead Yale to the 2013 national championship in the AHL too.
Allain told Agostino he was going to have to take responsibility for his career when he left school. College athletes are very protected and professionals are not. He felt Agostino was ready to make that change and, from afar, thinks he's made the switch well.
"It's something I hoped would happen for Kenny," he said. "He's in a pool of a much bigger talent than in college. You have to believe that you can play there, that you're good enough. Then you realize you are."
Follow Diana C. Nearhos's Flames coverage at poststar.com/flames and on Twitter @dianacnearhos.
Be the first to know
Get local news delivered to your inbox!