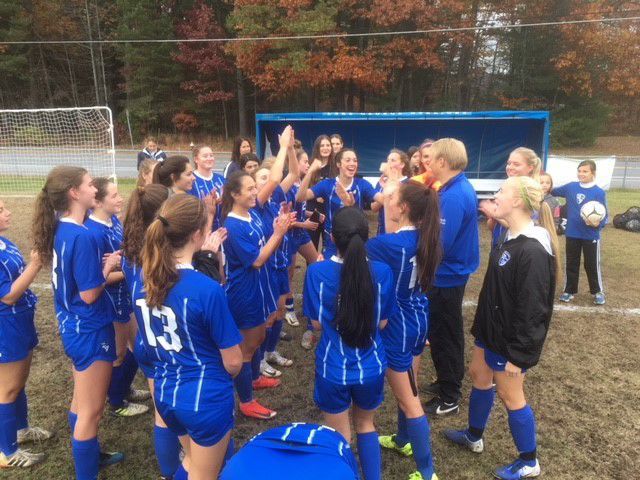 LAKE GEORGE — There are games when goalie Ava Pushor gets a little lonely at one end of the field while her Lake George teammates control the pace of play.
Tuesday was not one of those games. Cambridge pressed hard in the second half, but Pushor made 14 saves and the Warriors made the best of their opportunities to keep the season going.
Gabby Marchello scored twice in Lake George's 4-1 victory in a Class C quarterfinal of the Section II Girls Soccer Tournament, knocking Cambridge out of sectionals for the third time in four years. The Warriors move on to play top-seeded Stillwater in the semifinals on Monday at Mechanicville (6:30 p.m.), a game in which Pushor is not likely to get lonely.
Tuesday's game was still close early in the second half when the momentum shifted to Cambridge. Pushor made her best save on a perfectly placed corner kick, jumping up to punch the ball away with her right hand.
"It was corner kick after corner kick, so it was intense," Pushor said. "I trust my defense, obviously, and we all have the mentality that every ball in the box is our ball to get out."
"That's something we work on," coach Stephen Kohls said of corner kicks, "both attacking the ball with our defense and Ava either catching it if she's got space, or punching it. Ava's 6 feet tall, aggressive in the box and willing to come out in traffic and punch it away, or catch it. For her first year as a varsity goalie, she's been phenomenal."
Meanwhile, the Warriors didn't waste the good scoring chances when they came along.
Down 1-0 after Lilly Gates scored for Cambridge, Lake George tied the score when Marchello drove in after a through pass from Katie O'Donnell. Rachel Jaeger put in an O'Donnell cross to give Lake George a 2-1 lead early in the second half.
After the Warriors survived those Cambridge corner kicks, Kylie Mann scored on a shot from the top of the box. Marchello later took a pass from Mann and rocketed it in off the goal post.
"We work a lot on finishing," Kohls said. "Our mentality is that we have ball skills and passing to create chances. For us, if we finish well, we're hard to beat."
The Warriors will have their hands full on Monday when they play Stillwater, the No. 1-ranked team in the state and the defending state champion.
"We have a plan," Kohls said. "If the coach who made the plan made the right plan, and the girls can execute it, I think we have a shot. Our team can score on anybody. We put four goals in on Scotia. We've scored more goals this year than any Lake George team ever. So we feel we can score goals. The challenge for us is, can we keep them off the board?"
Cambridge ended its season at 12-5, going 7-2 in a tough Wasaren League, where they lost only to Stillwater and Mechanicville.
"We've had a tremendous season," coach Kayleigh Wiltey said. "We started off with two losses in the tournament, but we've really turned it around. I can't say enough about how this team stayed together."
Follow Sports Editor Greg Brownell on Twitter: @glensfallsse.
Get in the game with our Prep Sports Newsletter
Sent weekly directly to your inbox!