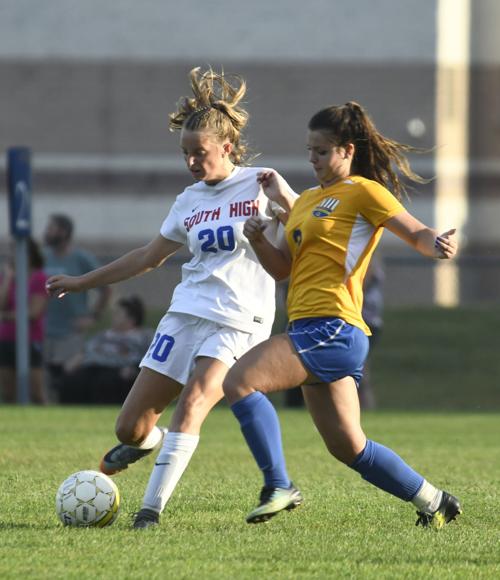 Call it rebuilding. Or retooling. Take your pick.
There's a bit of it going on across all area leagues in high school girls soccer this fall.
Take Fort Ann, which went to the Class D state championship game last year. The Cardinals bring back Sarah Paige, who began the 2019 campaign with 140 career goals, but they'll have to replace a good deal of the supporting cast that carried them to Cortland a year ago.
Or Lake George, which lost Adirondack League Player of the Year Sarah Kohls and seven other seniors. Gabby Marchello and a host of others will likely keep the Warriors in contention.
Or South High, which lost Foothills Co-Offensive Player of the Year Amya Naja and Class A Player of the Year Aly Fish. The Bulldogs, and many other teams, will be hoping the next generation can step up.
Bolton, Fort Ann and Lake George are likely to be the contenders in the Adirondack League again. Defending state champion Stillwater will be a favorite in the Wasaren League. The Foothills may have several contenders.
The Adirondack League will again have a two-game playoff at the end of the season to decide a champion, while the Foothills will stick with its points system. The Wasaren League, however, has scrapped its divisions and will play as a single league.
Foothills
Glens Falls: Tom Barrows takes over a program that's trying to make progress after going winless in the Foothills last year. Cate Barclay and Kayla Quirk are likely to be the biggest scoring threats. Avery Hill and Clara Avery are key to the midfield and Phobe Fox is a player to watch on defense. Robin Gorton take over in goal. The Indians have 16 on the roster and a core of players who have stuck with the program.
Hudson Falls: The Tigers lost half of their roster to graduation, including leading scorers Ashleigh and Kayleigh Lacy, so they'll be young this year. Madison Phillips and Kayleigh Osterhaudt are among the defensive leaders, with Danielle Hogan and Hayleigh Girard important in the midfield. Senior forwards Brinley Inglee and Olivia Lewis play up front. Hudson Falls brought back a JV team after going without last year.
Queensbury: The Spartans have a healthy number of returning players and the potential to score a lot of goals. Brigid Duffy, a returning Class A all-star, and Christina Cummings combined for 31 goals and 29 assists last year. Speedy Izzy Dennison is beginning her fifth year on varsity and Sophia Keshmiri has already found the net this year. Allie Basila is a leader on defense, the one area where the Spartans are rebuilding. With so many players back from a 12-3-1 team, the Q is likely to be a challenger.
South Glens Falls: Along with Naja and Fish, the Bulldogs lost Foothills first-team defender Emma Bovair. But they return first-team all-star midfielder Zoe Lanfear, an all-around solid athlete who scored 15 goals last year. All but one of South High's projected starters were part of the 2018 team that won the Foothills title. The Bulldogs won't have any superstars, but will instead rely on a balanced effort to keep their success going.
Adirondack
Bolton-Warrensburg: The Eagles return a substantial number of veterans, including five Adirondack League all-stars. Senior Leah Monroe was a 33-goal scorer last year. Aubrey Ranous (19 goals) also returns, as does Gabrielle Mowery (15 goals), a sophomore playing her fourth varsity season. Hope Boland returns to the midfield and Maria Baker leads the defense. Jordan Barker comes back as Section II's reigning Class C Goalkeeper of the Year.
You have free articles remaining.
Corinth: Fourteen members of the original 2017 varsity team are back and seven of them are now seniors. Morgan Thompson and Idalia Willett come back at forward along with Teighan Sullivan, who is returning from an injury. Grace Farr, Abby Spieldenner and Hannah DeLisle anchor the midfield. Caitlin Person is back in goal. Three-year captain Allison White is another key player, along with defender Maddy DeLisle. The Tomahawks hope to take another step forward after last year's 6-10 season.
Fort Ann: Paige returns as one of the premier players in Section II. She's the defending Class D Player of the Year and a first-team all-state selection. But the Cards have to replace departed players like Amanda Godfrey, Kylah Lindgren, Kayla Bailey, Kate Jackson and Natalie VanKirk. Faith Lehoisky is back in goal. The younger players will have to contribute if the Cardinals are to keep up their tradition of going deep in the Section II tournament.
Granville: The Golden Horde lost nine players to graduation and have just two seniors this year. They're hoping to be competitive with a younger team, including six freshmen and two eighth-graders. Taylor Amaral, a sophomore, returns as the team's leading scorer. The two returning seniors are Clarissa LeBell and Serena Li.
Hadley-Luzerne: After going winless last year, the Eagles have started out this year with a couple of non-league wins. Coach B.J. Hunt plans to start three eighth-graders and two others who didn't play last year. Hunt said quickness should be a strength. Senior captains Alyssa Starzec and Shannon Price will be key players, Starzec as a scorer and Price as a defender and goalie. Others to watch include Tori Granger (playmaker), Chloe Woodcock (defender), Gabby Mosher (midfielder) and Hannah Johnson (scoring).
Lake George: The Warriors have some big shoes to fill, but still have lots of talent on the roster. Gabby Marchello, a third-team all-state player last year, is coming off a 15-goal, 12-assist effort in 2018. Kylie Mann is a solid player with a good shot and Katie O'Donnell is a key player at center-forward. Ava Pushor takes over in goal. Ty Bergman could be a force at midfield. Coach Stephen Kohls expects to have speed and a balanced attach on his side. Lake George came into the season with a 40-game win streak against league opponents.
Salem: Mikayah Rushinski was an Adirondack League all-star last year and returns as the Generals' leading scorer. Keenan Fronhofer and Kylei Ruebel may also contribute to the offense this year. Sophomore goalie Kathryn Sweenor will be a key player on the team. Heather Keays takes over as head coach. Depth is a strength with 23 players in the program.
Whitehall: The Railroaders lost Jessica Moore and two other seniors to graduation, but have a substantial number of players returning. Many of them are juniors, like midfielder Zoe Eggleston (their leading scorer last year with 11 goals), sweeper Kyrie Smith and forward Riley West. Dory Gosselin, now a sophomore, had five shutouts in 2018. Coach Boyd Hunt considers defense and an ability to control the ball to be the team's strength.
Wasaren
Greenwich: Leading scorers Tess Merrill and Faith Ingber return along with goalie Faith Hewitt. The Witches took a step forward last year, going 0-11 in league play the previous year to 4-8.
Cambridge: The Indians retain several key players from last year's 11-4-2 team. Most notably, speedy forward Vanessa Evans is back after scoring 17 goals last year. Sophie Phillips is a key player in central midfield, while her sister Lilly is coming off an 11-goal season. Ruth Nolan also helps patrol the middle of the field. Abigail Maher is a leader on defense. Kayleigh Wiltey takes over as the new coach.
Mechanicville: Class B Goalkeeper of the Year Savannah Bowie returns to a team that went 12-5-1 last year but played in the shadow of eventual state champion Stillwater. Junior Ryleigh Hopeck, a third-team all-state selection, is back on defense. Seniors Jada Brown and Brynn Murphy return to the midfield. Sophomore Nevaeh D'Aloia, a third-year starter, also plays in the midfield. There are some gaps to fill on defense.
Section VII
Indian Lake-Long Lake: Leading scorer Lauren Johnson graduated along with Ashley Ghostlaw, Karmen Howe and Olivia Penrose, the last remaining members of the Orange Nine — the team that played the 2015 season with a nine-person roster. Alex Campbell takes over in goal. Anna Penrose will be a leader in midfield and Shelby Benton is a senior on defense. Junior Alexis Jackson and freshman Anna Strader may also make an impact. Coach Emily Stephan said it's a young team that should improve over time.
Johnsburg-Minerva: Leading scorer Khaleah Cleveland (27 goals last year) will be hard to replace, but the newly merged team has talent coming back. Shae Riedinger returns off an 18-goal season in 2018. Jennie Allen should also contribute on offense. Charlize Bernard is back in goal. Hannah McNally was Minerva-Newcomb's leading scorer last year. Also look for Aileen Stevens, Kate Wimberly and Avery Bayse to contribute. Adding Minerva's players to a Johnsburg team coming off a 14-3 season could mean a contending team.
Ticonderoga: The Sentinels had a rough go of it last year, going 1-15, and lost nine seniors. Coach Tina Russell is looking for improvement as the season goes alone. Numbers are good with a 19-player roster.