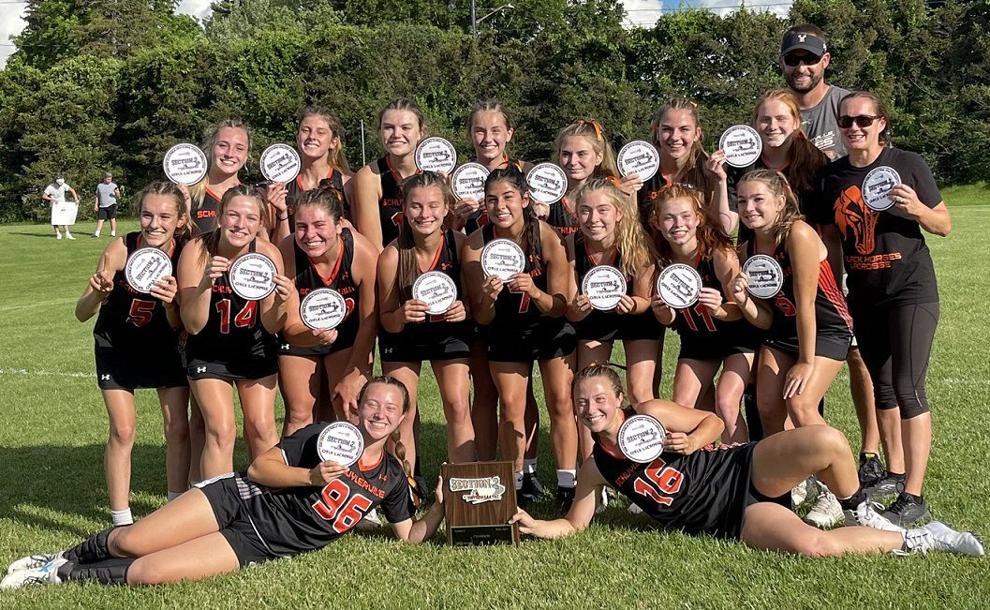 ALBANY — Schuylerville was seeded second for Tuesday's championship game, which meant a road game for the Black Horses.
They played like a No. 1 seed.
The Horses scored the game's first five goals and went on to beat Holy Names 16-9 in the Class D final of the Section II Girls Lacrosse Tournament. Schuylerville, which also won in 2017 and 2018, has won three of the last four contested Class D tournaments.
"This has actually been a big rebuilding year," coach Erin Lloyd said. "We've got two seniors, but it's just a team that bought in from Day One. They had a drive and a passion and they put in the work."
Junior Eliza Barton, one of the team's most experienced players, scored six goals.
"She's very fast," Lloyd said. "Her agility, her ability to move the ball ... she has great footwork that makes her able to do those things. But she's also selfless. If she has the run she takes the run; if she doesn't have the run, she makes the pass."
The Black Horses got three goals each from Macey Koval and Sadie Tavares and two goals out of Ella Welsh and Star Pflieger. The team's two seniors have been among the leaders in back — goalie Olivia Stortz and defender Rachael Stortz.
Schuylerville went 15-1 this season, with the only loss coming to Queensbury. That's not a bad loss to have, against the team that beat everyone else in Section II regardless of school size.
"We definitely had some battle games .. Glens Falls, Scotia ... that helped to kind of build the team's ability to overcome adversity," Lloyd said. "This team does like to run. They're fast and they're fun to watch.
"We had the mentality all season to get to this game. We really focused on one game at a time, continuing to improve and building and getting as many people involved in our offense as possible."
Scores and postponements from Tuesday's Sectional finals, now complete.