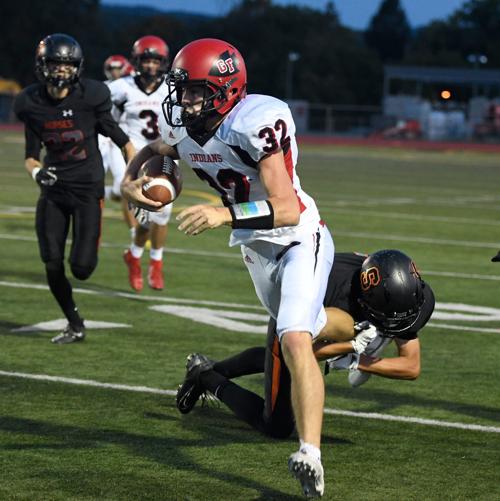 Glens Falls running back Griffin Woodell, Schuylerville nose guard Jack Koval and Warrensburg defensive lineman Jaron Griffin have been named first-team all-state in football.
All-state football selections were announced Wednesday in Classes B, C and D.
Woodell, a sophomore who rushed for 890 yards and 19 touchdowns and finished with 28 scores overall for the Indians, was chosen for the Class B first-team offense. Koval, a junior who led a rock-solid defense for the state runner-up Black Horses, made the first-team defense in Class B. In Class D, Griffin was one of Warrensburg's defensive leaders as the Burghers won a second straight Section II title.
Also in Class B, Glens Falls junior receiver Aalijah Sampson made the second-team offense as an all-purpose player, and senior lineman Nick Danahy was chosen for the second-team defense. Glens Falls senior David Barclay made the fourth team as an offensive end.
Schuylerville junior offensive lineman Lucas Woodcock made the fourth team, and running back Jacob Vanderhoof and linebacker Tyler Bowen, both seniors, made the fifth team.
You have free articles remaining.
Local honorable mentions in Class B were Glens Falls quarterback Noah Girard and defensive back Hogan Fox, Schuylerville running backs Jack Dwyer and Sam McGarrahan and defensive back Kyle Burnham, and Hudson Falls defensive back Riley Maddison.
Holy Trinity had three first-team selections in quarterback Joe Tortello, all-purpose player Noah Foster and linebacker Nacier Hundley, all seniors. Fullback Lucas Scott of state champion Chenango Forks was the Class B Player of the Year.
In Class D, Warrensburg senior running back Jesse Griffin, sophomore all-purpose player Dylan Winchell and freshman linebacker Tristen Hitchcock all made the second team, along with Whitehall senior linebacker Brendan Covey. Warrensburg senior Zach Shambo was an honorable mention at linebacker.
In Class C, Cambridge-Salem senior linebacker Hunter Day made the second-team defense, while Greenwich senior kicker Chris Albrecht — also a running back and linebacker — was chosen for the second-team offense. Section II champion Stillwater had two first-team defenders in linebacker Brian McNeil and defensive back James Galarneau, while running back Mason Seymour made second team.
Making the third-team in Class C were Granville senior offensive lineman Alix Prouty, Greenwich all-purpose senior Luke Pemrick and sophomore defensive back Jesse Kuzmich, and Cambridge-Salem senior linebacker Jordan Dean.
Local honorable mentions in Class C were Lake George/Hadley-Luzerne senior receiver Shane Clarke, Greenwich lineman Bryce Lynch, and senior running back Kaedin Ogilvie and senior lineman Cooper Wood of Cambridge-Salem.