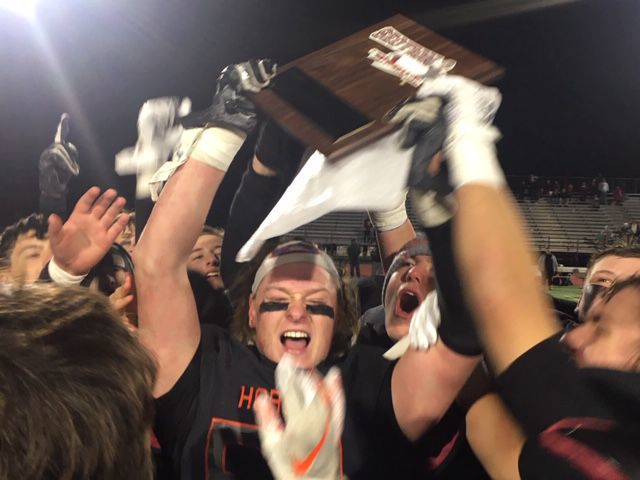 CLIFTON PARK — Kyle Burnham's redemption lifted an entire team Saturday evening.
Burnham — whose fumble had allowed Holy Trinity to pull into a tie two minutes earlier — scampered into the end zone with no time left at the other end of the field, lifting Schuylerville to a thrilling 28-22 Class B championship victory in the Section II Football Tournament.
Racing through the end zone and mobbed by his Black Horses teammates, Burnham felt the weight lift off of him in a burst of pure joy.
"It was a tough-fought run," said Burnham, a senior who rushed for 109 yards and three touchdowns. "We missed a block and I just ran it as hard as I could, we only had a yard to go. We needed that touchdown."
Schuylerville (9-1) claimed its first Section II football title since 2015 in riveting fashion, keeping Holy Trinity's explosive offense under wraps.
The Black Horses advance to play Potsdam (7-2) in the state quarterfinals on Friday at 7 p.m. at Massena High School.
"I was thinking, 'Not again, not on this field,'" said Horses head coach John Bowen, whose team lost in overtime to Glens Falls in 2017 on the same Shenendehowa High School field. "They've done an unbelievable job of rebounding. With (Holy Trinity's) offense, you're not going to run away from that football team. I'm so proud of our guys, the way they responded in the face of a very adverse situation with a couple minutes left in the game."
Leading 22-14 with just over two minutes left in regulation, Schuylerville had halted the Pride (8-2) on downs at the Horses' 4-yard line.
Three plays later, disaster struck, as Burnham fumbled when hit. The ball skittered back into the end zone, where Holy Trinity's lightning-quick Noah Foster fell on the ball for the touchdown. Foster added the two-point conversion to pull the Pride into a 22-22 tie with 2:05 to play.
Burnham set about redeeming himself, returning the ensuing kickoff from his own 11 to the Schuylerville 45. On third and long, Owen Sherman completed a 24-yard pass to Charles Luzadis — his only completion of the game — and the Horses were on the march. Sam McGarrahan, who led all rushers with 126 yards on 29 carries, ran 22 yards to the Holy Trinity 14, then 4 more yards to the 10.
After that, it was all Burnham, on runs of 6 and 3 yards, before Sherman spiked the ball to stop the clock with 2.5 seconds left.
Burnham scored on the next play, dashing through the left side of the line for the winning touchdown.
"We were down after that (fumble), but we rallied back, we had a nice kick return then a big catch, and we just drove it down the field," Burnham said. "Our blocking was great tonight. It was a whole-team effort."
"Kyle ran angry," Bowen said. "He was upset with himself, I think he felt like he had put us in a tough spot right there, and he took the kickoff up the chute and finished that.
"Kyle's understanding and our trust in him, going down the field and still feeding him the football, I think meant a lot to him," Bowen added. "That finish on his run was every bit as much for the rest of the guys as it was for Kyle."
Schuylerville's defense had played exceptionally well for most of the game, limiting Holy Trinity to 18 yards rushing. The Pride's standout quarterback, Joe Tortello, still completed 13 of 21 passes for 201 yards, but his 60-yard touchdown strike to Nacier Hundley was Holy Trinity's only big play of the first half. The Pride went three-and-out the next three times they had the ball.
The Horses, meanwhile, used time-consuming drives, grinding out possessions on the ground. Sherman scored from a yard out to pull within 7-6 to start the second quarter.
Schuylerville took a 14-7 lead on Burnham's 10-yard touchdown late in the third quarter, but Holy Trinity responded quickly, a 43-yard Tortello-to-Hundley pass setting up Foster's 1-yard scoring run for a 14-14 tie.
The Horses took a 22-14 lead with 8:22 left, driving 64 yards in 13 plays to Burnham's 2-yard touchdown run, with Colton Weatherwax catching Sherman's two-point conversion pass.
Holy Trinity then marched from midfield to the Schuylerville 4, but on fourth and goal, Tortello's final high school pass fell incomplete, tipped away by Weatherwax. That set the stage for the game's wild final two minutes.
"I can't say enough about the senior leadership," Bowen said. "Kyle loses the football down here, and then we put the ball in his hands and ask him to respond at the other end. We have that kind of trust in all of these guys — we ride them hard, we push them hard, we're tough on them, and again, they did an unbelievable job responding."
"Nobody thought we could do it," junior lineman Jack Koval said. "We did everything we could, we just kept fighting and it turned out good. We won and that's all that matters."
Follow Pete Tobey on Twitter @PTobeyPSVarsity.
Get in the game with our Prep Sports Newsletter
Sent weekly directly to your inbox!