SYRACUSE — The Schuylerville football team had few answers Sunday for a 6-foot-4, 245-pound wrecking ball in cleats.
Again and again, Chenango Forks fullback Lucas Scott crashed into the Schuylerville defense, and the Black Horses seemed to get up from the Carrier Dome turf a little slower each time as the second half wore on.
The combination of the Blue Devils' huge line leaning on Schuylerville and Scott pounding the rock added up to a 38-14 loss for the Black Horses in the Class B state championship game.
Scott finished an MVP performance with a whopping 306 yards and three touchdowns on 39 carries as he powered Chenango Forks (13-0) to its sixth state title since 2003, and first since 2015.
"He's a tough runner — you can't tackle him high, otherwise he's going to stiff-arm you to the ground or truck you, one or the other," Schuylerville senior linebacker Tyler Bowen said. "You just have to wrap him up, take him to the ground by the knees and ankles."
"He doesn't really go down with one tackle," junior nose guard Jack Koval said. "A lot of our secondary guys really struggled with taking him down. He's a good player and a big, heavy running back."
Dubbs Haqq added another 109 yards and two scores for the Section IV (Binghamton area) powerhouse Blue Devils, who finished with 445 yards on 63 rushes and 24 first downs.
"We knew if they were able to do it, it was going to be that death-by-a-thousand-paper-cuts type of offense," said Schuylerville head coach John Bowen, whose team finished 11-2. "And they were able to grind out the 2 or 3 chunk yards and continue to move the sticks in three or four plays."
"There's a lot of big, physical kids on their team, and we don't necessarily have that same size," senior linebacker Kyle Burnham said. "We started stopping them in the beginning, but after that they just kept moving the ball downfield."
The game started almost perfectly for the Black Horses, as they scored an apparent touchdown on a 60-yard run by Colton Weatherwax, but it was called back for illegal motion. Four plays later, Chenango Forks' Jack Zimmerman picked off a pass deep in his own end.
Twice, the Schuylerville defense stuffed the Blue Devils' offense, forcing a punt and a turnover on downs at Forks' 16, halting Scott for no gain on fourth and two.
"They've been doing that (going on fourth down) all year — that's been their calling card," John Bowen said. "They feel like if they have a yard or two to gain, they're going to get it."
The Black Horses were unable to capitalize on perfect field position, however, as they turned the ball over on downs at the 8.
You have free articles remaining.
"That was tough, coming up empty there," John Bowen said. "They're a physical defensive team, as well."
Chenango Forks then drove 92 yards in 10 plays to Haqq's 12-yard touchdown run early in the second quarter, set up by a 47-yard run by Scott that was his first big run of the afternoon.
Schuylerville responded quickly. Three plays later, sophomore Owen Sherman found Jack Dwyer behind coverage for a 44-yard touchdown pass to pull the Horses into a 6-6 tie.
However, Chenango Forks ground out another scoring drive, capped by a 5-yard run by Scott. The Blue Devils struck again just before halftime on a 33-yard touchdown pass from Ray Austin to Ethan Brown for an 18-6 lead.
In the second half, Forks leaned on its power-running game, getting touchdown runs of 4 and 54 yards by Scott and a 48-yarder by Haqq.
"In the first half, we were pretty much right where we wanted to be, but we knew our offense had to start churning, putting out some output," Koval said. "But we couldn't get that going and our defense kind of gassed out a little bit."
Schuylerville completed the scoring in the fourth quarter, when senior Jacob Vanderhoof fought for an 18-yard touchdown run up the middle. He finished with a team-high 64 yards on eight carries.
The Schuylerville defense spent a lot of time on the field, as the Blue Devils owned a 2-to-1 edge in time of possession — 32 minutes to 16 for the Black Horses.
Koval finished with 15 tackles to lead Schuylerville, and linebacker Caleb Max added 14 and was named the Defensive Back of the Game. Tyler Bowen chipped in with 12 tackles and Weatherwax had nine.
"A team that's as big and physical as they are is going to play to their strengths," John Bowen said. "Today we tried to play to ours, we tried to utilize speed at the second level defensively, and we just weren't able to sustain for the full 48 (minutes). They were a very good football team at doing what they did — we needed to be a little bit better for a little bit longer."
Football: Schuylerville in state title game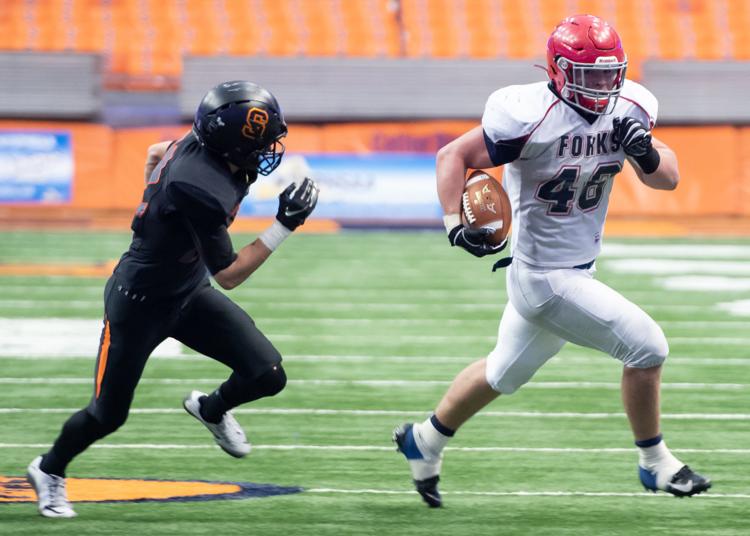 Football: Schuylerville in state title game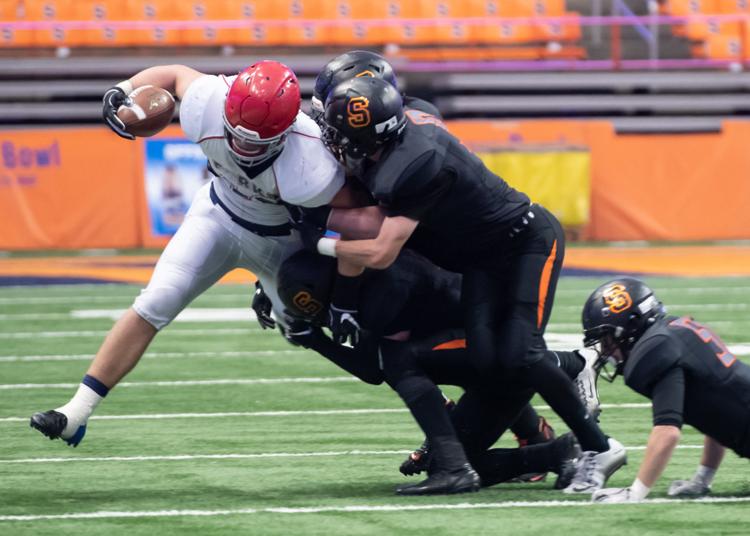 Football: Schuylerville in state title game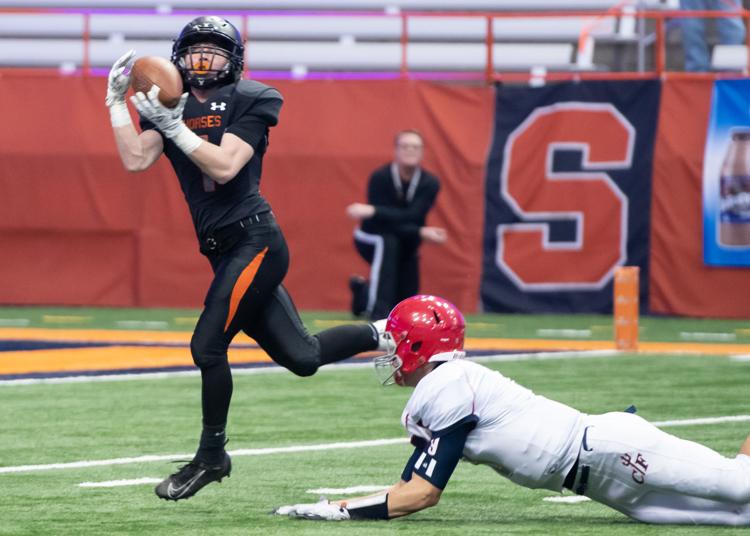 Football: Schuylerville in state title game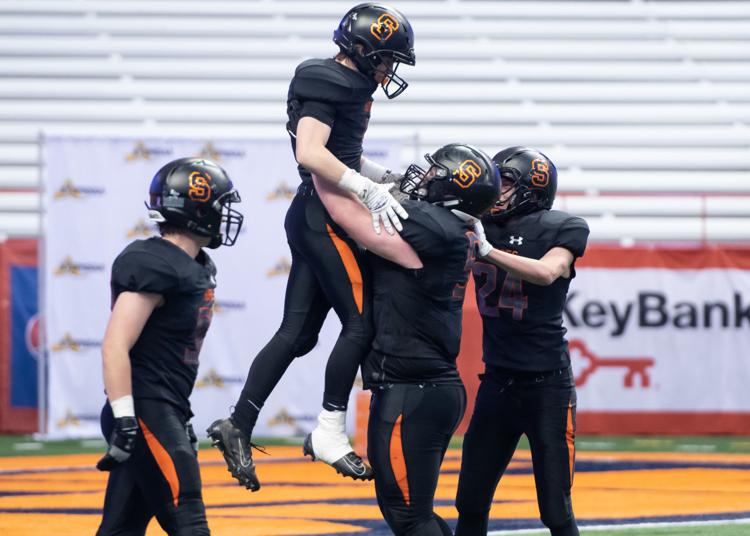 Football: Schuylerville in state title game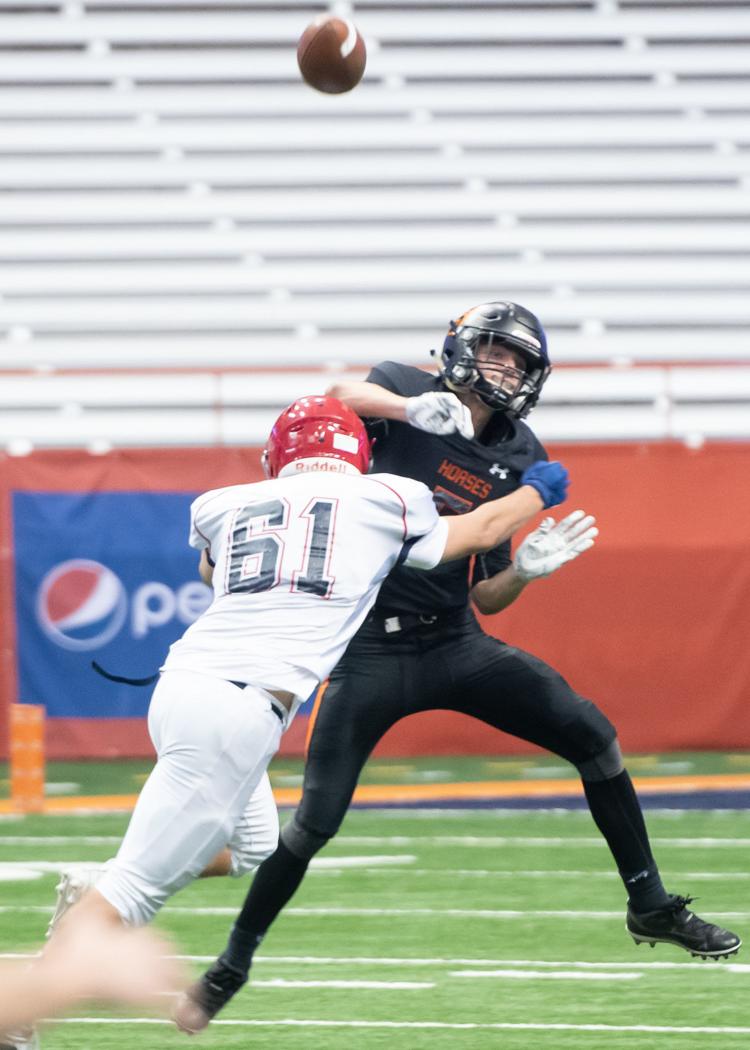 Football: Schuylerville in state title game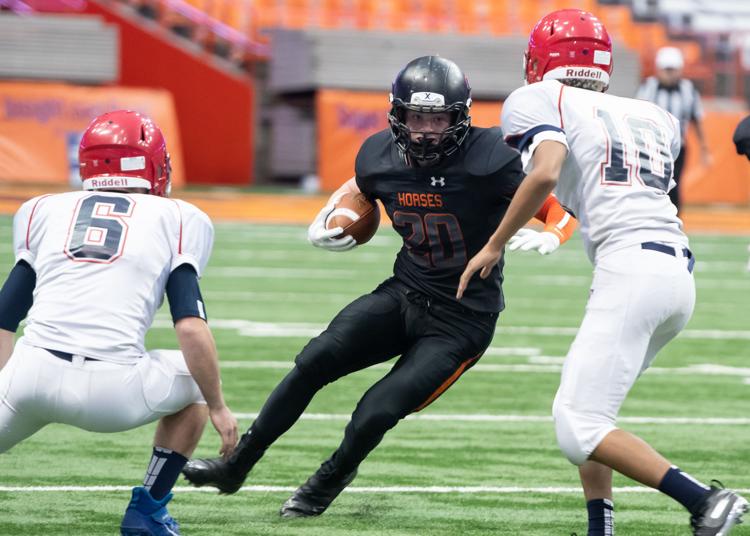 Football: Schuylerville in state title game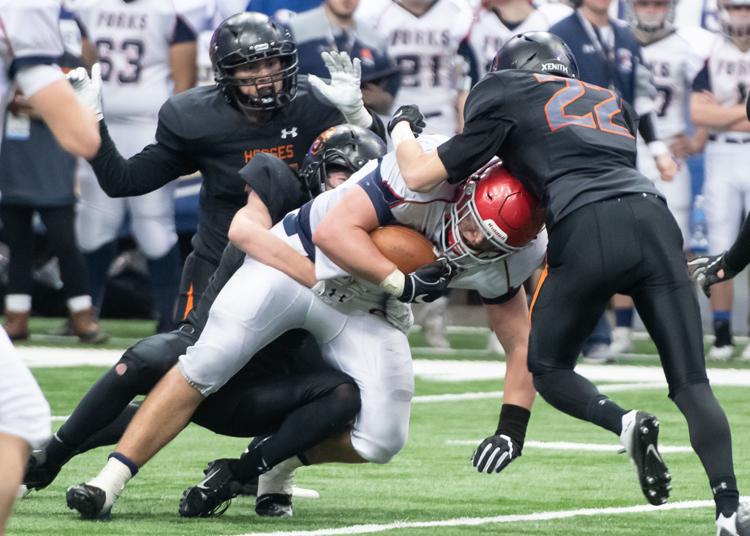 Football: Schuylerville in state title game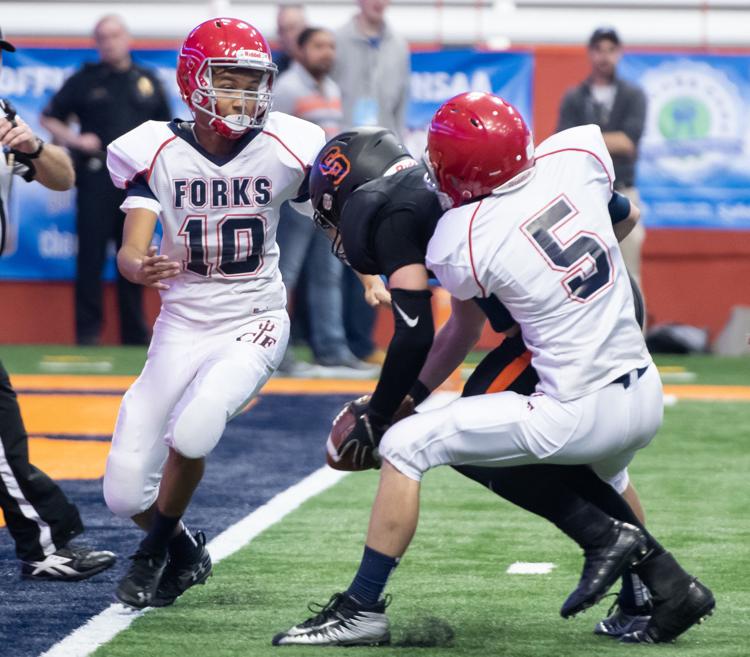 Football: Schuylerville in state title game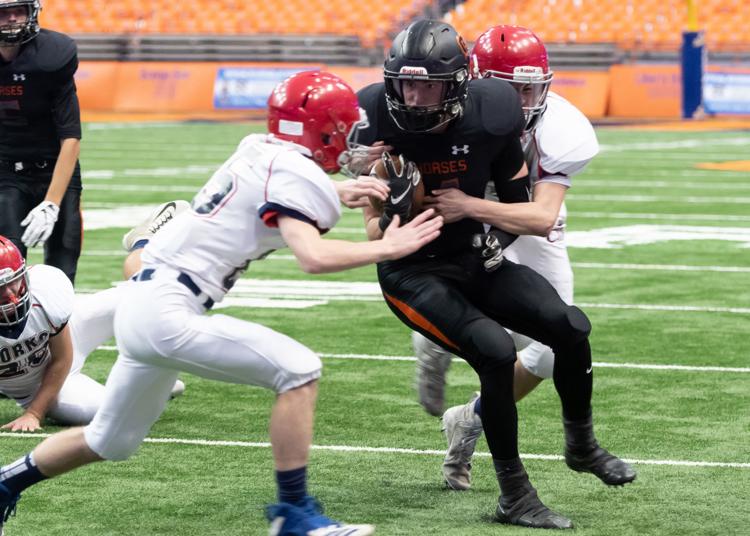 Football: Schuylerville in state title game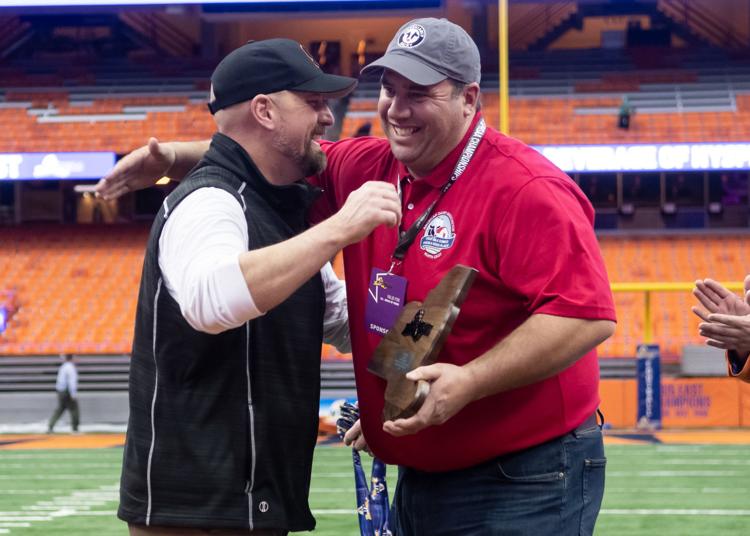 Football: Schuylerville in state title game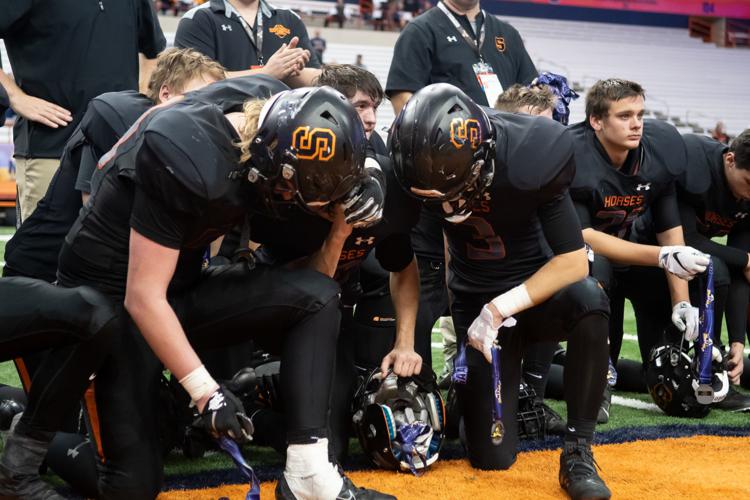 Follow Pete Tobey on Twitter @PTobeyPSVarsity.
Get in the game with our Prep Sports Newsletter
Sent weekly directly to your inbox!