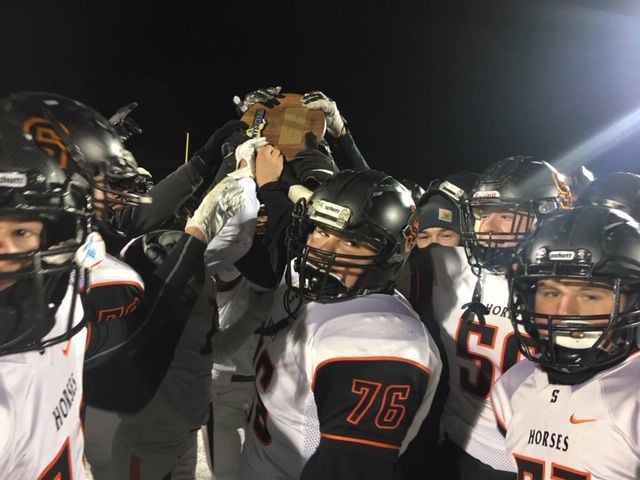 OGDENSBURG — Sam McGarrahan's hands were still bright red from the bitter cold as he tore the tape from his ankles in a hallway Friday night just inside Ogdensburg Free Academy.
Several minutes earlier, the Schuylerville fullback and his teammates had wrapped up a convincing 28-8 Class B state football quarterfinal victory over Potsdam on a frigid, snow-covered field.
"For a lot of the guys, definitely for myself, this is like a bucket listing: go out in the snow, play a game, especially of this magnitude," said McGarrahan, a junior who ran for three touchdowns. "It's something you've waited all your whole life to do, and that kept us motivated throughout the game."
"It's something I always wanted to do, and it just feels amazing to keep going with all my friends," said junior Jack Koval, part of a Schuylerville defense that kept Potsdam standout Will Varney in check.
The Black Horses dominated the line of scrimmage and rode a three-headed ground-and-pound running game to their second state semifinal berth in five seasons. Schuylerville (10-1) advances to play either Ardsley or Port Jervis on Saturday, Nov. 23, at Middletown's Faller Field (3 p.m.).
With Kyle Burnham — the hero of last week's Section II championship thriller — sidelined with a sore knee, Jacob Vanderhoof still out with his knee injury, and Jack Dwyer hampered by an ankle injury, the Black Horses simply went with the next guys.
"It's become the culture, honestly — it just keeps going and going," McGarrahan said. "Hopefully we're getting guys back soon."
McGarrahan and senior Colton Weatherwax both rushed for 94 yards, and sophomore quarterback Owen Sherman added 88 yards and a touchdown to lead the Black Horses.
Playing on a field that had gotten a fresh coating of snow from a squall about an hour before game time, and braving a 15-degree wind chill, Schuylerville got its offense rolling right away, reaching the Sandstoners' 1-yard line on its opening possession before being turned away.
"You're a little unsure of what team's gonna get off the bus, but the guys came right out and they kind of embraced this weather tonight a little bit more than I thought they would," Black Horses head coach John Bowen said. "They didn't let the elements overrun their ability to execute."
Sherman, who showed off his ball-faking skills by running several read-options for big yards, opened the scoring late in the first quarter on a 5-yard keeper up the middle, with Weatherwax adding the two-point conversion.
McGarrahan then scored once in each of the last three quarters, on runs of 1, 3 and 8 yards to push Schuylerville's lead to 28-0 by early in the fourth.
"It was a hard, gritty win — they're a downhill team, we're a downhill team," said McGarrahan, who carried the ball 21 times.
"We wanted to get quick out of our stance, get into their chest, keep driving and finish blocks, and open holes for Sam, Owen and Colton, too," Koval said.
Meanwhile, the Schuylerville defense shut down Potsdam for the first three quarters. At halftime, the Sandstoners (7-3) had just 33 yards and one first down on offense. Varney finished with 132 yards on 22 carries, breaking away for a 38-yard touchdown with 6:18 left to avert the shutout.
The Horses' defensive front of Koval on the nose, tackles Tyler Bowen and Andrew Dumas, and ends Evan Jeffords and Jack Nemer proved to be much quicker than Potsdam's line, stuffing rush after rush.
"(Potsdam) had done a really good job over the last several weeks of moving the football inside the tackles, so we dedicated ourselves tonight to make sure that that wasn't where we were going to lose this football game," John Bowen said.
"We knew that they were going to run the ball a lot, they're a big run-heavy team, so we wanted to get some of our bigger guys up in the front," Koval said. "I think we did a pretty good job of being the better athletes up front and really dominating the line of scrimmage."
Follow Pete Tobey on Twitter @PTobeyPSVarsity.
Get in the game with our Prep Sports Newsletter
Sent weekly directly to your inbox!