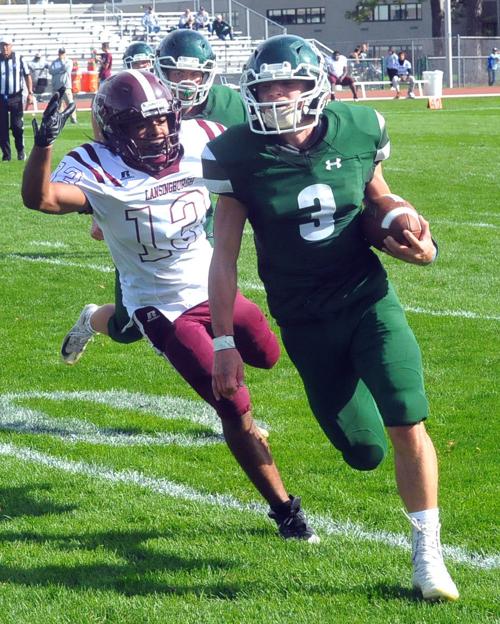 HUDSON FALLS — Admittedly, Riley Maddison and his Hudson Falls football teammates were getting frustrated during Saturday's Class B North clash with Lansingburgh.
The Tigers needed a win to clinch a playoff spot, but they kept hurting themselves with penalties and miscues.
Maddison would not be denied, though, as he rushed for 201 yards and a touchdown, and the Hudson Falls defense made a stand with its backs against the wall in a 12-7 victory at Moran Field.
"(The line) had the hard job, making the holes," said Maddison, who ran the ball 30 times in his first game since switching from quarterback to his natural running back spot. "I had the easy job, I just ran."
The Tigers (2-2 division, 2-4 overall) overcame 80 yards in penalties to lock up the fourth seed in the division heading into Saturday's Jug Game against Glens Falls.
"Having a disappointing season in the win-loss column, to show resilience, fight and practice hard every day, and to come out and get a win — I'm very happy for my boys, they deserve it," Hudson Falls head coach Bill Strong said.
The Tigers had struggled moving the ball this season, but after a three-and-out opening series, they started clicking behind Maddison's slashing runs.
"We just came together as a team, played hard and didn't give up on any plays," senior lineman Dan Hill said. "We have two returning linemen and a bunch of new guys this year. We didn't really click in the beginning. We felt like a family this week, we all came together and got a win."
Hudson Falls' second possession reached the red zone, but turned over on downs after a 15-yard personal foul penalty. Two more drives ended with a fumble and a punt.
You have free articles remaining.
However, the Tigers put together a 12-play, 76-yard scoring drive, capped off when Maddison plowed into the end zone from 4 yards out for a 6-0 lead with 2:26 left in the first half.
Maddison then picked off a Lansingburgh pass deep in Knights territory, but the Knights returned the favor with an end-zone interception just before halftime.
Hudson Falls, which had held Lansingburgh to 35 first-half yards, made its most important defensive stand in the third quarter. The Knights drove to the Tigers' 3-yard line, but the Tigers stuffed a rushing attempt, then a pitchback lost 10 yards, and on fourth down, the Tigers got a sack to take over on downs.
"Just bury your toes, buckle up your helmets and make a stop, play some football," Maddison said. Hill added, "With the game on the line, too."
"That was the play of the game right there," Strong said. "It allowed us to preserve the lead long enough to get the ball back and punch one more in, which ended up being the difference."
In the fourth quarter, the Tigers drove from midfield to Arek Hall's 6-yard scoring run to open a 12-0 lead with 4:15 left in regulation.
"That was crucial because they came right back and scored," Strong said.
Lansingburgh responded with a 14-yard scoring pass from Vinny Tario to Andrew Lyman on fourth and long to pull within 12-7 with 1:43 to play.
The Knights then recovered the onside kickoff, but 20 seconds later, Nick Hunt picked off Tario's pass at Hudson Falls 21 to seal the win.
"The important thing is the boys sealed themselves a playoff spot," Strong said. "Going forward, it's great for our young kids to experience playing in the playoffs, and send our seniors out with the opportunity to play for something Week 8 — that's important to a program."
Follow Pete Tobey on Twitter @PTobeyPSVarsity.