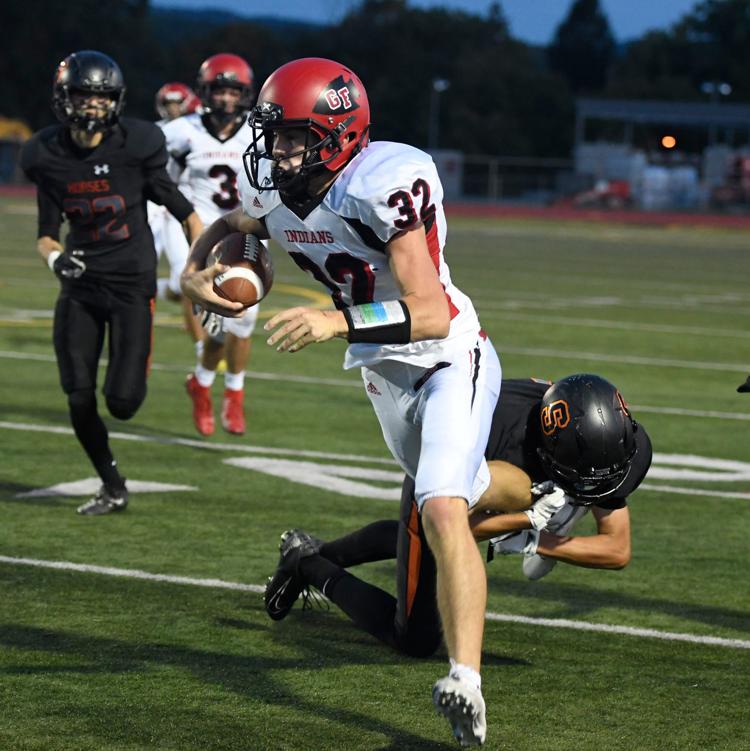 SCHUYLERVILLE — Griffin Woodell was not too happy with getting thrown backward to land in front of his own goal line.
The Glens Falls sophomore took it out on Schuylerville on the next play, racing 99 yards for a touchdown early in the second quarter — one of several big plays by the Indians in a 34-13 Class B North football victory.
"The play before, I got a little upset, so I was ready," said Woodell, who finished with 167 yards on 19 carries and scored three times. "My linemen just blocked for me, opened up a huge hole."
"The play before, he got a little angry," said Noah Girard, who tossed three touchdown passes and ran 68 yards for another score. "I told him to keep his head in, and the hole opened for him. He broke a few tackles and he sprang it for a touchdown."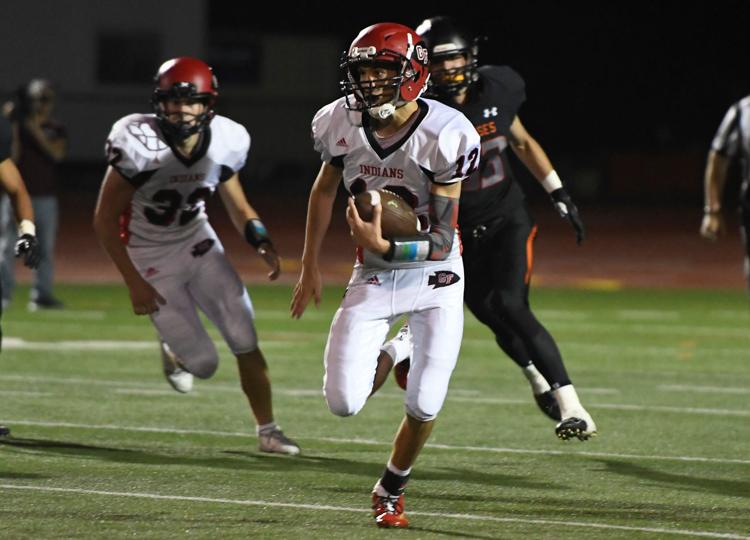 Woodell's run gave Glens Falls a 20-0 lead, which grew to 34-0 before the Black Horses scored a pair of fourth-quarter touchdowns.
"It's amazing the strides he made from the beginning of last year when you look at him physically," Indians head coach Pat Lilac said of Woodell. "He kind of busted on the scene last year and opened our eyes, and then he got hurt. But he worked really hard over the summer and he's gotten bigger physically, so he gives us a really good weapon back there, where we can use Aalijah (Sampson) in a bunch of different ways."
Schuylerville head coach John Bowen said Woodell's coast-to-coast run was a back-breaker, coming after a punt that had pinned the Indians at their own 5-yard line.
"That was definitely a hinge point in the game right there," Bowen said. "Whatever momentum we might've been able to gain from having the field flipped was gone in the blink of an eye.
"We did a real nice job of welding what he wanted on the front side shut," Bowen added. "He just was patient and sat, and then squeezed out that back-side 'B' gap and he was gone."
You have free articles remaining.
Girard connected with David Barclay on a 14-yard touchdown pass, and tossed scoring passes of 12 and 10 yards to Woodell. He completed 9 of 14 passes for 112 yards.
"Our O-line really helped out," Girard said. "They let us throw a lot, and that opened up Griffin and the running game."
The Indians' defense, meanwhile, held the Horses to 141 total yards.
"I was happy that our defense executed the way they did — they stayed focused," Lilac said. "We can't simulate how crisp they run it in practice. Once we settled down a bit, we did a good job of not letting them break loose for any big plays and we limited their ball-control offense and not let them eat the clock up."
Glens Falls, which improved to 2-0 in the division and overall, was also helped by eight Schuylerville penalties that added up to 88 yards in losses.
The Horses (1-1, 1-1) got a 39-yard interception return from Jack Dwyer and a 10-yard quarterback draw for a touchdown by Owen Sherman to get on the scoreboard in the final quarter.
"We had to be perfect in every phase all 48 minutes tonight to beat this team, and we certainly weren't that," Bowen said. "They're too good of a team all the way across the board to not be perfect."
Football: Glens Falls at Schuylerville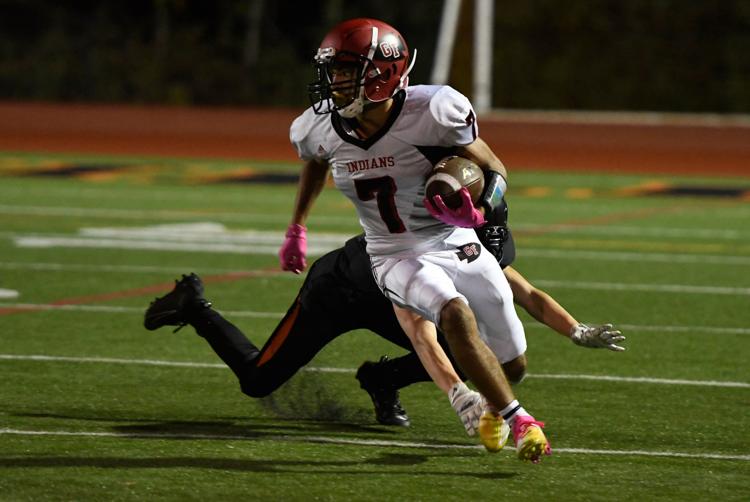 Football: Glens Falls at Schuylerville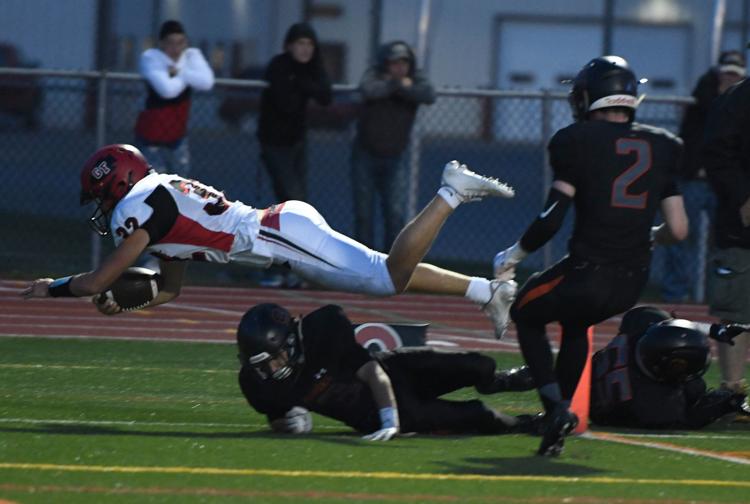 Football: Glens Falls at Schuylerville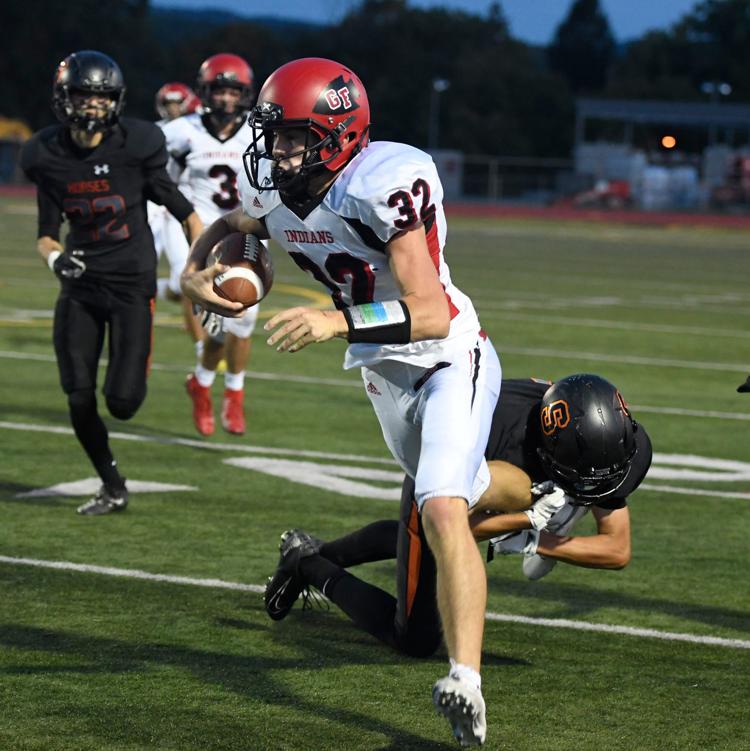 Football: Glens Falls at Schuylerville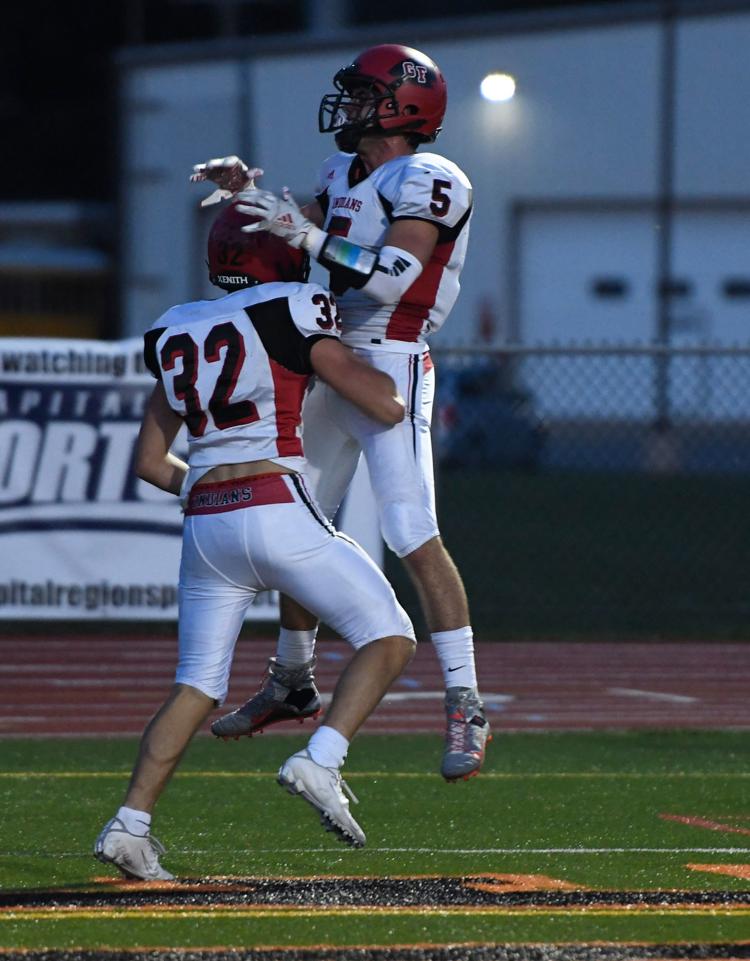 Football: Glens Falls at Schuylerville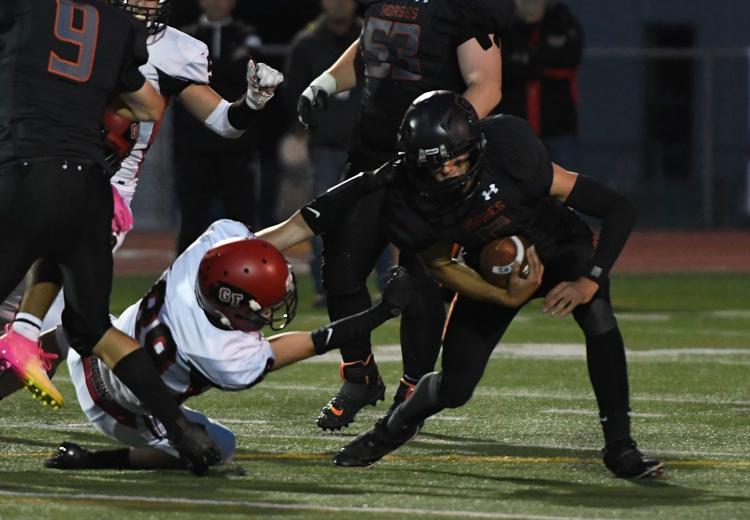 Football: Glens Falls at Schuylerville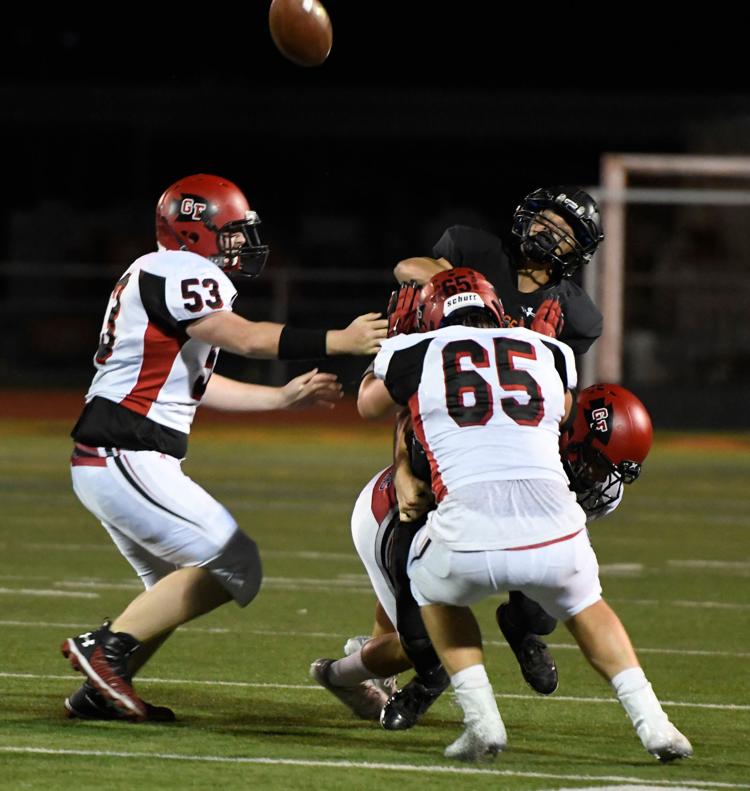 Football: Glens Falls at Schuylerville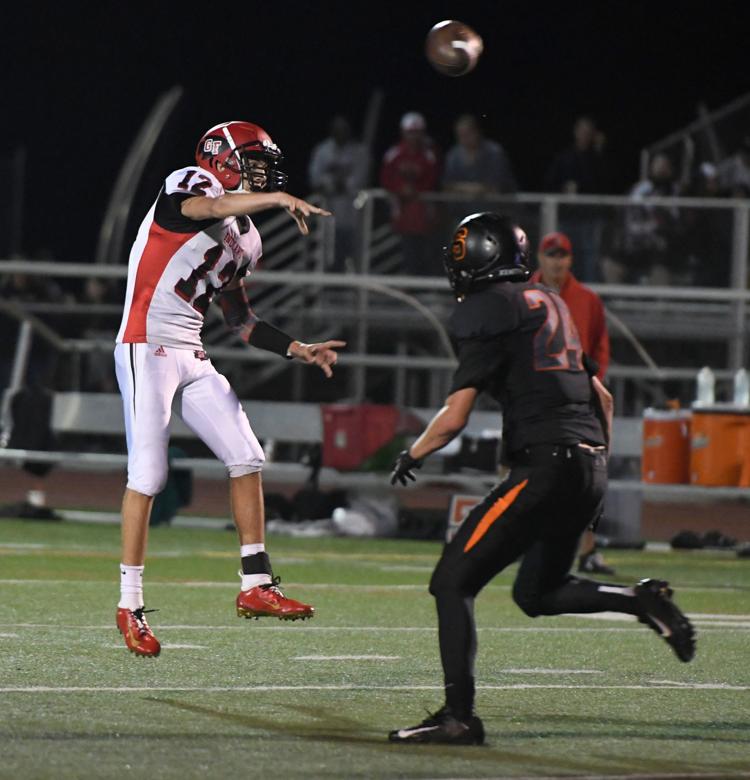 Football: Glens Falls at Schuylerville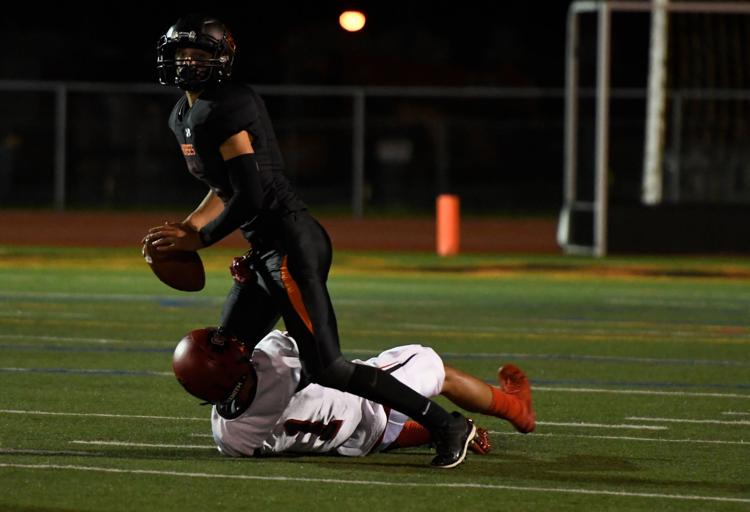 Football: Glens Falls at Schuylerville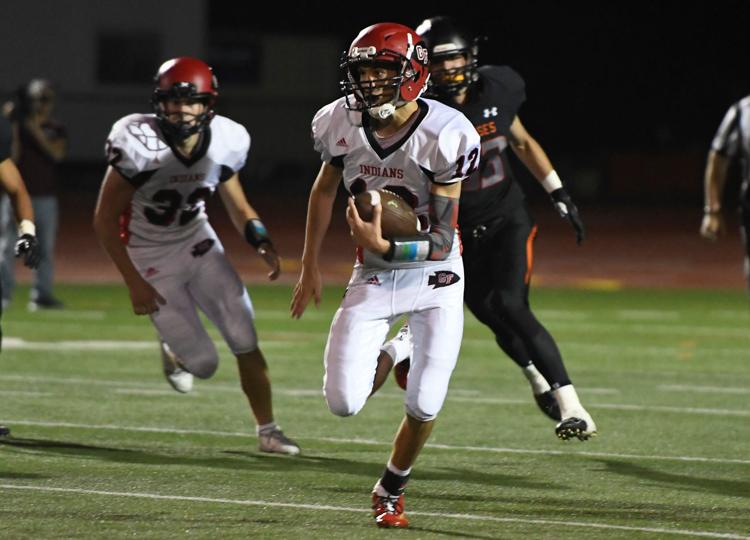 Football: Glens Falls at Schuylerville