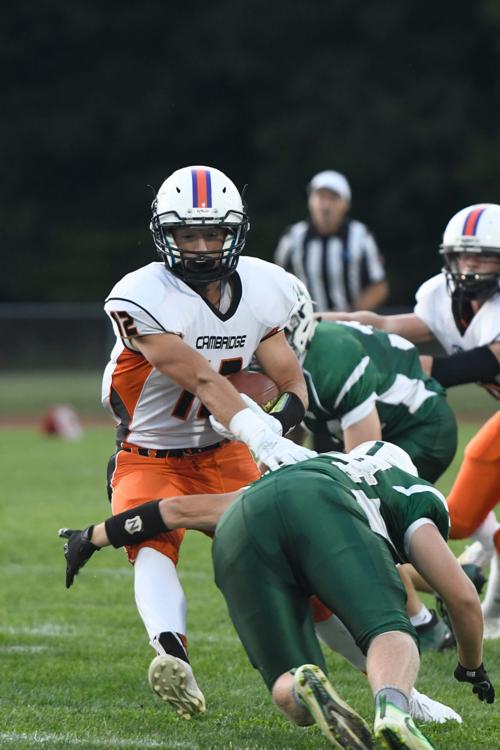 Most seasons, Cambridge-Salem is the team everyone else is trying to put the brakes on during the Section II football finals.
Friday night, however, Cambridge-Salem will be trying to contain a Stillwater team that is on a season-long offensive tear.
The Indians, in the finals for the seventh straight year and chasing their fourth straight sectional title, take on undefeated Stillwater in the Class C title game at 7 p.m. at Lansingburgh High School.
The winner advances to the state quarterfinals against either Gouverneur or Saranac Lake, who meet Saturday in the Section VII-X playoff.
"We watched lots of film. Nobody's stopped them yet," said Cambridge-Salem head coach Doug Luke, whose team comes in at 8-1 and ranked seventh in the state. "Hopefully we can slow them down. I don't think we can hold them under 30 — I'm hoping we can outscore them."
"Cambridge is a traditional power — they're a machine," said Stillwater head coach Ian Godfrey, whose third-ranked team is 9-0 and pursuing its first Section II title. "They're the real deal. We have a ton of respect for them."
Cambridge is 17-5 in Section II finals since 1992, and Salem also has a title in its storied football past. The merged Indians, playing Stillwater for the first time in 10 years, are the defending Class C champs.
Cambridge-Salem brings a high-powered rushing attack that has moved the ball on everyone, including 443 yards in the Indians' only loss, 49-28 to Class B finalist Holy Trinity in Week 5.
"Nobody's really stopped us, but we're not the explosive team we used to be," Luke said.
You have free articles remaining.
The Indians are led by Kaedin Ogilvie (1,083 rushing yards, 15 touchdowns), Calvin Schneider (920 yards, 9 TDs) and Gabe Sgambettera (630 yards, 9 TDs), and when Schneider was sidelined last week with an ankle injury, Hunter Day stepped in and rushed for 139 yards and two touchdowns in a 41-21 semifinal win over Tamarac.
First-year quarterback Jacob Ruggles has improved as a passer, throwing for 505 yards and seven touchdowns, with Soyer Mattson his primary target.
"They have so many different backs they can hit you with," Godfrey said. "They're such a well-rounded offensive team, they have a lot of good depth."
The Warriors are led by the 1-2 punch of quarterback James Galarneau and running back Mason Seymour, both seniors and four-year varsity players. Seymour topped 4,000 rushing yards for his career in last week's 35-21 semifinal win over Greenwich, as he and Galarneau combined for 334 yards on the ground in that game. Both have more than 1,000 yards this season — Galarneau with 1,287 and 17 touchdowns, and Seymour with 1,231 and 19 TDs. Galarneau has also thrown 10 scoring passes, but hasn't needed to pass often.
"They're not just Galarneau and Seymour," Luke said. "They have really good role players and their offensive and defensive lines are very big and strong."
"We have to establish the run," Godfrey said. "We played one of the better defenses in the section in Greenwich and we ran the ball well."
The game also promises to be a cold one, as wind chills are forecast to be in the teens Friday night.
"We preach to the kids, 'Control the controllables,'" Godfrey said. "Don't worry about the stuff that's out of your hands and have faith in the game plan."
Luke said the key for the Indians will be forcing Stillwater to make longer drives, rather than five- or six-play drives that cover yardage quickly.
"You have to make them drive on you and hope they make a mistake," said Luke, whose team has faced down strong running teams the last three weeks. "We have to be mistake-free, and if they make a few mistakes, we have a chance. We've got to get some breaks."
Follow Pete Tobey on Twitter @PTobeyPSVarsity.