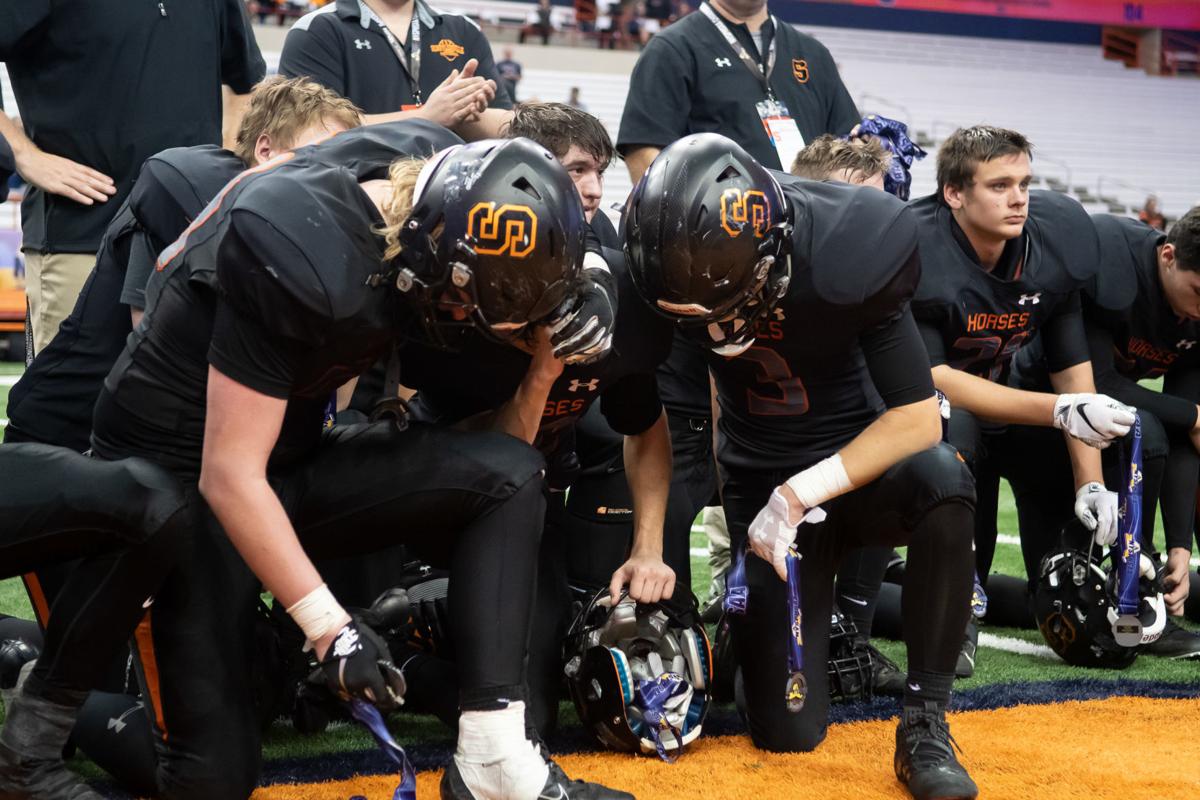 SYRACUSE — Kneeling at the end of a line of black-clad Schuylerville football players on the Carrier Dome turf, Jack Koval turned and said two words: "No regrets."
It summed up the Black Horses' season, which came to an end Sunday with a 38-14 loss to powerful Chenango Forks in the Class B state championship game.
"It's been a whole lot of fun, I love all these guys. I really have no regrets," said Koval, a junior two-way lineman. "We fought through a lot to get here, and there was one challenge we couldn't overcome."
Some of the seniors took longer to pick their heads up, but even they came around — first Jacob Vanderhoof, who was clutching the state runner-up plaque, then the rest.
At the end of an 11-2 season — which included a 10-game winning streak to get to the state title game for the first time since 2015 — the loss hurt, but the realization swelling through the team was that they had accomplished something very special.
"This was a great season — just getting here was amazing," said Vanderhoof, who led Schuylerville with 64 rushing yards and a touchdown. "Of course we'd like to win, but one of the best ways to go out was with our senior class and all our best friends. Nobody else I'd rather do it with."
"Great run with my guys. I've been with them since I was 5 years old," senior linebacker Tyler Bowen said. "We played as many games as we possibly could this year. We'd obviously like it to have ended a little differently, but we did what we could and I'm prouder than heck of the group of guys we have."
The Black Horses had endured a rash of injuries to key personnel with a next-man-up attitude that served them well in a playoff run that many saw as unlikely.
A team that went 6-3 a year ago featured young talent mixed among just 10 seniors, and emerged as a rugged a defensive stalwart that found ways to win, and keep winning. They grabbed hold of an unwavering belief in themselves when they felt no one else did. They shut down Cobleskill and Schalmont. They pulled out a thriller over Holy Trinity on the final play of the Section II title game. They pounded Potsdam on a snow-covered field, and they outlasted Port Jervis 8-7 in the state semifinals.
That belief in themselves stretched all the way to Sunday, when they simply ran into a bigger, stronger, more physical opponent in Chenango Forks, on the last day of high school football season.
"We felt doubted all season, we kind of had an underdog status the whole time," Bowen said. "Everyone was picking Holy Trinity to beat us in the sectional final, and we said, 'Let's go shock everyone, let's go show everyone that we're legitimate, we're here to play,' and that's exactly what we did and we got here."
"I'm prouder than heck of these guys," Schuylerville head coach John Bowen said. "We've had an inherent belief in this group all the way through and they haven't wavered from that. It's not that coming out of Section II necessarily caught us by surprise, but the surprises came as the injuries came. ... What gives me the greatest sense of pride is these guys overcoming the adversity all season long."
With a number of players returning with experience to a team that is slated to drop down to Class C next season, Schuylerville is optimistic for the future.
"This is something for us to work toward with the guys that we have, and build on it," John Bowen said. "You look at the physicality of this (Chenango Forks) group here, we just have to get more guys like they have — big, strong, physical kids — and that's going to be a matter of hard work between now and then."
Follow Pete Tobey on Twitter @PTobeyPSVarsity.
Get in the game with our Prep Sports Newsletter
Sent weekly directly to your inbox!