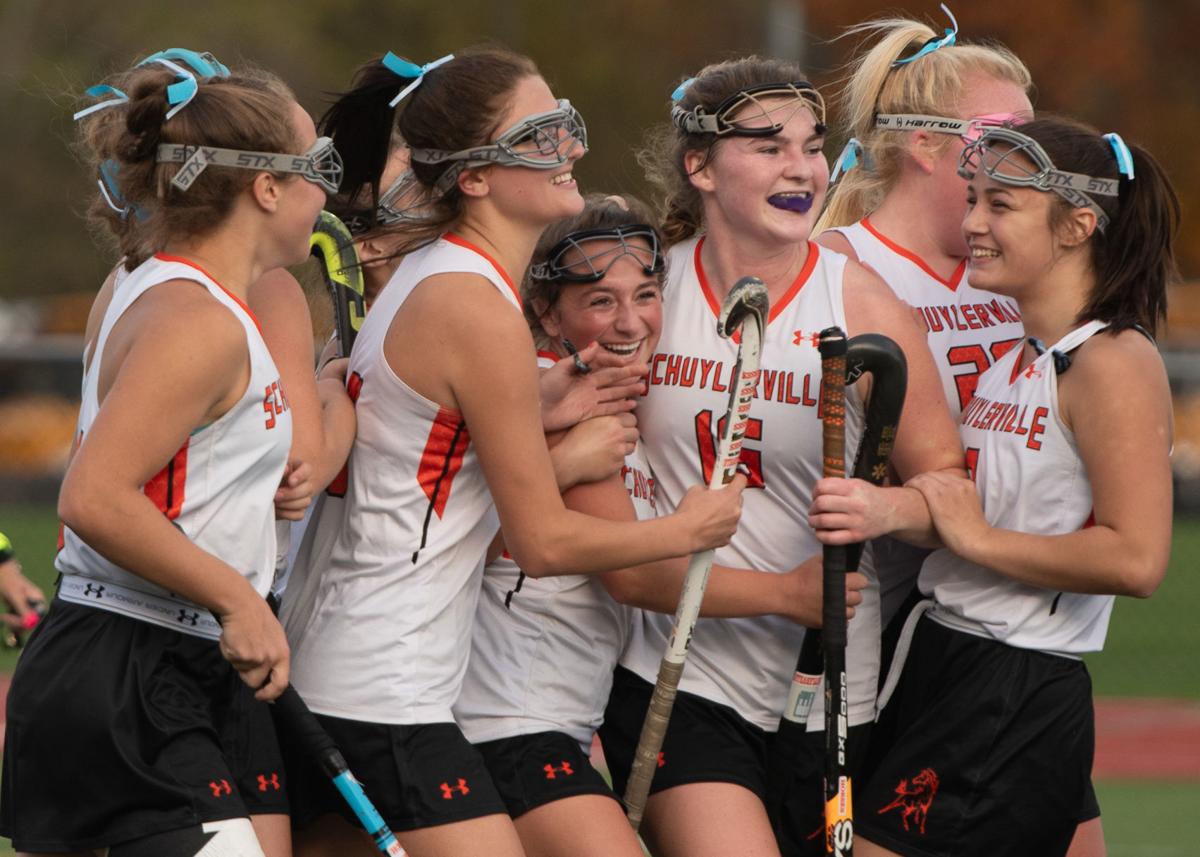 SCHUYLERVILLE — The regular-season encounter wasn't at all like the sectional one for Schuylerville on Tuesday.
And while the Black Horses had to sweat out a win, you'll understand if they hope for more of that on Sunday.
Isabel Reitano-Stayer scored with 2:29 left in overtime to give the second-seeded Black Horses a 1-0 win over third-seeded Hoosick Falls in a Class C semifinal of the Section II Field Hockey Tournament.
With the exception of the first 10 minutes, when Schuylerville dominated possession, it was a tight contest throughout. The final score was a far cry from the Black Horses' 4-0 win over the Panthers on Sept. 20.
"But I knew they had progressed since we had seen them last," Schuylerville coach Erin Lloyd said. "I also knew they're the defending champs, they weren't going down without a fight. And I know Denise (Campbell, head coach), I knew she prepared them well. We knew it was going to 100 percent be a battle."
The victory gives Schuylerville a third meeting with top-seeded and undefeated Johnstown in the Class C final at 10 a.m. Sunday at Glens Falls' Putt LaMay Memorial Field. Seeing as how the Sir Bills beat Schuylerville 3-1 and 5-0 this season, the Black Horses hope for a tighter sectional outcome.
"This was their goal: to get to play them a third time," Lloyd said of her players. "This is what they want and they're going to get that opportunity."
Schuylerville (13-5) had four penalty corners in the first five minutes, with the latter three in succession.
"We had so many opportunities in the first half," Lloyd said. "I don't know how many corners we had total, but I know in that first 10 to 15 minutes, we had six to eight and they all resulted in shot opportunities that were missed opportunities."
Schuylerville's best chance to score in the first half came on a corner, as the player at the top of the circle found a teammate on the far post, but she couldn't gather the pass.
"Unfortunately, that can be hard to overcome," Lloyd said, "especially with the mindset that you create those opportunities and shot after shot isn't going in. It becomes like a Bad News Bears moment. They continued to stay in and battle, but we just couldn't find the back of the cage."
The second half was more evenly played. Hoosick Falls (13-5) had its best chance on a bit of a broken play. They had a ball from outside the scoring circle hit the post and bounce toward a Panther, but she couldn't get the ball before a Schuylerville defender.
Both midway through the half and near the end, Schuylerville had flurries of shots on goal, but Hoosick Falls senior goalie Zoe Gress (11 saves) made all the stops.
In the 7-on-7 overtime, Hoosick Falls managed two corners and had some good rushes, but a strong defensive play by Isabella Baldwin broke up the most dangerous of them.
On the winning goal, Molly Elder started it by carrying the ball down the right side. She fed the ball to the near post, where Eliza Barton was. Barton gathered it and quickly sent it to the middle, where Reitano-Stayer poked it in.
"That was the stuff you preach to keep your stick on the ball, not to swing, which is what Molly did," Lloyd said. "She kept her stick on the ball, sent it across. Eliza caught it and immediately got rid of it; it was a legit pass, she saw her teammate. And same with Izzy, getting it on the stick and using the throw and not a swing."
Follow Will Springstead on Twitter @WSpringsteadPSV.
Get in the game with our Prep Sports Newsletter
Sent weekly directly to your inbox!