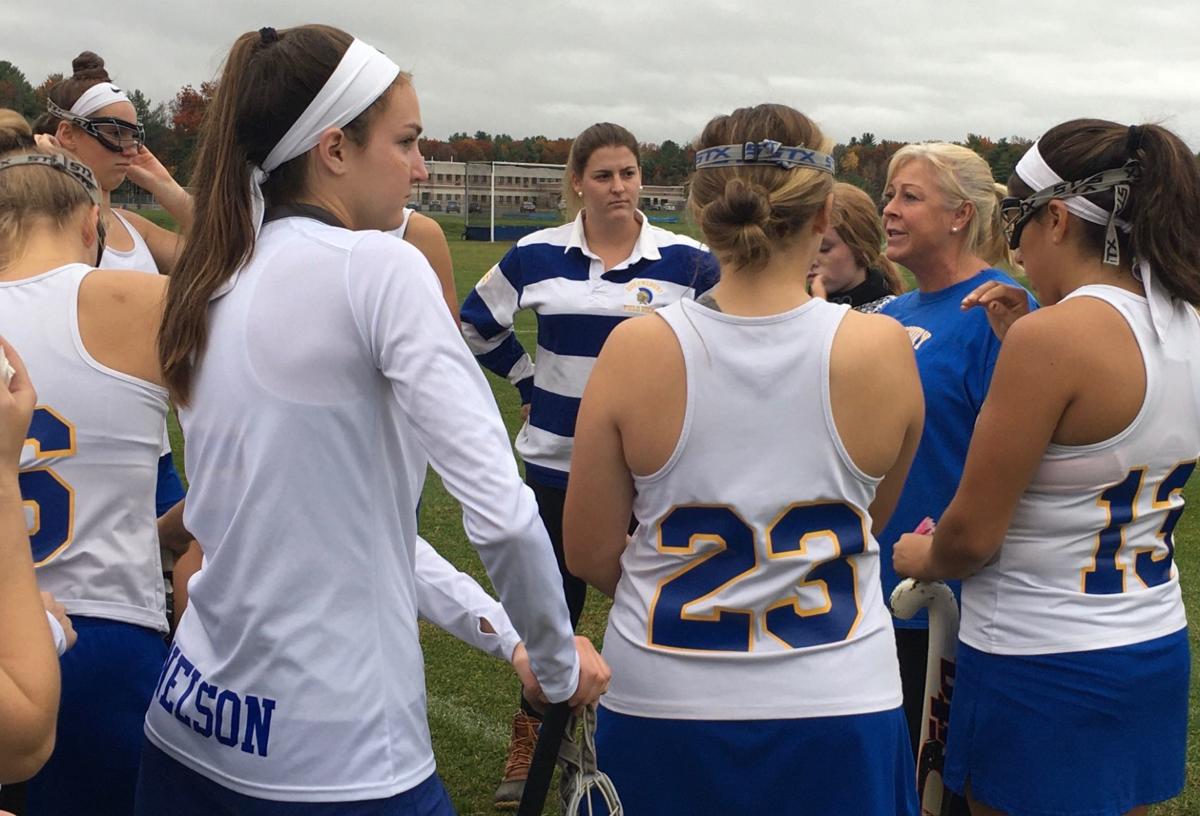 QUEENSBURY — It took longer than they expected, but the Queensbury field hockey team came up with the game it expected of itself Thursday — a beautiful one.
"Our passing game is really good, our give-and-goes were just there," said senior forward Jordan Bentley, who scored one of the Spartans' goals. "We practice that a lot, and when we implement it in a game it just looks so pretty. It was very successful for us today."
"The passing was beautiful, a lot of good communication and the way our defense recovers back," Queensbury coach Jeanne Chirgwin said. "They played amazing."
After sitting on a 1-0 lead for much of first half, the Spartans got into the flow of their offense, producing three more goals on the way to a 4-0 Class B semifinal victory over Scotia.
The win puts top-seeded Queensbury (14-3) into the finals of the Section II Field Hockey Tournament against seven-time defending champion Burnt Hills. The title game is set for Sunday at 2 p.m. at Glens Falls High School.
Bentley had nearly scored on a penalty stroke 1:12 into the game, but the Spartans got on the board about six minutes later when Kileigh Bouyea scored out of a scramble in front of the Scotia cage. Hailey Ballard and Claudia Pollaro had the assists.
Scotia (11-6) kept control of the ball in Queensbury's end for long stretches of the first half, with the exception of a few runs by the Spartans, including one ended with Bentley rocketing a shot off the crossbar.
However, Queensbury got rolling in the second half, loosening up the Tartans' defense and making a couple of shorthanded rushes while players served penalties.
"We were a little clumped in the beginning and we weren't really communicating, but as the game progressed, we definitely got talking more and notified each other where we were on the field," said Bailey, a senior midfielder. "So that made it easier to pass the ball and get it up into space, and that was our biggest thing, to get it up to the forwards."
The sharp passing game paid off with goals six minutes apart, both on bang-bang plays as Bentley and Ballard assisted on each other's scores. The second came off a restart after a Scotia player was hurt.
"They were just very quick, very fast goals, because that's how you get the defense, with the fast pass," Bentley said.
Lindsey Allen added a goal on a solo breakaway with 2:15 left in regulation, just as the rain began to fall on an unseasonably warm Halloween afternoon.
"We knew they were going to come out hungry, who doesn't at this stage?" Chirgwin said. "They played us great, but in the second half, our girls showed up and they played beautiful field hockey. That's all I ask them to do."
Goalie Kamdyn Bashant finished the shutout with five saves.
On Sunday, Queensbury gets the matchup with Burnt Hills it wanted — the team had lost the battle of the Spartans four years in a row from 2014-17. Burnt Hills defeated South Glens Falls in Thursday's other semifinal.
"It's really unique that three out of the four years that I've been on varsity, we've gone to sectional finals," said Bentley, whose team also lost to Burnt Hills in last year's semifinals, 3-2. "I think this year we're really going to do it, it's our time. It's been Burnt Hills every time, and we want our revenge."
"With the talent on this team and the communication and the group effort, we can definitely get it this year," Ballard said.
Follow Pete Tobey on Twitter @PTobeyPSVarsity.
Get in the game with our Prep Sports Newsletter
Sent weekly directly to your inbox!