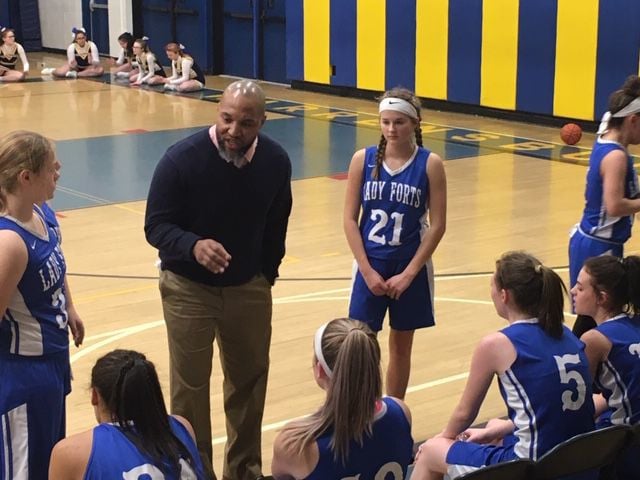 WARRENSBURG — The roster proves there really is only one Gaby Thomas on the Fort Edward girls basketball team.
The way she played Tuesday night, though, it seemed like there were a few more No. 24 jerseys on the court.
Thomas recorded a triple-double as Fort Edward held on for a 70-64 victory over Warrensburg in a matchup of Adirondack League front-runners.
"It was pretty intense — we haven't had one like this since Hartford (last week)," said Thomas, a junior who finished with 20 points, 23 rebounds and 14 assists in an outstanding all-around game. "This was the biggest game we had to get through to get to the rest of the season."
Thomas said she didn't even realize she had a triple-double. The Forts also got 17 points from Haleigh Condon and nine from Caitlin Mahoney.
"Gaby, she tries so hard and I love playing with her," senior Morgan Fish said. "She's not selfish, but she still scores, she still tries her hardest for everybody on the team, and I think she played one of her best games tonight."
It was also Fort Edward's first win over the Burghers since the 2015-16 season, after a series of very close losses.
"This was a long time coming, a long time in the making," Fish said. "It's been close the past couple years, and it feels really good to finally get that win, especially as a senior, to leave with a bang."
"It just makes a statement that we're progressing in the right direction," said Forts coach Jason Thomas, Gaby's father, whose team improved to 6-0 in the league, 9-1 overall. "We keep getting half the cup full — tonight, our defense wasn't what it normally is. That being said, it's always good to learn what you can get better at on a night when you pull out a win against a quality team."
Warrensburg (6-2, 9-3) trailed for all but the opening minutes, but kept pace with the hot-shooting Forts behind senior point guard Hope Boland, who scored 19 points to lead four scorers in double figures.
"If we made a shot, they made a shot," Gaby Thomas said.
"They seemed to score on a lot of our mistakes," Burghers coach Scott Smith said. "They stretched our defense because we knew they had three or four shooters on the court at all times. That opened things up in the middle and we had trouble."
Fort Edward led 35-31 at halftime, but the Burghers pulled into a 35-35 tie on a pair of jumpers by Aubrey Ranous, who played an outstanding game with 12 points, 12 rebounds and five blocked shots.
However, Mahoney's jumper, a three-point play by Condon and a series of foul shots restored the Forts' lead as they opened a 10-point lead late in the third quarter.
Again, the Burghers battled back within 57-53 with 4:33 left, but a quick scoring burst by Condon and Isabelle Gulick pushed Fort Edward's lead to 11, its biggest of the game.
"Give them credit — every time we got down, we had to work so hard to get back in it, that they'd come down and get an and-one or a big shot," Smith said. "Anytime it got down to four, it was very quickly back to six or seven. They never let us back in."
The Forts also had to exercise patience in the closing minutes to keep possession.
"We had to make sure we didn't keep pushing and trying to shoot the ball and let them get rebounds," Fish said. "We had to pull it back and sort of take our time, run the clock down a little bit and stay ahead."
"I always tell the girls we don't have to do anything out of character, we just have to be very good at what we're good at, and normally we're a very good defensive team," Jason Thomas said. "For the most part tonight, we weren't able to play the defense we're accustomed to, but late in the game, the four seniors kind of put the clamps down and got the girls ready to play."
Follow Pete Tobey on Twitter @PTobeyPSVarsity.
Get in the game with our Prep Sports Newsletter
Sent weekly directly to your inbox!