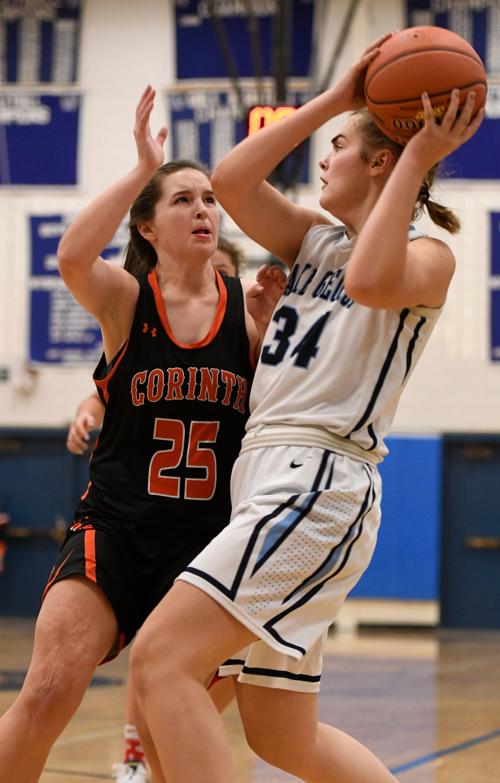 CORINTH — Maddie DeLisle loves the corner — that part of the basketball court where the end line and the sideline meet. It's where she can do the most damage.
On Tuesday night, DeLisle erupted for 35 points — including nine 3-pointers, eight in the second half, and many from the corner — as she led the Corinth girls basketball team to a 72-27 Adirondack League victory at Hadley-Luzerne.
Quiet and unassuming, DeLisle had no idea she was having a career night.
"I didn't, I just kept going," she said. "The first half wasn't the best — the second half came out better."
She's also still a sophomore on the varsity, so on Wednesday, DeLisle was part of the crew sweeping the gymnasium floor before practice.
DeLisle, a 5-foot-3 shooting guard, was quick to credit her teammates for moving the ball around in Tuesday's game.
"We had really quick ball reversals up and down the floor. We worked together," she said. "Every time I was open in the corner, the team kept feeding me the ball."
"Her teammates were great about recognizing that she was hot and getting the ball to her open," said Kelly Hoertkorn, Corinth's first-year varsity coach. "She was looking for her shot last night, which is good."
Hoertkorn has been waiting for that kind of performance from DeLisle.
You have free articles remaining.
"It didn't surprise me at all because she is one of our best shooters that we have. She's in the gym in the offseason, she's put hours and hours in when no one's been in here just to work on her shooting," Hoertkorn said. "I knew she was more than capable of doing that, I knew it was only a matter of time. So it didn't surprise me — it was more of an 'about time' kind of thing (Tuesday) night."
Hoertkorn, a former point guard herself, has been working to change DeLisle's mindset.
"As a team, we look to her being a primary scorer, but with herself, sometimes she handles the ball and brings it up as a point guard, so sometimes she looks to pass first," Hoertkorn said. "I've been on her lately to look for her shot first. She sees the court well, so the things that she looks for are all great ideas — but I know what a shooter she is, so I want her to look for her shot first more. And that's another reason I think (Tuesday) night was overdue, because that's what she can do on any night if she wants to."
DeLisle, a second-year varsity player, is averaging 13 points per game this season, with 18 3-pointers. Until Tuesday, she had not made more than four in any game.
"I've been in the program for 12 years, and we haven't had a player score that many since I've been here," said Hoertkorn, who coached DeLisle on JV two years ago. "I was happy for her, because it's a confidence booster for her, big time. She needed that — she needed to know she could do that."
DeLisle was able to get herself open along the baseline to splash those big shots.
"The corner is my favorite," she said. "Our ball reversal was just really quick — we could get quick shots, get a couple of offensive rebounds, play good defense."
"She likes that baseline three — she doesn't love straightaway up top, and sometimes she's there when she has to bring the ball up," Hoertkorn said. "We have multiple girls that can bring the ball up at any time, and (Tuesday) she was able to find her spots on the wing or the corner, and we just moved the ball really well.
"She had an all-around great game. Her intensity level overall had just increased, and I think she just felt it last night," she added.
As a team, Corinth is 3-4 overall, 2-3 in the league, and though the Tomahawks have been up and down, they are playing solid basketball with six seniors and three underclassmen.
"We lost a couple on nights that no one wanted to shoot the ball," Hoertkorn said. "But on nights that we play like we have nothing to lose, I think we're a very good team — and they're starting to believe that, which is great. I have a great group this year."
Follow Pete Tobey on Twitter @PTobeyPSVarsity.