CLIFTON PARK — It was over for Madrid-Waddington before it even made an adjustment.
A rope-a-dope-like first quarter effort from Cambridge looked to have tricked the Yellowjackets into thinking they had a chance against the state's third-ranked Class C team at Shenendehowa High School on Tuesday.
Missed shots, poor rebounding and low energy kept Madrid-Waddington within five points after the first eight minutes.
Cambridge pressured the smaller Yellowjacket guards, forcing three straight turnovers to start the quarter. Each poke-away resulted in a transition layup and the second-chance shots the Indians allowed in the first quarter were no more.
Sophie Phillips scored a team-high 19 points, all but two of them in the first half while gliding up and down the floor, deflecting passes, blocking shots and finishing at the rim.
While Madrid-Waddington was struggling to complete a simple pass, Cambridge was putting on an efficiency clinic, only dribbling when necessary and always finding the open shot.
When the whirlwind second quarter was over, Cambridge was up 26. After a ceremonial final 16 minutes, the Indians forced 30 total turnovers and beat Madrid-Waddington 58-31 in a state regional semifinal.
Cambridge advances to the regional final at noon on Saturday to play Moriah at Beekmantown Central School. The winner of that games goes to the state final four.
"What can happen with us is we can score points in bunches when we start rotating," Cambridge coach Bob Phillips said. "We have long guards but we all rotate well and when we do that it creates a ton of problems for defenses with our traps and tipped passes. And when that happens, we are looking to go.
"We want to get it up the court and put as much pressure on their defense as we can and that worked really well in the second quarter."
The Indians' first eight minutes looked nothing like their second quarter.
To end the half, Cambridge forced the Yellowjackets into 12 turnovers, most ending in Sophie Phillips layups as the sophomore guard repeatedly beat everyone coast to coast.
Example of Cambridge dominance. Indians track down a loose ball, find a good shot and secure offensive rebound before being fouled. pic.twitter.com/w4Bmziktt9

— Ellis L. Williams (@BookofEllis) March 5, 2019
The Indians (22-1) held Madrid-Waddington to just five points, on two made field goals in the second quarter and outscored the Yellowjackets by 20.
"We got up and down the court," Bob Phillips said. "We played really good defense and got a lot of tips. Because certainly our defense drives our offense and that is a good win because it was good to see the girls do that.
"We came out and did what we wanted to. I wish it would've been like that more in the first quarter but we will take a second-quarter like that. "
It didn't get any easier for Madrid-Waddington after the break. Once again, the Yellowjackets opened a quarter with three consecutive turnovers, and each time the Indians made them pay.
In the third quarter, Sophie Phillips drove and kicked it to a wide-open Jaylynn Prouty, who buried her only triple of the game, putting Cambridge up by 32 points.
It was smooth sailing after that.
"We ramped up our dial on defense," Bob Phillips said. "When we do that, it changes the game. When everyone is in sync, it allows us to defend in an extended fashion. Then we can push it and get easy baskets.
"That leads to easy offense and we really are good at finding people in the break."
Blowing a team out the way the Indians did doesn't automatically mean everything is golden for Cambridge, and coach Phillips knows that.
Not only does the lack of rebounding the Indians displayed in the first quarter still bother him, but the looming decision of forward Fiona Mooney's return remains unpredictable as she heals from a wrist injury.
Standing 5 foot 11, Mooney would shore up any rebounding question marks the Indians have at times, as well strengthen their interior defense while adding another scoring option.
Cambridge is prepared to make another run at a state title without her, but there is a real chance she returns soon also.
"We do not know. The four-week mark is today. So she'll go back and see the doctor. Then we'd find out from him and the PT person. And at that point, we will see where she stands."
Girls basketball: Cambridge vs. Madrid-Waddington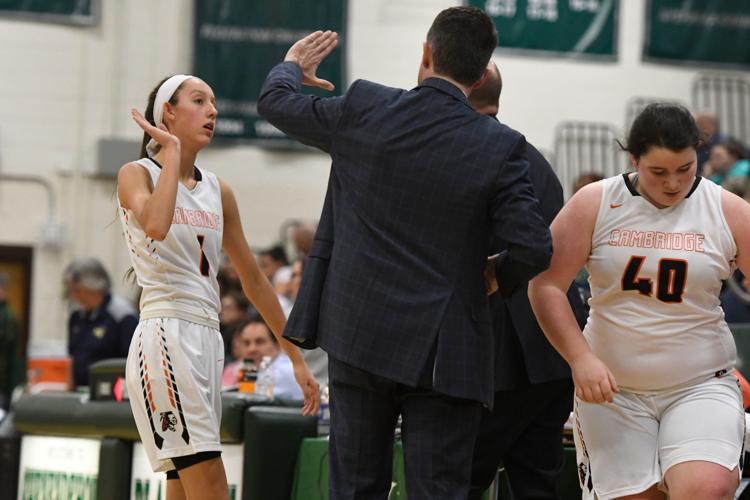 On the move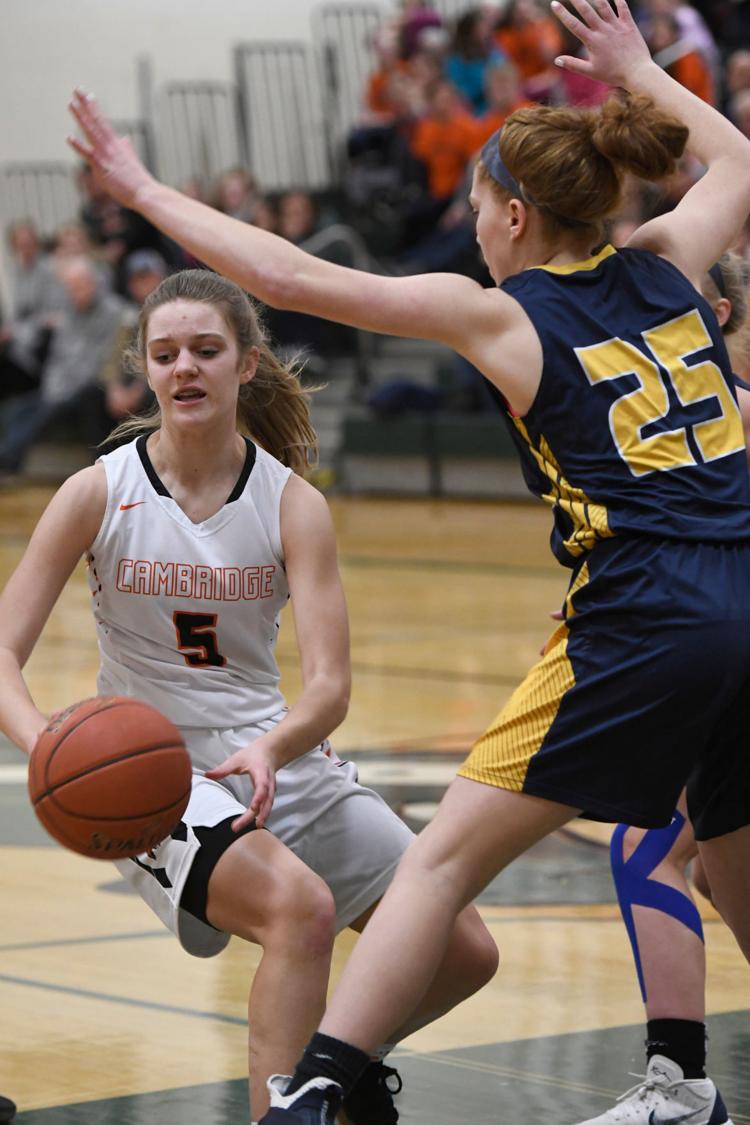 Girls basketball: Cambridge vs. Madrid-Waddington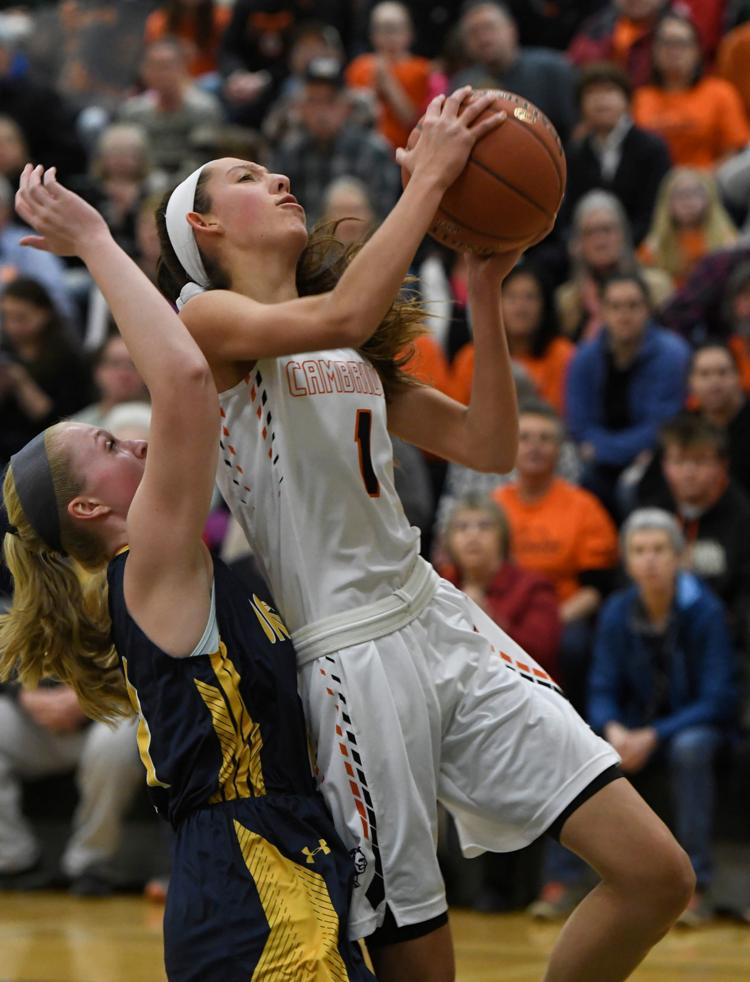 Girls basketball: Cambridge vs. Madrid-Waddington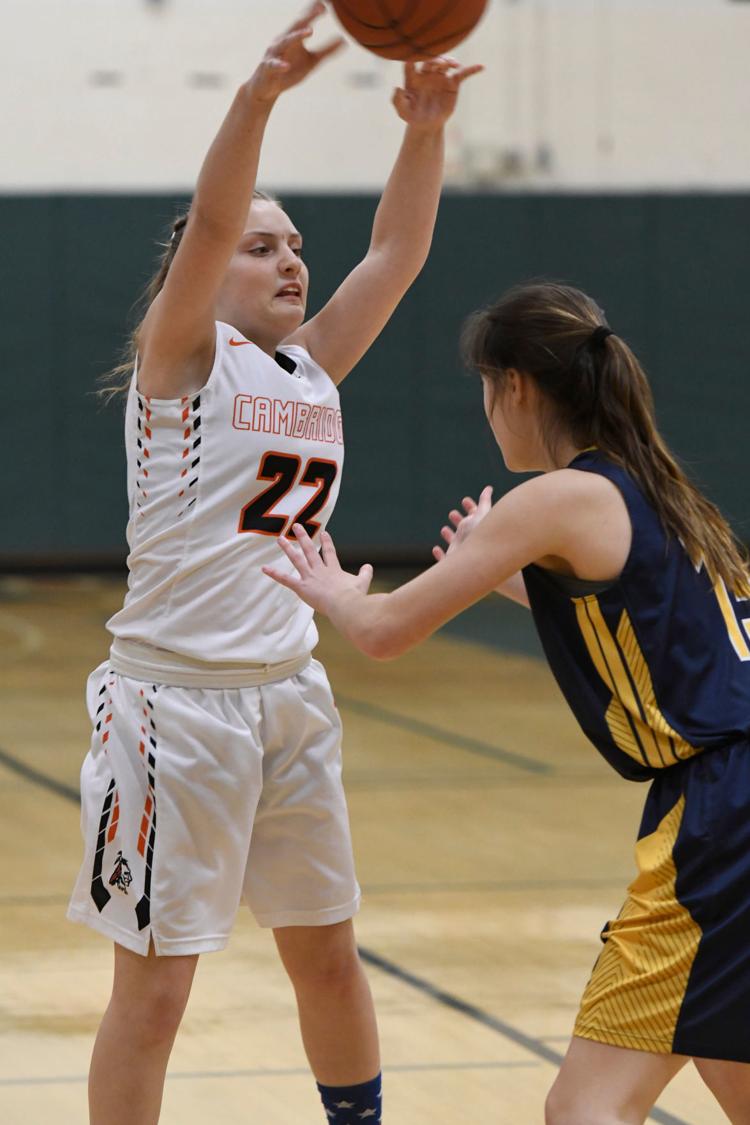 Girls basketball: Cambridge vs. Madrid-Waddington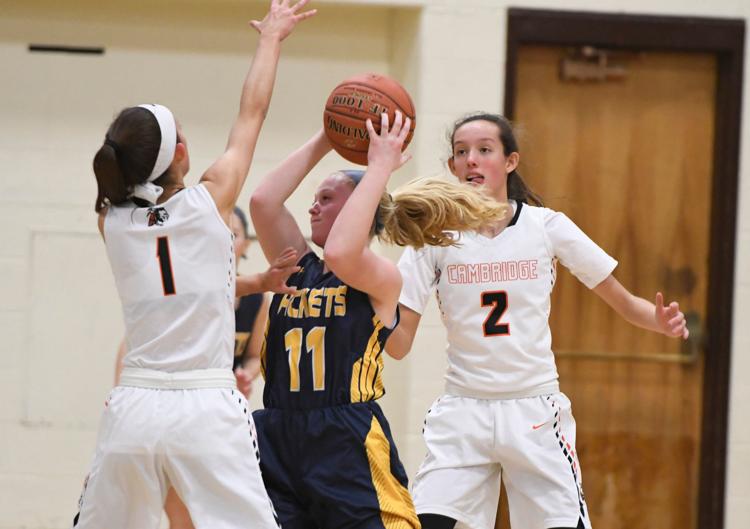 Girls basketball: Cambridge vs. Madrid-Waddington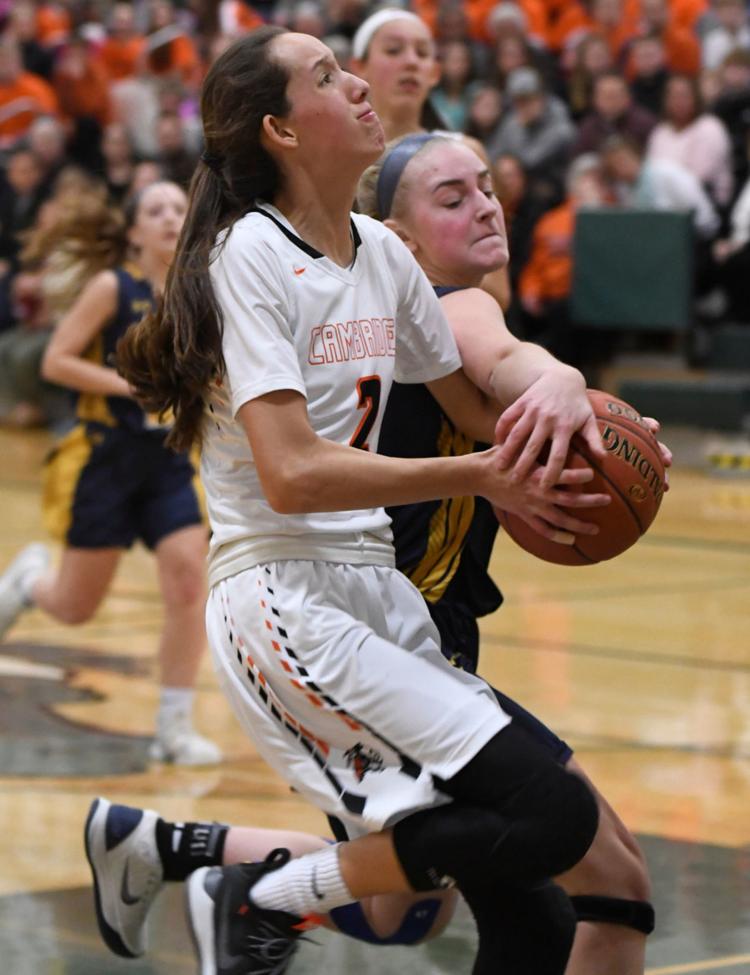 Girls basketball: Cambridge vs. Madrid-Waddington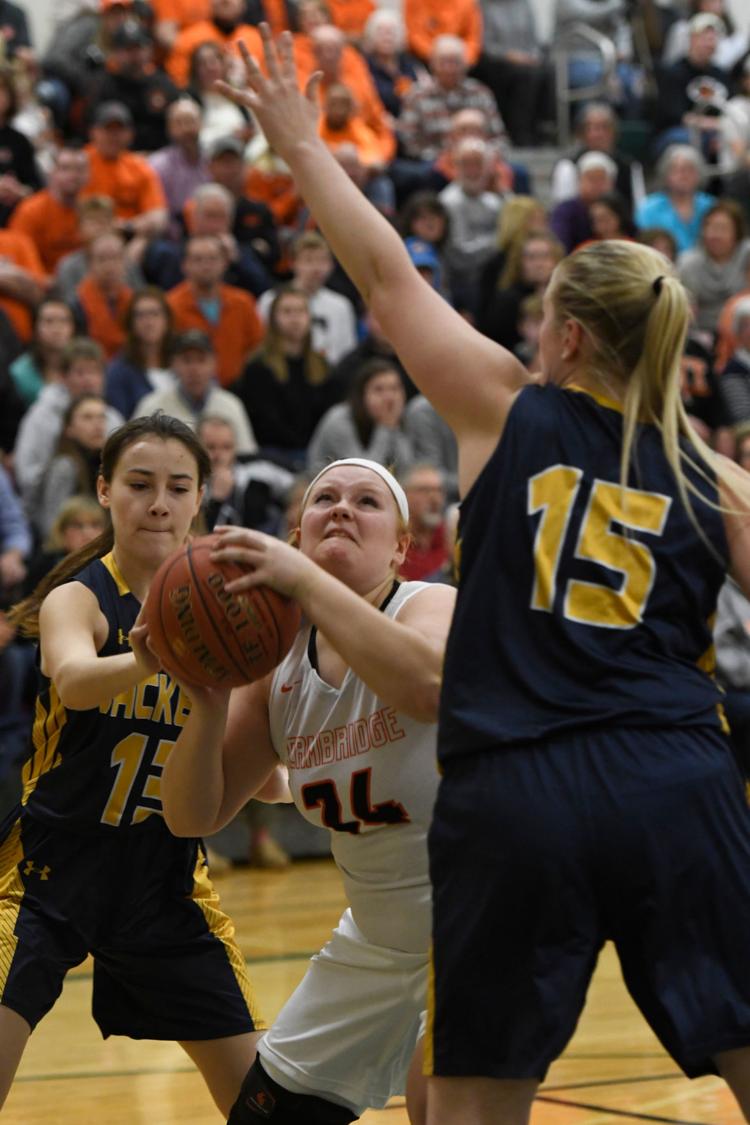 Girls basketball: Cambridge vs. Madrid-Waddington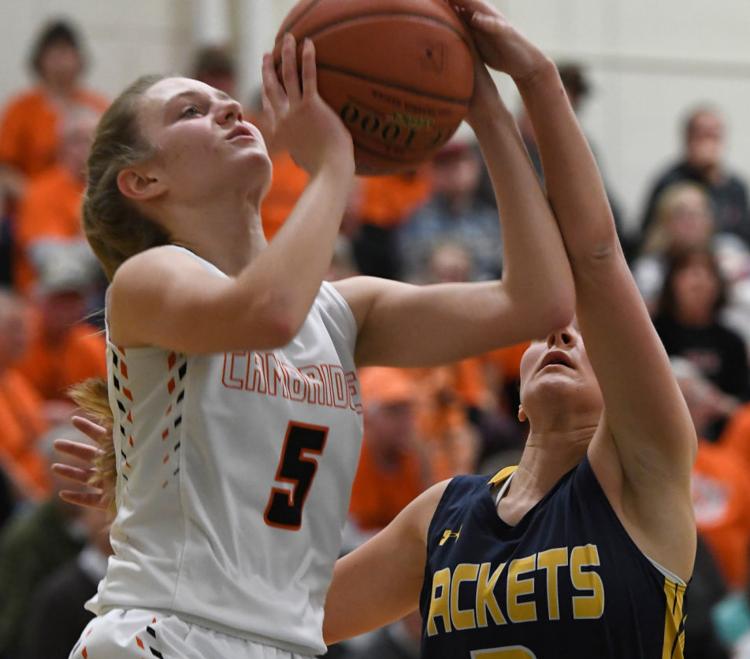 Girls basketball: Cambridge vs. Madrid-Waddington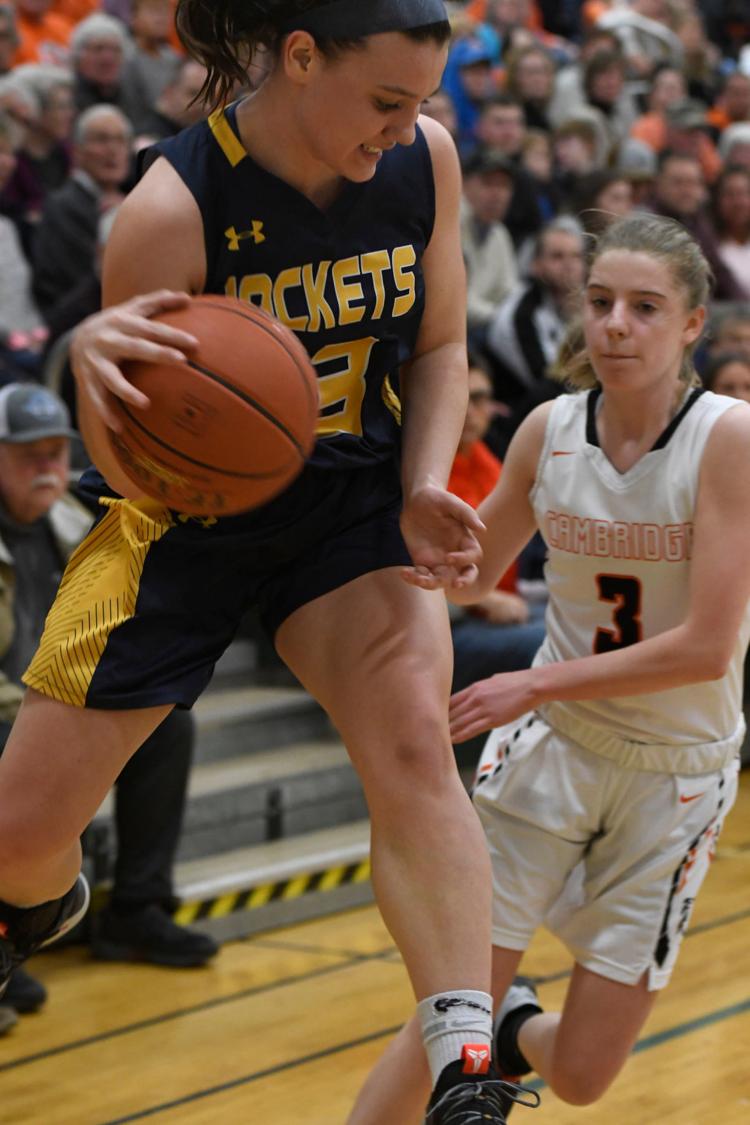 Girls basketball: Cambridge vs. Madrid-Waddington