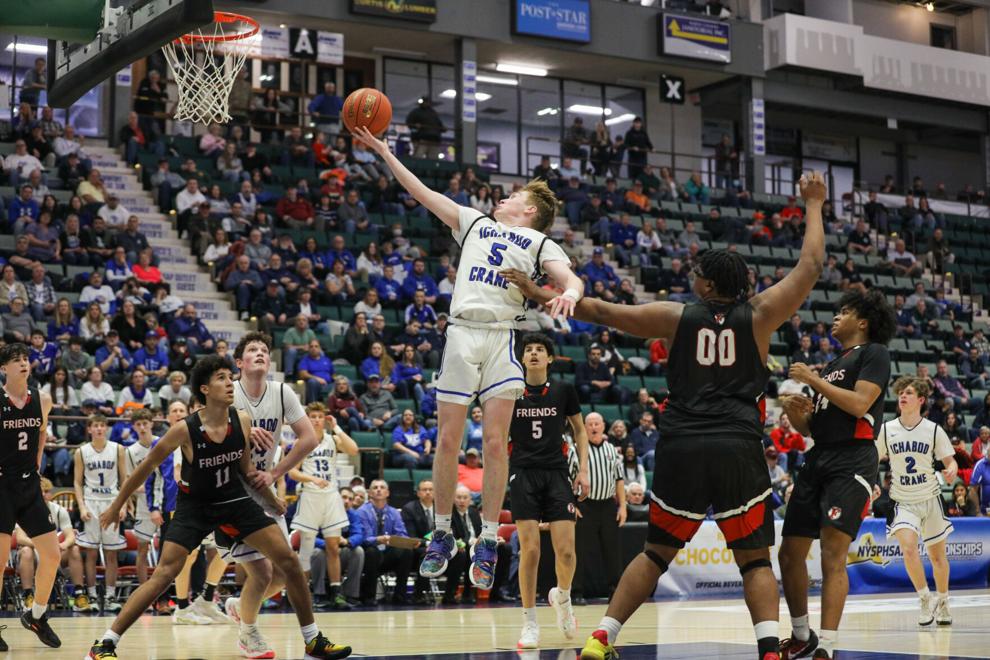 GLENS FALLS — As our weird winter rumbles toward its eventual (or at least, hoped for) conclusion, the sports schedule offers an oasis.
A weekend of basketball awaits at Cool Insuring Arena, where the State Boys Basketball Tournament runs for three days. Around here, it's been a precursor to the end of winter for more than four decades. A state tournament of some type has been played at the downtown arena every year since 1981, save for two years of the pandemic.
It even appears there will be a pause in snowstorms for the weekend.
Twenty boys teams in five classes will compete for titles in this weekend's tournament, which is run by the New York State Public High School Athletic Association. Girls basketball championships will be decided down the road in Troy at Hudson Valley Community College.
The action starts Friday morning and runs through Sunday afternoon. The format will change next year when the state moves to six classes in basketball and other major sports. Tournament director Chip Corlew said one potential solution is to move to a four-day tournament, beginning on a Thursday.
Only two Section II teams will be in the mix at Cool Insuring Arena this weekend — North Warren of the Adirondack League and Catholic Central of Troy, from the Colonial Council. Avoca-Prattsburgh (Class D) is the only defending champion.
New Hartford in Class A is the only other returning team from the 2022 tournament. Corlew is hoping the combination of new teams and the two within driving distance will make for strong attendance.
"Obviously we love to have a Section II flavor," Corlew said, "but those two (Section II) teams are new and exciting to watch, and I think fans will come out to watch. I think with the new teams, that creates excitement in their communities. And this area just comes out and supports high school basketball."
The schedule for this weekend's State Boys Basketball Tournament at Cool Insuring Arena.
The State Boys Basketball Tournament was played in Glens Falls from 1980 to 2016, spent three years in Binghamton, then was sent back to Cool Insuring Arena for the 2020 tournament. The pandemic delayed that return until last season.
The Federation Tournament of Champions — an overall state championship for teams in Classes AA, A and B — has also been held in Glens Falls at various times. It left after the 2019 tourney for Fordham University, but has never been held there. It will be held next weekend at Shenendehowa, Shaker and Guilderland.
Glens Falls will host the public high school tournament through 2024. Both the public high school tournament and the Federation tournament are up for bid this year. Corlew said Glens Falls will try to get both events.
The State Boys Basketball Tournament and Federation Tournaments were played on back-to-back weekends in Glens Falls up until 2011.
"I feel confident we can run both of those tournaments successfully," Corlew said.
If you're coming from out of town — or just haven't been to the state tournament in a long time — here's a brief guide for those attending the State Boys Basketball Tournament.
The tournament is supported by more than 70 volunteers, and local officials have been keen to show their support for the event. Organizers held a court-side press conference on Thursday to kick off the weekend — a first for the tournament.
The tourney brings lots of visitors into the greater Glens Falls area, filling hotels and restaurants. The Lake George Regional Convention and Visitors Bureau estimates the economic impact at more than $5 million. Last year, attendance for the tourney was estimated at 11,800.
Corlew said the tournament will run much the same as it did last year, though there is a minor change in ticketing. The vast majority of seating will still be a $10 general-admission ticket, but floor seating behind the scorer's table will be offered at a "premier seating" price of $20.
The New York State Basketball Hall of Fame will induct its newest members as part of the weekend. The induction brunch will be held Sunday morning in Heritage Hall.
NOTE: A previous version of this story incorrectly stated the year in which Glens Falls first hosted the state tournament.
Follow Sports Editor Greg Brownell on Twitter: @glensfallsse.