PLATTSBURGH — Glens Falls resident Alberta Parsons was just hoping she could remember where she parked her car.
"Oh my gosh," she said as her eyebrows jumped. "It was such a maze getting in here, and we got here early. It is crazy."
Parsons, like so many from the community, made the 100-mile trek for one reason.
"Go Indians," she cried before walking into the standing-room-only crowd inside the Plattsburgh State Field House, which sold 2,339 presale tickets alone.
All four sets of bleachers surrounding the court were pulled out, filled with spectators rocking Glens Falls' red, Plattsburgh's black and even some Syracuse orange.
With nowhere to sit or park, people that had only heard of or seen videos of Joseph Girard III watched in fascination as they rarely ever put their phones down.
As first-time Glens Falls boys basketball viewers gawked, Parsons and the Indians fans roared as JG3 scored 42 points, added six rebounds and five assists on 16 of 39 shooting to beat Plattsburgh 77-57 on Wednesday in a Class B regional semifinal.
Glens Falls (24-1) advances to the regional final on Saturday against Ogdensburg Free Academy at SUNY Potsdam (4:30 p.m.). The winner of that game goes to the state final four the following weekend at Binghamton.
"After the game, they had a lot of respect for me, as I do for them," Girard III said of Plattsburgh. "So credit to this community and those out here to watch us, and root for their team during the game. This was pretty cool."
Glens Falls' ability to put up points and engage defensively has only been matched by the Indians' recent knack for slow starts.
Once again, it took a first quarter of missed shots and questionable defending to wake the Indians up.
When Plattsburgh grabbed a 12-7 lead four minutes in, the Field House became deafening and Glens Falls coach Rob Girard called a timeout.
The Hornets jumped and skipped to their huddle while home fans roared. But Glens Falls didn't give a rip. Girard III's emotionless resting face made that clear as he jogged to his bench.
After the time out, a Trent Girard triple closed a blitzing 9-0 Glens Falls run and Plattsburgh was shaken.
By halftime, Glens Falls led by 14 points, before pushing its lead to 20 in the third quarter. The Hornets' last stand came when they cut their deficit to 13 points with five minutes to play.
But a couple of JG3 driving finishes squashed that.
When it was over, a line started forming behind the Indians bench. The masses wanted their picture or autograph with Girard III.
For as large a spectacle as Plattsburgh State hosted prior to tipoff, the real circus started after the final buzzer.
People tapped him on the shoulder before he could even shake hands with the Hornets. The flood of toddlers, school kids and adults began forming a single-file line as if they were waiting patiently at Disney World.
"Section VII probably has not seen an event of this magnitude since the '70s," Matt Walentuk, Executive Director of Section VII, said before the game. "We used to fill out the Field House here back then. I've been an athletic director for Section VII for 10 years and I've never seen this."
The planning for this regional semifinal started months ago, according to Walentuk and Plattsburgh assistant athletic director Taylor Sullivan.
The duo, along with director of Field House Kris Doorey, knew its facility had an opportunity at hosting a Glens Falls boys basketball game when brackets were released.
Once the Indians won Section II and Walentuk learned of Cool Insuring Arena's attendance numbers on Friday, he knew Plattsburgh State was going to become the State's center for high school basketball for just one night.
But it was an evening that had to go perfect as Doorey, Sullivan and Walentuk  pride themselves on running a smooth operation.
Doorey said there were no slipups, other than the bonus surprise of hosting a women's college hockey game that same night, which they did not know about until Monday due to scheduling.
Such an added wrinkle was nothing they couldn't handle.
Doorey is grateful for the opportunity to not only help coordinate such a memorable night in Plattsburgh but also an unforgettable day in some many young peoples' lives as well.
"This isn't just about (Joseph Girard III). It is about everyone here too because I mean look at the (Mechanicville and Northeastern Clinton game) before this," Doorey said. "The girls out there will never forget playing in front of a crowd like that."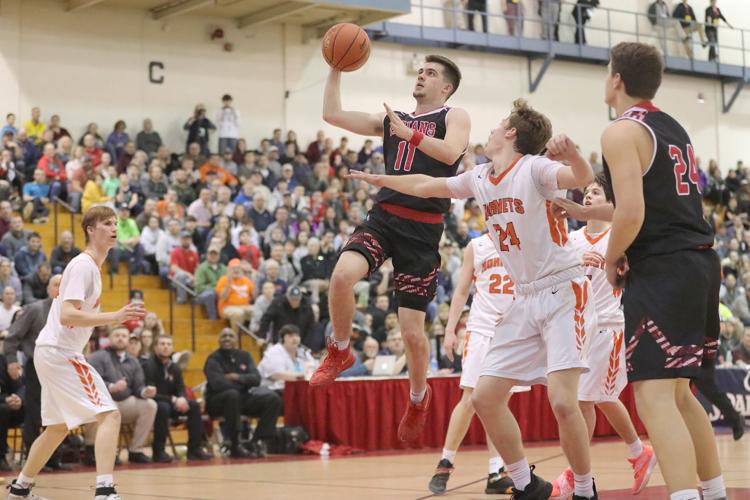 Back on the court, Girard III is finally wrapping up his postgame duties of shaking hands and posing for the future Instagram posts' of people he's never met before.
It went on for so long that event staff had to escort JG3 off the floor and away from people still waiting.
Which is something he regrets, but calmy accepts, while walking down a Plattsburgh State tunnel and disappearing into his teammates' waiting grasps.
"I felt bad when security had to come get me and that cut a few people off," Girard III said of his spontaneous postgame meet-and-greet. "I just want to show love to everyone that shows love to me. That is the kind of person I've been raised to be and that is a credit to my parents and family."