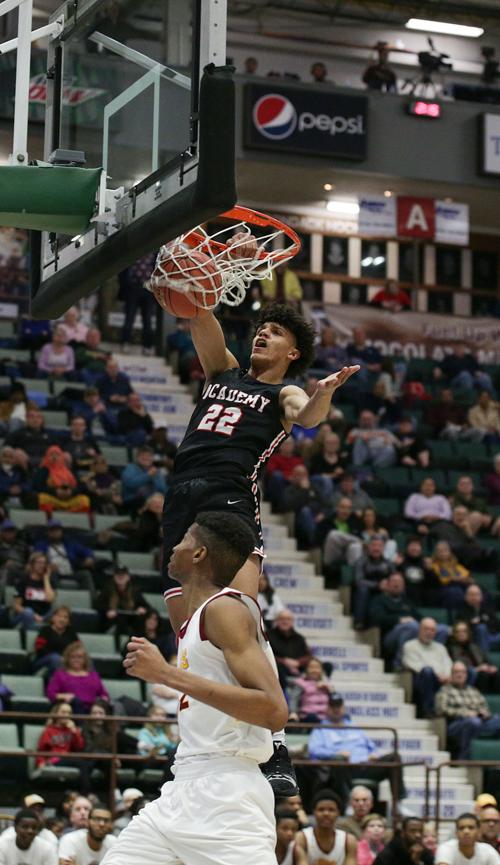 GLENS FALLS — While describing August Mahoney's shooting prowess Sunday afternoon, Brian Fruscio cracked a little wise.
"He took some good shots — he shoots like Gerry McNamara," the Albany Academy boys basketball coach said, just as the Syracuse University assistant coach was walking past in the locker-room hallway at Cool Insuring Arena. McNamara, the former Orange sharpshooting star, chuckled and smiled.
It was an apt comparison after Mahoney knocked down eight of 12 3-point attempts as he led Albany Academy to a 75-49 Class A boys title victory over Frederick Douglass Academy in the Federation Tournament of Champions.
The Yale-bound Mahoney, who finished with 24 points, earned Most Valuable Player honors as the Cadets cruised to their third Federation title in four years, and fourth in the last seven.
"When he finds that groove and he gets those hands ready and those feet moving, usually he finds the bottom of the net," Fruscio said of his 6-foot-4 senior guard. "In his four years here, he's not just a shooter, he's a player, and Yale should be really, really happy to be getting him for the next four years."
Albany Academy (19-3) blew away Frederick Douglass with a first-half blitz that saw the Cadets race out to a 44-13 halftime lead. Mahoney knocked down six 3-pointers in the first half and high-flying Andre Jackson hammered down a pair of rim-rocking dunks. It was a far cry from last year's devastating last-second loss to the Park School in the championship game.
"That comes into my head a lot," Mahoney said. "I just used that as motivation anytime I was in the gym and really didn't want to be there — I just put that in my head and kept grinding and working hard. To see all that hard work pay off is incredible."
"It's definitely (about) playing together, playing through each other, preparing for the game," said Jackson, a 6-foot-6 junior who finished with 13 points and nine rebounds. "We were off for a month, we were kind of rusty the first game (on Saturday), but once we got rolling (Sunday), we were into the flow of things."
Albany Academy's start was nothing short of brilliant. Mahoney buried his first three shots from 3-point range on consecutive possessions, and Rob Brown's layup gave the Cadets an 11-0 lead just 2:07 into the game. They finished the first quarter on an 18-6 roll, capped off by Jackson's thunderous dunks for a 29-6 lead.
Albany Academy's torrid scoring pace continued into the second quarter, as Mahoney and Brown finished the first half with back-to-back triples. Brown scored 16 points in the game.
"They came out and had an unbelievable first quarter and a ton of energy, and that started the day off the right way," Fruscio said. "(Mahoney) shot the ball well, but the guys found him. One time Marcus (Jackson) kicked back to him early for his second 3, and then Andre had like Superman vision and lefty-looped it over everyone on a fade, it was unbelievable."
The Cadets also did a solid job of keeping the longer Frederick Douglass forwards off the boards, as Albany Academy owned a 27-18 rebounding edge over the PSAL champion Lions (27-5). Guard Derek Jeter Mejia scored 14 points and Abubakar Kromah added 10 for Frederick Douglass.
"We just willed ourselves to rebound the basketball," Fruscio said.
It was Albany Academy's second win of the season over the Lions — the Cadets rolled 61-34 in a tournament on Dec. 23.
"(Saturday) August stood up and said, 'The elephant in the room is we're going to lay an egg and think we got this, and we don't have it,'" Fruscio said. "This is the state tournament, everyone's good, they've got two new players. They felt like, 'We need to bring it.'"
"It was similar to two years ago when we won the championship," Mahoney said. "I told the guys in the beginning, don't take anyone lightly and come out with your hair on fire and ready to go. I couldn't be more proud of my guys and the way we played."
Follow Pete Tobey on Twitter
@PTobeyPSVarsity.
Get in the game with our Prep Sports Newsletter
Sent weekly directly to your inbox!