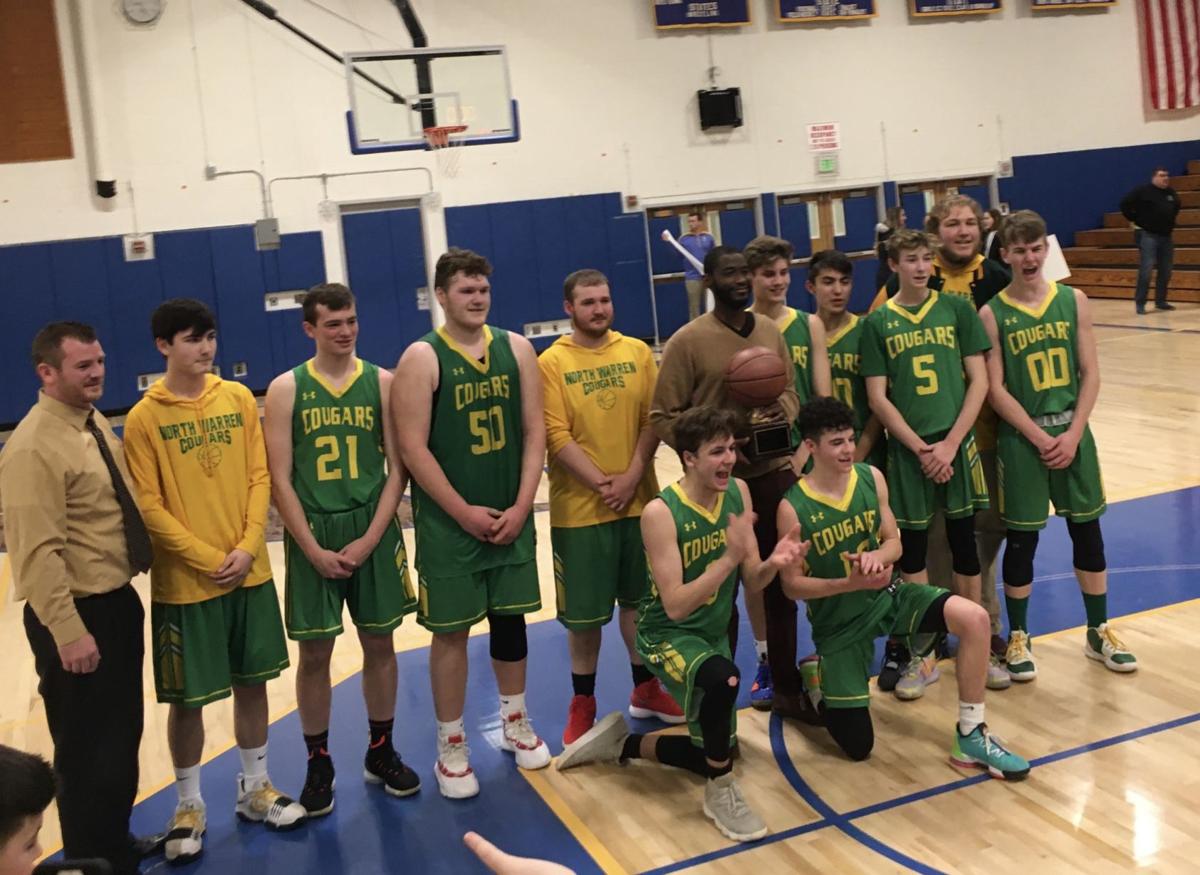 QUEENSBURY — The North Warren boys basketball team ran toward its second goal for the season on Saturday night.
Using a fast-paced start, the Cougars (18-2) jumped out to an 11-0 lead en route to winning their first Adirondack League title with a 71-60 victory over Granville in the championship at Queensbury High School.
North Warren had never been in an Adirondack League championship game in the league's 29-year history, but this year's squad is different — in a good way.
"I've got a great group," North Warren coach James Cuyler said. "Don't be surprised if you see this group at the end of the season holding up another trophy, but once we figure out sectionals, we're going to take it one game at a time.
"We completed two of our team goals: win the division, second one was win the league," Cuyler continued. "Now we're trying to win the sectional title."
Granville coach Grant Sharrow admitted North Warren was playing Granville's preferred style by running early. The difference, however, was that North Warren was consistently beating Granville's defenders down the court and also doing a good job on the boards.
North Warren led 18-7 after one quarter, and then got reserve Jack Jennings going in the second quarter, as he scored all of his nine points to extend the Cougars' lead to 38-21 at halftime.
Two quick fouls on Cougars point guard Anthony Girard — who led North Warren with 24 points — put him on the bench with 7:09 left in the third quarter and allowed the Golden Horde (15-5) to chip away at the deficit. Granville hit five 3-pointers that quarter and got to within 45-42 with 29 seconds left, but the Cougars stretched it to 49-42 by the end of the quarter.
Girard had re-entered with 1:05 left in the third, and made his presence known with his first play in the fourth, stealing the ball and knocking down one of his high-arcing 3s.
"He was itching that third quarter," Cuyler said of Girard. "He was, like, 'Put me back in, coach, I won't foul.' I said, 'Nah, we need you late. You're the heart of this team.' He came back in the fourth quarter and took us home."
Rarely slowing down — mostly when Girard wasn't playing — North Warren distributed the wealth scoring-wise. All six of its scorers had at least six points. And 6-foot-3 center Tanner Dunkley was a huge presence in the paint with 16 rebounds and four blocked shots.
"That's my job, so that's what I did, I guess," Dunkley said. "They beat us the first time (92-72, Jan. 24) and we had a chip on our shoulder. We succeeded."
Granville was forced to foul to slow the Cougars down, but that put North Warren in the double-bonus with 3:30 left. The Cougars sank 15 foul shots in the final quarter.
Jarett Williams led Granville with a game-high 25 points. Josh Nelson added 10.
"It was awful shooting for us," Granville coach Grant Sharrow said. "We weren't getting back on defense, and we shot 23 of 86 or 23 of 89, something like that. It wasn't very good."
Follow Will Springstead on Twitter @WSpringsteadPSV.
Get in the game with our Prep Sports Newsletter
Sent weekly directly to your inbox!