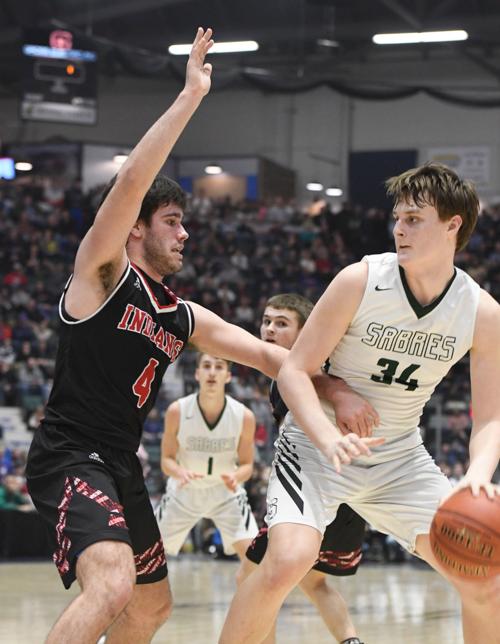 Argyle
2018-19: 7-7 league, 11-11 overall
Key players who moved on: Tyler McWhorter, Drew Cormie
Starting lineup: Gabe Wood, Caide Flanders, Derek Liddle, Peyton Lufkin, Tyler Humiston
Outlook: The Scots are learning a new offense under new coach Matt Stevens. They are extremely skilled, but very undersized. Lufkin is an obvious scoring threat and will need some help from Liddle. Parker Frost, Hunter Ingram, Jared Montello and Justin McWhorter should contribute good minutes.
Bolton
League: Mountain and Valley
Key players who moved on: Craig Wholey, Adam Seamans, Richard Brauser
Starting lineup: Kevin Neacy, Michael Baker, Jayden Mignot, Jordan Nieves, Martin Dobert, Kyle Lajeunesse
Outlook: New coach Cody Kober inherits a young team with five sophomores. The Eagles will try to play up-tempo. New players should help with rebounding. Kevin Neacy is a four-year starter who creates space and attacks the basket well.
Cambridge
Key players who moved on: N/A
Starting lineup: Brad Rowland, Ben Epler, Nick Murphy, Brian Hall, Soyer Mattson, Kaedin Ogilvie
Outlook: The Indians return many from last year's team, with experienced upperclassmen running the show. As a plus, first-year coach Shea Bromirski, a former Cambridge standout, expects to be able to play nine or 10 guys. Cambridge also has good size and can play physical defense.
Corinth
Key players who moved on: N/A
Starting lineup: Isaac Melville, Cody Decker, Gabe Allen, Trent Kilinski, Colin Watkins, Dillon Dumas
Outlook: The Tomahawks lost two starters to graduation, but hope to be able to play transition offense and multiple defenses. Isaac Melville is an important second-year player as far as leadership. Gabe Allen and Dillon Dumas are juniors that will play multiple spots offensively and defend the perimeter and post.
Fort Ann
Key players who moved on: Luke Loso, Brendan Wright
Starting lineup: Dylan Frost, Adam Winchell, Jack Dornan, Ty Loso, Aidan Barnes
Outlook: The Cardinals only have two returners who saw significant minutes last season. Rebounding and defense will have to be sharp. Dylan Frost will be looked to rebound and score, while the steady Adam Winchell is a key returner, having missed most of last year with an injury.
Fort Edward
Key players who moved on: Logan Catone, Ryan Etu, Cameron Sullivan, James Bombard
Outlook: The Flying Forts have to replace four starters. They'll try for aggressive defense, rebounding and sharing the ball offensively. Ashton Sullivan, Will Denton, Ghrady Havens, Tim Gillis and Colby Phillips return.
Glens Falls
League: Foothills Council
2018-19: 18-0, 29-1, state and Federation Class B champions
Key players who moved on: Joseph Girard III, Kyle Vachon, Trent Girard
Starting lineup: Nick Danahy, David Barclay, Noah Girard, Evan Wiggins, Jackson Brand
Outlook: Key returners Nick Danahy and David Barclay will be a big part of the Indians' plans. Juniors Noah Girard, Zach Barrett and Jackson Brand will help with ballhandling duties, while guards Aalijah Sampson, Nick Brown and Aiden Hirsch will contribute off the bench. Forwards Griffin Woodell and Evan Wiggins have length and athleticism.
Granville
Key players who moved on: Bart Bartholomew, Nick Sumner
Starting lineup: TJ Wilson, Jarett Williams, Taylor Bourn, Cody Rice, Josh Oakman
Outlook: Rebounding will be a challenge, but the Golden Horde have good athletes. Jarett Williams and Taylor Bourn are athletic and good 3-point shooters, so they'll be tough to guard. TJ Wilson and Josh Oakman are also solid shooters.
Greenwich
Key players who moved on: Carson Mosher, John Walsh
Starting lineup: Jesse Kuzmich, Alex Curtis, Luke Pemrick, Adam Newell, Sam Howard
Outlook: The Witches lost some shooting and size to graduation, but first-year coach Tyler Herrington has talented guards and a solid bench. Jesse Kuzmich brings a great work ethic and toughness. Luke Pemrick's stamina and quickness allow him to play anywhere on the floor. Alex Curtis has a knack for scoring, while Sam Howard, Adam Newell, Kaden Hall and Jayden Hughes also will contribute.
Hadley-Luzerne
Key players who moved on: Zach Lewandowski
Starting lineup: Danny McMahon, Jon Fraser, Michael LaBrake, Chad Harris, Andrew Warner, Donald Harder
Outlook: The Eagles have experience this season. The keys will be balancing the attack and maintaining chemistry. Danny McMahon is an all-around player who can score from anywhere and will likely reach 1,000 career points this season. The younger players show talent and balance the rotation.
Hartford
You have free articles remaining.
Key players who moved on: N/A
Starting lineup: AJ Mitchell, Raymond Harrington, Brandon Harrington, JP Lavin, Jacob Fish, Gavon Darfler
Outlook: Seniors Brandon Harrington, Gavon Darfler and AJ Mitchell have contributed since their sophomore year and will be looked to for scoring and leadership. The team has size for Class D, as both Brandon Harrington and Darfler are 6-4 and capable scorers. Point guard Mitchell needs to be a presence at both ends.
Hudson Falls
Key players who moved on: Caleb Condon, Connor Horrigan, Casey Boucher
Starting lineup: Alex Varney, Brandon Pond, Riley Maddison, Jonathan Beagle, Jack Hogan
Outlook: New coach Greg Smith takes over a program with high hopes. The Tigers want to have solid half-court defense and a controlled offense. Riley Maddison, a senior point guard, is a five-year varsity player who's a strong defender, shooter and driver. Jonathan Beagle is a 6-foot-8 junior forward who will help with shot blocking and rebounding, but also has outside skills.
Johnsburg-Minerva
League: Mountain and Valley
Key players who moved on: N/A
Starting lineup: Caleb Hughey, Devon Millington, Camron Allen, Anthony Galle, Ryan Morris
Outlook: Randy LaFountain takes over the boys after coaching the Johnsburg girls the past two seasons. J-M will have to be a scrappy, outside team, as the inside game needs development. Caleb Hughey and Anthony Galle will be leaned on as ballhandlers and scorers.
Lake George
2018-19: 14-0, 26-1, won Adirondack League, went to state semifinals
Key players who moved on: Chris Becker, Mason Flatley, Alex Leonelli, Colin Leonelli, Connor Vidnansky
Starting lineup: Luke Pelchar, Cam Orr, Cole Clarke, Shane Clarke, Juan Garcia, Hunter Rounds
Outlook: The Warriors lost a ton of talent from their state semifinalist team of last year, having graduated 50 points per game. Luke Pelchar is the only returning starter and should be a top rebounder and scorer. Cole and Shane Clarke form the back line of the zone defense. Cam Orr is a good shooter and rebounder while Juan Garcia is the likely starting point guard.
North Warren
Key players who moved on: Jayson Hooper, Caleb Morehouse, Jack Buckman
Starting lineup: Anthony Girard, Ryan Miller, Nate Hooper, Andrew Beadnell, Tanner Dunkley, Austin Bradley
Outlook: The Cougars return a number of players from a 2018-19 team that had some success. Anthony Girard, the team's leading scorer last year, is dangerous with the 3. Tanner Dunkley is a strong rebounder. Ryan Miller is a key defender and team captain and new coach James Cuyler said there are several other players who can contribute. He plans a fast-paced game.
Queensbury
Key players who moved on: Matthew Chase, Thomas Scotto-Iavino, Jackson Rainwater
Starting lineup: Bryce Bleibtrey, Sean Collins, Shane Rutherford, Nate Johnson, Matthew Conlon
Outlook: New coach Greg Dixon is implementing new systems, so there's a natural learning curve, but he feels the team has depth. Bryce Bleibtrey is a smart player who has good range on his outside shot but can also drive. Nate Johnson will be a senior leader at forward, where he brings all-around good play. Sean Collins can handle the ball and score, but more importantly is a great defender.
Salem
2018-19: 2-12 league, 3-18 overall
Key players who moved on: Jack Toomey
Outlook: The Generals have good athletes and would like to play up-tempo offense and pressure defense, but decision-making has to improve to be competitive. There are eight seniors, and their leadership is essential. Eastman says the team has no standouts, but its balance can be a strength.
South Glens Falls
2018-19: 3-15 league, 3-17 overall
Key players who moved on: N/A
Starting lineup: Jason Viger, Jon Maniacek, Jake Aday, Cameron Woodard, Tommy Prevost, Cullen VanWaganen
Outlook: Coach Cottrell moves over from Hudson Falls and has a younger squad. Jon Maniacek is a scoring guard. The guard play is solid, but the Bulldogs must commit defensively every possession. Tommy Prevost will be looked to provide rebounding and post play, while the other starters will provide guard experience.
Ticonderoga
2018-19: 5-8 league, 11-11 overall
Key players who moved on: Colton Huestis, Mike DuShane.
Starting lineup: Terrence Benedict, Conall Tierney, Brock Huestis, Thomas Belden, Monty Benedict.
Outlook: Only two players return for the Sentinels. Conall Tierney and Terrence Benedict will need to provide leadership for the underclassmen. Coach Defayette hopes the team steadily improves. He believes it's well rounded and can receive points from anyone.
Warrensburg
2018-19: 4-12 league, 8-12 overall
Key players who moved on: Evan MacDuff, Brandon Bailey, Jesse Griffin, Dan Kelly, Peyton Olden
Starting lineup: Dan Cunniffe, Chippy Mason, Steve Schloss, Mike Tyrell, Thomas O'Sullivan
Outlook: There were a lot of losses to graduation, and with that, the Burghers shift from a post-play team to more guard-oriented. Dan Cunniffe will have a much larger role, handling, scoring and defending. Thomas O'Sullivan is one of the few big men, so will have to be active rebounding and defending. Eighth-grader Steve Schloss will handle the ball and asked to hit open shots.
Whitehall
2018-19: 3-12 league, 5-15 overall
Key players who moved on: Thomas Fish, Austin Barnao
Starting lineup: Dwight Foulks, Matt Redmond, Matt Gould, Preston Bakerian, Derek Patch
Outlook: The Railroaders are inexperienced at the varsity level, so the learning curve will be longer. Dwight Foulks is a great ball-handler and can score. Matt Redmond has the ability to hit the outside shot, while Matt Gould will be looked to for rebounding and points in the paint.