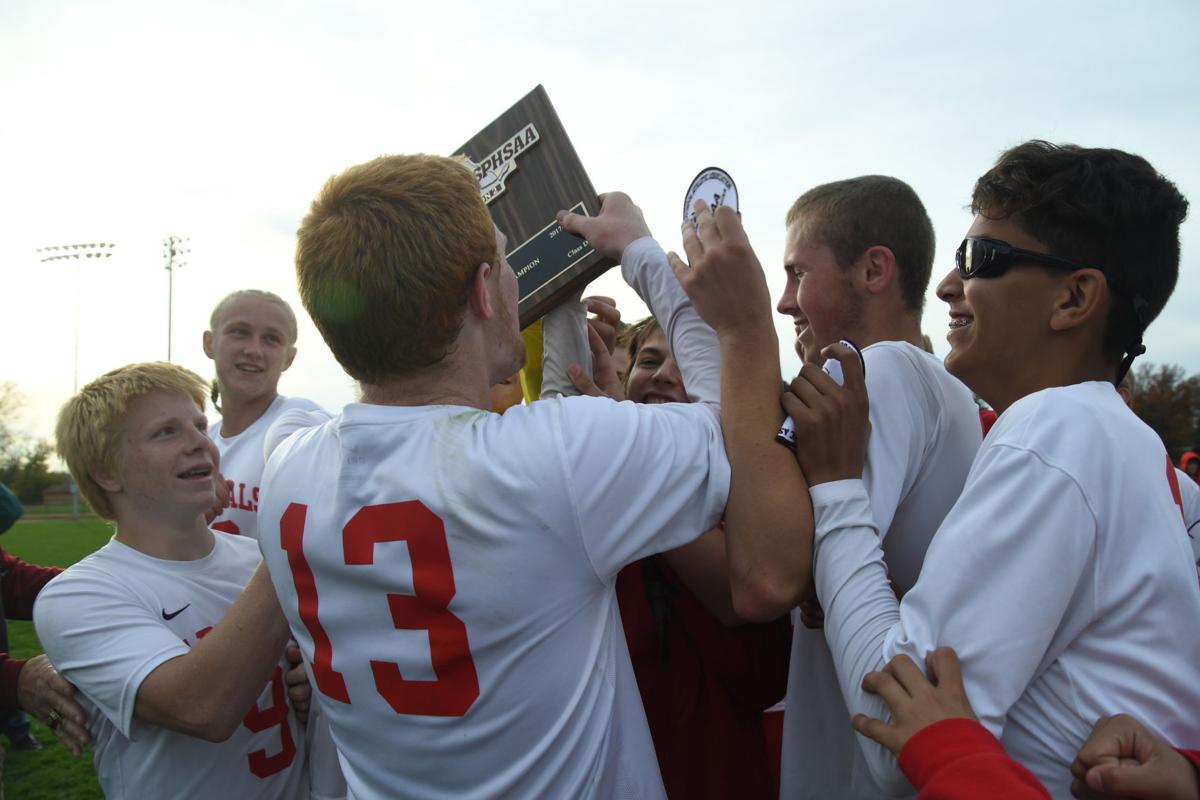 COLONIE — When thinking about the eight consecutive Section II, Class D titles his teams have won, Fort Ann boys soccer coach Rich McCabe said, "Some of these kids were in second grade when this started."
Reminded that they would have been part of the students' assembly that always trots out for the Cardinals' seemingly annual home quarterfinal game, McCabe smiled.
"That's why I have it," he said.
One of Section II's longest streaks grew Saturday, as Jake Beber had two goals and an assist to lead the top-seeded Cardinals to a 3-1 win over Loudonville Christian at Colonie High School. Fort Ann (17-2) will play the winner of Monday's Smithtown Christian/Mount Academy game in a regional final at a site and time to be determined.
It sounds odd to say that a seven-time defending sectional champion entering the game got a "statement" win, but that's what it was for this year's squad — a much younger one than won the state championship in 2015 and lost in the state final last year in double overtime. This year's team has just one senior, and he left Fort Ann as a fourth-grader before the streak started and returned just after last year's run to the state title game.
But what a valuable senior Jake Beber has been. With his tallies Saturday, the forward increased his area scoring lead to 40 goals this season. Not bad for someone who figured he would stay at his natural goalkeeper's position at the beginning of the season.
"When they put me in the field, I knew I had to prove myself," Beber said. "Just step up, do everything they ask me to and help my teammates be better, too."
"It's definitely a different team this year, and it feels good because everybody's talking about how it was Tyler Mattison and Garrett Bailey's team, and it's finally our team," junior tri-captain Brendan Wright said. "Everybody doubted us this year that we'd even make it here, and now we're moving on. It's a great feeling."
After knocking on the door multiple times, Fort Ann scored the first goal with 18:42 left in the first half when Beber, at the far post, headed in Richie Jones' corner kick.
The Cardinals made it 2-0 nine minutes later when Beber scored on a penalty kick to the lower right after Loudonville Christian (10-3) was called for a hand ball in the box. Fort Ann increased it to 3-0 with 22:28 left in the game when Sawyer Lunt's 30-yard blast hit the back of the net.
Fort Ann's defense rarely let its goalie, Adam Winchell, get tested. When he was, the freshman Winchell responded well. The Eagles finally scored with 8:47 left when Josiah Westfall poked in a ball that Winchell couldn't quite hang onto.
"We had some key defensive guys go down this year like Cameron (Wilcox) and Jack (Dornan), but it's been next man up," Wright, a back, said. "I feel comfortable with whoever is back there. Casey Bush is a monster and now Tanner Lunt's dropping back. It's a big role for a 10th-grader that didn't play a lot back there."
Loud. Christian (10-3) 0 1 — 1
First half — 1, Fort Ann, Jake Beber (Richie Jones), 21 18. 2, Fort Ann, Jake Beber, 30:21 (PK).
Second half — 3, Fort Ann, Sawyer Lunt (Jake Beber), 57:32. 4, Loudonville Christian, Josiah Westfall, 71:13.
Goalies-saves — Jake Alesio (LC) 7, Adam Winchell (FA) 3.
Follow Will Springstead on Twitter @WSpringsteadPSV.
Be the first to know
Get local news delivered to your inbox!