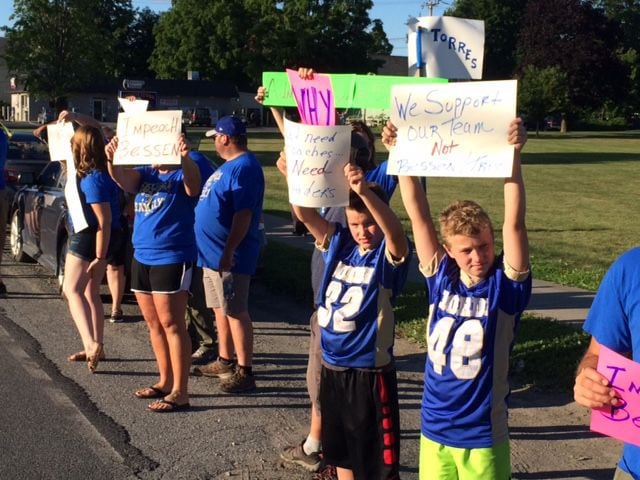 GRANVILLE — Mario Torres is returning as Granville's varsity football coach. The Board of Education on Tuesday voted to appoint Torres to the position following an executive session of 2 1/2 hours.
Terry Gorton, a former semipro football player who had been a candidate for head coach, was appointed volunteer assistant coach.
This brings closure to a situation that had festered for six weeks.
Residents were upset that the Torres family had been put through this situation.
"This is a disgrace," said Pam Williams.
About 75 people attended the meeting. Some members of the public had asked for the administration to apologize.
Board of Education President Audrey Hicks said she hoped that the community could move forward in a positive manner to heal. The district will review policies and procedures and hopefully not get itself into this situation again.
"Let's try to put this community back together. I applaud you all for caring so much. I would love to see this much enthusiasm when we try to create a vision for education in Granville," she said.
Athletic Director Eileen Troy said the decision was a compromise. Her job is to find ways to improve Granville athletics.
"We're not preparing these students for the next level of competition, guys and gals. We're preparing you for the next level of life and making improvements is not easy," she said.
School officials stressed that all coaching appointments are for one only.
Assistant coach Aaron Torres said he is grateful that the matter is resolved.
"I couldn't be happier with the outcome. I think it's the right thing to do," he said.
Hicks, Vice President Suzanne McEachron and board members John McDermott, Molly Celani, Dale Bucciero and Ed Vladyka voted in favor. Carrie O'Brien was opposed. Greg Bourn and Jo-Lynne Bartholomew were absent.
Earlier, more than 40 supporters of Torres held signs saying "Football is Family" and "Why?" and yelled in front of the school before the start of the meeting. Vehicles honked their horns as they passed by to show support for Torres, who has been coach since 2007.
"He doesn't coach football all the time. He coaches life," said 17-year-old senior Arin Mackey.
Dustin Evans, 15, said Torres is a big influence.
"He's always positive. He makes sure if we're doing our job," he said.
Parent Renae McKittrick said the board and administration should be listening to the people.
"It's about doing what's right. It's about democracy. I feel their personal agendas are fueling their decision," she said.
Becky Jones Tyler said she she showed up to support the team. Her son plays football and supports Torres.
"That's who he wants. That's who it should be," she said.
Her son, Mike Jones, said Torres is more than a coach. "He understands and helps out the football players when they need help," he said.
Seana Lewis said her children play youth football and they are looking forward to playing under Torres one day.
"It's not all about winning. It's about being respectful and playing with heart," she aid.
Parent John Cook said Torres has done a wonderful job with the players.
"He has gone so far as to canvass colleges for these kids and get them into places they might not otherwise be able to (attend)," he said. "He instilled in them sportsmanship, honor and integrity," he said.
The football situation has been unresolved for six weeks. Torres name was listed on the agenda for appointment at the May 31 meeting. That matter was not acted on, but not formally tabled. Jay Condon was brought forward for consideration at the June 13 meeting. After a public outcry and an executive session, a motion to appoint Condon was defeated and Torres was reappointed.
However, that vote was declared invalid because the school board's policy states that recommendations must come from the administration.
You can read Michael Goot's blog "A Time to Learn" at www.poststar.com or his updates on Twitter at @ps_education.