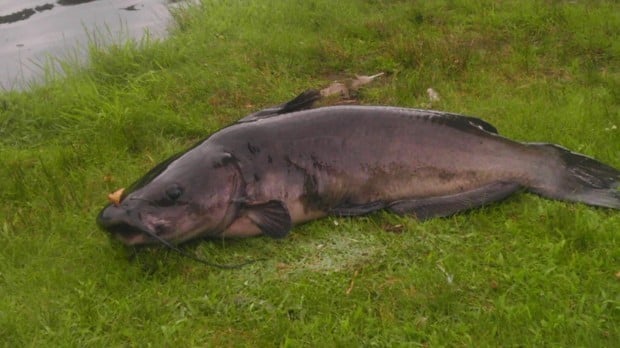 Nick Foster was hoping to catch a few bluegills or bass when he took his 7-year-old daughter to Crandall Park Pond in Glens Falls to go fishing last Tuesday evening.
What he got instead was the battle of a lifetime as a massive channel catfish that few could imagine would inhabit the tiny pond dragged the duo around for a half-hour before an onlooker helped them drag it ashore.
Foster, 34, of Glens Falls and his daughter Caitlin have quite a fish story to tell about their trip to the pond known for its panfish and spring rainbow trout.
He said they had caught one bluegill on a small rod-and-reel combo when the big fish latched on to a nightcrawler he had dug up. Foster said he instantly knew the fish was big when it was hit, but it took a while to figure out how big as it pulled line off the reel.
A man who saw the battle helped Foster drag it in, the line snapping as they got it on the pond bank.
Foster estimated the fish was 35 pounds, though he did not have a scale to weigh it before he pushed it back into the pond. He said he's caught catfish that pushed 30 pounds in the past, and he believed it was heavier than those.
"I've fished the canals, you don't see them that big," he said. "The thing was just massive."
He said his daughter was both mesmerized and "petrified" of the fish, which wasn't much smaller than her.
"She wouldn't go anywhere near it," he said.
The little closed-face reel held fishing line of 8-pound or 10-pound test, he said.
The pond is stocked with rainbow trout each spring for the annual kids fishing derby. It's also home to panfish, bass, pickerel, suckers and carp.
Who knows what else is lurking in those weedy waters off Glen Street.
The state Department of Environmental Conservation announced the fishing rule changes it plans to implement beginning Oct. 1.
There were a lot of changes around the state, but only a few that affect waters in our region. The walleye season was changed on Lake Pleasant. Several lakes in Hamilton County will be opened for salmon fishing through the ice, including Blue Mountain Lake and Eagle Lake.
The DEC also deleted Palmer Lake in Corinth from the list of waters with special trout regulations, instead making it subject to statewide regulations.
After years of planning, a project spearheaded by Queensbury resident Dr. John Braico to repair a flood-damaged section of the East Branch of the Ausable River in Keene is finally moving forward.
The work has been in the planning stages since the mid-1990s, but rising costs submarined it for a while. The U.S. Fish and Wildlife Service, Trout Unlimited, AuSable River Association and the Essex County Soil and Water Conservation District have all worked to improve the 2,800-foot stretch of river.
A number of factors, including the deposition of material from flooding from Tropical Storm Irene, combined to make it a go this summer. Volunteers have been working for a couple of weeks and hope to finish the work later this month.
The end result will be a stretch of river around Rivermede Farm that will be much more hospitable to trout and less prone to flood problems.
Congratulations to Dr. Braico and those who have worked with him for years to make the project happen.
Spiny water flea hysteria
The spiny water flea's arrival in Lake George was no big surprise to anyone who has been paying attention to the region's fishing picture for the last few years.
The tiny crustacean has been hopscotching from one water to another around New York for years, and with it being entrenched in Great Sacandaga Lake for at least 5 years, it was inevitable that it made it to Lake George with the number of people who fish both lakes.
The big thing to remember is those who frequently fish Great Sacandaga Lake and other waters where they are present have said they are not aware of any problems with the lake's fishery stemming from them.
Yes, they cluster on fishing lines at times, but that's the only nuisance they've been found to create. The Great Sacandaga Lake Fisheries Federation is planning a study, however.
Be the first to know
Get local news delivered to your inbox!