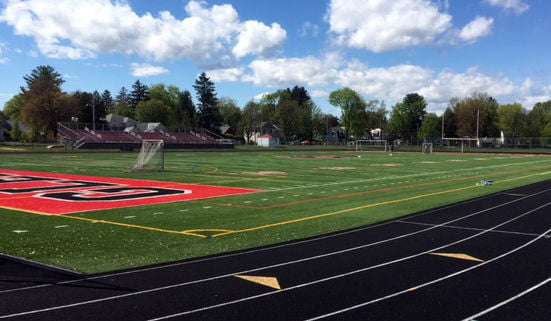 I sat in my car at Glens Falls High School on Saturday afternoon, looking out at the big, green turf field, just sort of wondering.
A couple of lacrosse players were shooting balls at a goal. A solitary runner jogged around the track.
We're 3 ½ months away from the fall high school sports season, when this place should be filled with athletes. Seems like a long time. Is it enough time?
If you think this coronavirus stuff will surely work itself out by then, take note of a nasty little news bulletin that came from the West Coast last week: California State University has already closed its campuses for the fall semester.
That's 3,000 miles away from us, and you may rightly say it's too early to be deciding what happens in September. Still, the way the dominoes keep falling, it's not hard to imagine we may have some trouble getting on the field in September.
The major leagues are cooking up plans to restart during the summer, but they can afford frequent testing for the coronavirus. You test several times a week, isolate any positives and move on. That's a resource high schools might not have.
But let's think positive here. Even if you can't play everything, there should be a way to have at least some sports action.
With that in mind, I give you four possible scenarios for the startup of the fall high school season and how things would play out in each case.
1. Best-case scenario: The virus goes away or recedes into the background. High school sports are played under normal conditions.
I would be thrilled if this happens for any number of reasons (not least of which is, I get to cover sports instead of storms and fires). A lot of medical experts think we'll still be dealing with the virus, but who knows. Someone may have come up with a treatment that keeps virus victims out of the hospital by then. So it's possible.
2. Almost as good: The virus is controlled enough that sports can move ahead, but spectators are banned from attending. This would mirror the plans being considered by various professional leagues. The good news is that student-athletes get a chance to compete, which is (or should be) what it's all about.
There's a potential side issue here.
I'm half-joking about this, but parents tend to believe the right to watch their kids play sports can be found in the Constitution, the Bible and the Magna Carta. You're going to have people sneaking through the woods, going around the back side of the school or gathering on the sidewalk across the street, which would be no different than having them in the bleachers. Rather than fight it, it would be wise for schools to accommodate family members with socially distanced assigned seating.
3. They're nervous, but will give it a try. Schools go forward with fall sports, but the virus is hanging around, or may be more prevalent in some areas of the state than others. Virus-related interruptions are possible.
If this is the case, they should chuck the state and sectional playoffs right away. Keep the competition confined to your area and play for the league title. Go without non-league games to cut down on exposure.
You'd want to spread out the season and build in lots of byes, or perhaps leave the last weeks open. That way if a positive test crops up and a team has to shut down, there's still time to pick it up later on.
If someone comes up with a way to test students on a regular basis, this might play out more like the No. 2 scenario.
4. Worst-case scenario. Schools are shut during the fall. State sports leaders have said that sports can't be played if schools are closed.
This will be depressing, but it doesn't have to be a complete loss. Our saviors here could be runners, golfers and tennis players.
Football, soccer and field hockey players have to intermingle on the field. Swimmers share the water. Volleyball players are inches away from each other at the net.
The other three sports can find ways to compete with limited or no contact among themselves or the other team. Golf is already being played by adults. Cross-country runners can be sent off at intervals, as they are in skiing, with winners decided by times.
Tennis is a little more complicated. Each team would have to stay on one side of the court (no changing ends) and you may need a buffer zone at the net. The ball is handled by both players, so contamination can't be helped there, but you can use a set of balls for each match, then mothball them for a minimum of three days after the match is done.
The rule about not playing when schools are closed would have to be ditched. Don't tell me it can't be done. Whoever made the rule can change it. If it's encased in law, get the state Legislature involved.
These are unusual times. Leaders need to think creatively. If it goes this far, high school students will need to do something more than stare into a laptop all day long.
They'll need hope. Give it to them.
Sports Editor Greg Brownell is taking a periodic look at how we're all dealing with the coronavirus in the Glens Falls region. 
Contact Sports Editor Greg Brownell via email at brownell@poststar.com. Follow him on Twitter: @glensfallsse.
Be the first to know
Get local news delivered to your inbox!