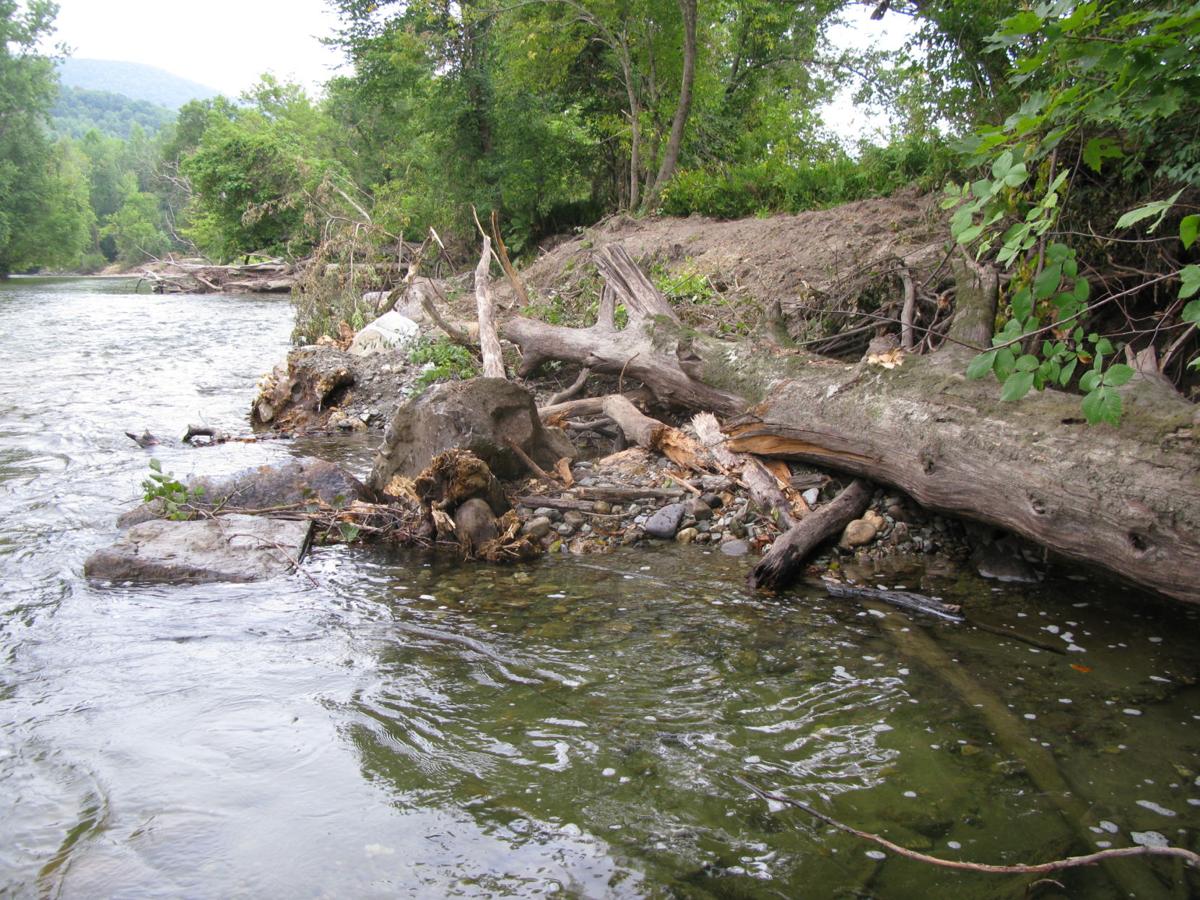 Slowly but surely, the Batten Kill is coming around. Really, the progress made in rebuilding the storied river's trout population hasn't been slow.
Over the past 10 years, work by a number of groups to improve habitat on the river in Vermont and New York has yielded dividends. And surveys in recent years have consistently found more trout, and bigger trout.
This summer's work in Jackson improved sections of the river that had become wide and shallow, conditions that are not optimal for coldwater-loving trout.
Similar work is ongoing on the river in West Arlington, Vt., as well.
Cynthia Browning, executive director of the Battenkill Watershed Alliance, built 17 or 18 structures around the confluence with Murray Hollow Brook that are designed to better channel the river's flow and keep it from eroding or suffering flood damage.
"The structures are designed to create a more concentrated winding flow within the existing channel," she said. "He (designer Carl Schwarz) installed rock/log vanes to redirect the current to the center.
He constructed floodplain shelves of logs/slate/boulders/brush that lessen the erosive force of the current, protects banks from erosion, still allow good floodplain access, and create cover and shelter for trout among the tree rootwads used in the structure."
Schwarz, of U.S. Fish & Wildlife Service, is considered one of the nation's top stream reconstructers. His designs were built with help from volunteers from the alliance and Trout Unlimited.
Browning said the work will probably cost $20,000 or so, paid for through donations by the Battenkill Watershed Alliance, Clearwater and Adirondack chapters of Trout Unlimited and USFWS.
It hasn't seemed like it weather-wise, but fall hunting seasons have started in our part of the state. Early bowhunting in the Northern Zone started Saturday, and early bowhunting in the Southern Zone starts Wednesday.
Early bear in the Northern and Southern zones opened earlier this month as well.
John West, owner of The Crossroads Country Store & Sport Shop in Chester, said he hadn't heard much about early bowhunting success as of Monday.
"It's too warm. Everybody's still fishing," he said.
He had heard of a couple of big bears shot in the Chester area so far this month, including a 350-pounder and another that was 300 pounds or so.
For those hoping to get out during the state's first crossbow season, Oct. 15 is the day to head out. This year's youth deer hunt is set for Oct. 11-13.
I've heard of a spikehorn and doe shot over the weekend in Washington County by guys smart enough to hunt near water sources during this warm spell.
I had a chance to head over to the Mettawee, Poultney and Castleton rivers one morning last week for some late-season trout fishing.
The Castleton and Poultney were so low and clear they were almost unfishable, though I lost a big brown in a deeper hole on the Castleton in Fair Haven. The Mettawee had a bit more water in it and I had a few decent hours of fishing in western Vermont and Granville.
A couple of interesting things occurred on the Mettawee.
First, a landowner who owns property where the Mettawee and Indian rivers comes together in Granville has built an unusual retaining wall along the river, made of pieces of concrete and brick. It looked like it was handmade too, which would have been quite a bit of work.
The property has eroded over the years, so I can't blame them for wanting to protect it. The wall, though, dramatically changed a section that has been a good fishing spot over the years.
The pool that sat at the rivers' confluence is all but gone now. I've caught some big rainbows and browns in that hole over the years.
I caught a couple of smaller rainbows there Tuesday, and it remains to be seen what impact that change will have on that spot. In fact, I caught nothing but rainbows Wednesday on the Mettawee, when all year I was catching just browns in these sections.
Further downstream, I was jarred by the sound of a motor running on the river bank. I found a large water pump set up, drawing water for a big sprinkler at a farm on county Route 24. (I don't know what watering there is to do with the growing season all but over, but I'm not a farmer.)
I thought it was strange that a big pump could pull water from a protected trout stream during a low water time of year, so I checked with the state Department of Environmental Conservation.
I was told there was an agricultural exemption.
The pump could take up to 100,000 gallons per day from the river without need for a permit.
The Mettawee continues to be a different river upstream and downstream of the village of Granville's wastewater treatment plant.
It's a pristine trout stream up from the plant, but I took some interesting pictures of the clear water coming in above the plant, and the gray water heading out below it. The bottom of the river immediately downstream of the plant is coated with what appears to be brown, slimy algae.
At least, I hope it's algae.