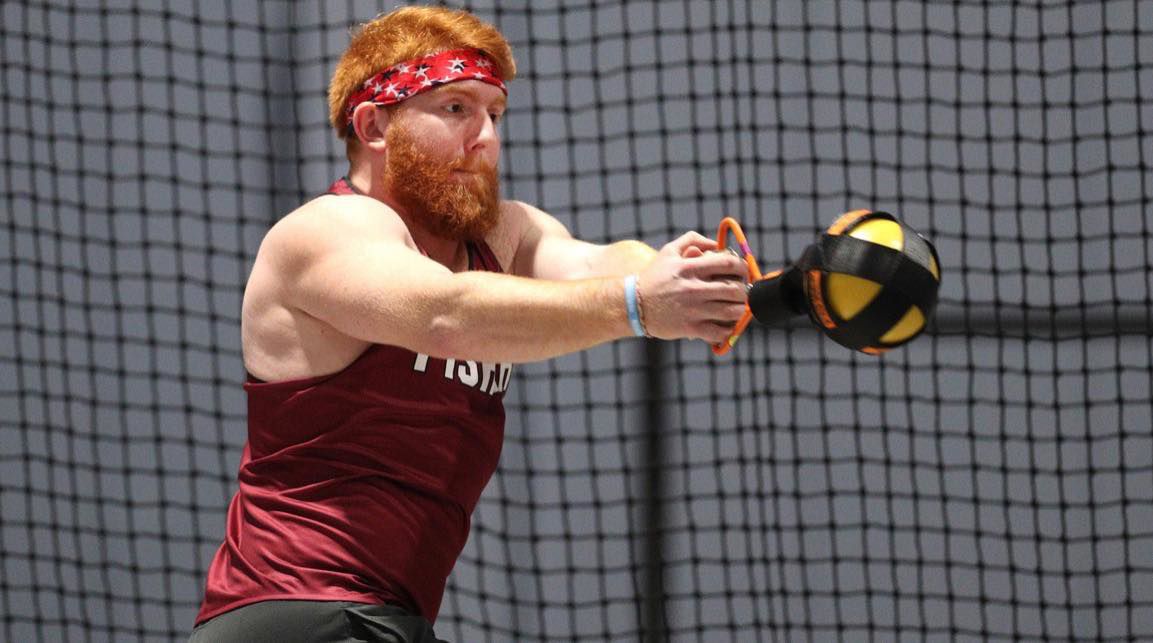 St. John Fisher junior Ryan Desautels (South Glens Falls) captured the Empire 8 Conference indoor shot put championship as he helped the Cardinals to the team title on Feb. 29 at Houghton College.
Desautels threw the shot 48 feet, 5 1/2 inches to finish first in the event. He also placed second in the weight throw with a toss of 51-1/4. He placed sixth in both events in the Feb. 21 Conference Tune-Ups at Nazareth College.
At the Valentine Invitational on Feb. 15 at Boston University, Desautels threw 52-10 to place 14th in the weight throw, and 45-7 3/4 in the shot put for 18th.
In the Atlantic Regional Championship at Nazareth on March 7, Desautels finished 14th in the weight throw with a distance of 50-9. That was the final meet of the season, as the rest of the college sports schedule was canceled because of the coronavirus pandemic.
Siena College freshman Brandon Olden (North Warren) earned 10th place in the 3,000 meters, with a time of 8:39.62, at the MAAC Indoor Track Championships at the Armory in New York City on Feb. 23. He also placed seventh in the 5,000 (14:58.56) at the Valentine Invitational on Feb. 15 in Boston.
Matthew Palmer (Schuylerville), a senior at SUNY Oneonta, was named to the third team of the All-SUNYAC Indoor Track Team. Palmer placed third in the 5,000 (15:12.00) at the SUNYAC Championships.
Wrestling
University of Maryland sophomore Orion Anderson (Schuylerville) placed sixth at 133 pounds at the National Collegiate Open, held March 2 in Smyrna, Delaware. Anderson finished 3-3 in the tournament, which is a collegiate wrestling event that serves as a postseason championship for NCAA Division I athletes that are not wrestling in their conference championship. Anderson finished the season with a 12-11 overall record.
Baseball
Jeremy Johnson (Fort Ann), a junior outfielder at Castleton University, got his first season with the Knights off to a strong start.
Johnson, who transferred from the College of St. Joseph, played in all 11 of the team's games and went 20 of 42 from the plate for a team-best .476 average. He had five doubles, two triples, one home run, six RBIs, 19 runs, 11 walks and 13 strikeouts. He also was 8 for 11 on stolen bases.
Castleton has several other local players on the roster. Senior catcher John Stewart III (Greenwich) hit .406 with two doubles, one home run, seven RBIs and 12 runs. He also had a .976 fielding percentage. On the pitching mound, freshman Thomas Fish (Whitehall) made the most appearances with four. In seven and one-third innings he allowed six hits and five runs (four earned). He struck out eight, walked four and had an earned-run average of 4.91. Freshman Trevor Corlew (South Glens Falls) pitched three innings in two games. He allowed three hits and three runs while striking out one and walking one, with an ERA of 3.00. Freshman Riley Orr (Queensbury) appeared in two games, allowing seven hits and three runs with an ERA of 6.75.
A trio of local players saw action before SUNY Adirondack's season was canceled. Freshman Russell Gallo III (Ticonderoga) made three appearances as a pitcher, starting one game and finishing with a 1-0 record. In eight innings, he struck out 10, walked six and had a 3.38 ERA. At the plate he had a .250 average with two RBIs and four walks.
Also, Jack Grinnell (Ticonderoga), a freshman catcher, played in four games. He hit .383 with one run and one walk. Sophomore Connor Farrington (Saratoga Catholic) played in 10 games. He hit .135 with three RBIs and three walks.
Men's Basketball
Kobe Lufkin (Argyle), a junior guard at Utica College, finished the season averaging 10.9 points (third on the team), 2.2 rebounds and 1.6 assists per game.
Chris Becker (Lake George), a 6-foot-8 freshman center at Massachusetts College of Liberal Arts, finished his first collegiate season with averages of 9.4 points and 4.8 rebounds per game
Men's Lacrosse
Saint Rose junior attackman Jack Pemrick (Greenwich) had three goals and one assist for the Golden Knights in their season-opening 18-10 win over Post on Feb. 26. Teammate Andrew Phillips (Schuylerville), a freshman midfielder, scored one goal. Pemrick added a goal and four assists, as well as five ground balls, in the Golden Knights' 9-8 overtime win over Saint Michael's on Feb. 29. In four games before the season was canceled, Pemrick was third on the team in scoring with 11 points (5 goals, 6 assists).
For Saint Michael's, junior Joseph Gerardi (Queensbury) finished with one assist and six ground balls in the loss to Saint Rose. In a 9-8 loss to Roberts Wesleyan on March 7, Gerardi had three ground balls. His teammate, freshman Alex Chirgwin (Queensbury), scored his first career goal on March 11 in the team's 12-6 win over Dominican.
Max Hoffer (Cambridge), a sophomore midfielder for Clarkson, had three ground balls and one caused turnover in the Golden Knights' 22-3 win over SUNY Canton on Feb. 26.
Softball
Six local players saw action for SUNY Adirondack before its season was canceled.
Sophomore Taylor Ringer (Hudson Falls) led the team in average with a .550. In five games, she had four RBIs, one walk and two stolen bases. Sophomore Madeline Mann (Lake George) was second on the team with a .438 average. She delivered two doubles, one triple and five RBIs to go with two walks and two stolen bases. Sophomore Kiley King (Queensbury) had a .368 average. She batted in eight runs and had one walk.
Three freshmen also made their mark. In the pitching circle, Grace Davis (Hudson Falls) went 2-2 in four games. In 23 innings, she struck out 14, walked three and had an ERA of 7.00. At the plate, Ashley Chadwick (South Glens Falls) hit .231 with three runs, four walks and a stolen base. Freshman Meagan O'Sullivan (Warrensburg) hit .083 with an RBI, two runs and a stolen base.
Nordic Skiing
St. Lawrence sophomore Brian Beyerbach (Queensbury) led the Saints' men's team by placing 31st in the 10-kilometer freestyle (24:39.4) at the Middlebury College Carnival on Feb. 28.
Women's Swimming
SUNY Cortland sophomore Kailyn Anselment (Glens Falls) placed sixth in the 1,650-yard women's freestyle at the SUNYAC Championships, with a time of 18:13.48. She also was sixth in the 400 individual medley (4:52.31) and was a member of the 800 freestyle relay team that set a school record in 7:49.11 while placing second.
Alpine Skiing
Syracuse University/ESF Ranger School's Alex Hohman (Queensbury), a junior, placed first overall at the Syracuse University Alpine Race Series at Toggenburg Mountain on Feb. 22-23. Hohman won the giant slalom the first day and took second in the slalom the next day. The Orange placed first as a team in the final regular-season USCSA Mid East Conference races.
Ice Hockey
Northeastern University goalie Connor Murphy (Hudson Falls/Carleton Place Jrs.) played in two games. In 42:38, he made 11 saves and allowed five goals.
Be the first to know
Get local news delivered to your inbox!