NEW YORK — Markquis Nowell broke the NCAA Tournament record for assists in a game with 19, his last two on spectacular passes in the final minute of overtime, and Kansas State beat Michigan State 98-93 on Thursday night in a Sweet 16 thriller at Madison Square Garden.
Playing in his hometown and fighting through a second-half ankle injury, Nowell found Keyontae Johnson for a reverse alley-oop with 52 seconds left in OT to give the Wildcats (26-9) the lead for good in this back-and-forth East Region semifinal. He then threw an inbound pass to Ismael Massoud, who knocked down a jumper with 17 seconds left for a 96-93 lead.
With Michigan State needing a 3 to tie, Nowell stole the ball from the Spartans' Tyson Walker and drove for a clinching layup at the buzzer. The 5-foot-8, Harlem-raised Nowell finished with 20 points and five steals in a signature performance at basketball's most famous arena that drew tweets of praise from Patrick Mahomes and Kevin Durant.
"That was a legendary display of controlling a basketball game Markquis," Durant tweeted.
Johnson scored 22 points for the No. 3 seed Wildcats, who will face either fourth-seeded Tennessee or ninth-seeded Florida Atlantic on Saturday as they seek the program's first Final Four berth since 1964.
A.J. Hoggard scored a career-high 25 points for seventh-seeded Michigan State (21-13). Joey Hauser added 18 points and Walker had 16, including a layup with 5 seconds left in regulation that forced the first overtime of this year's NCAA Tournament.
UNLV's Mark Wade had the previous NCAA tourney assists record with 18 during the Runnin' Rebels 1987 Final Four win over Indiana.
Nowell turned his ankle early in the second half, was helped off the court and had it taped. Michigan State took the lead with him sidelined, and when he returned, he pushed off the ankle to bank in a 3-pointer that beat the shot clock and tied the game at 55-all.
Turns out he was just getting started. Neither team led by more than seven points in the final 15 minutes of regulation, and Nowell steadied Kansas State's offense down the stretch, finding Massoud for a 3-pointer that made it 80-75 and hitting a jumper with 1:07 left for the Wildcats' final basket of regulation.
Massoud, who like Nowell honed his game on the playgrounds of Harlem, finished with 15 points for the Wildcats, who shot 55.9% from the field, becoming only the second team to shoot better than 50% against the Spartans this season. Cam Carter added 12 points.
Jaden Akins added 14 points for coach Tom Izzo's Spartans, the final Big Ten team left in the tournament. Michigan State outrebounded Kansas State 37-31 and finished 31 of 63 from the field (49.2%).
Both teams were efficient from 3-point range in a tournament that's featured shaky outside shooting, with Michigan State hitting 13 of 25 (52%) and Kansas State connecting on 11 of 24 (45.8%).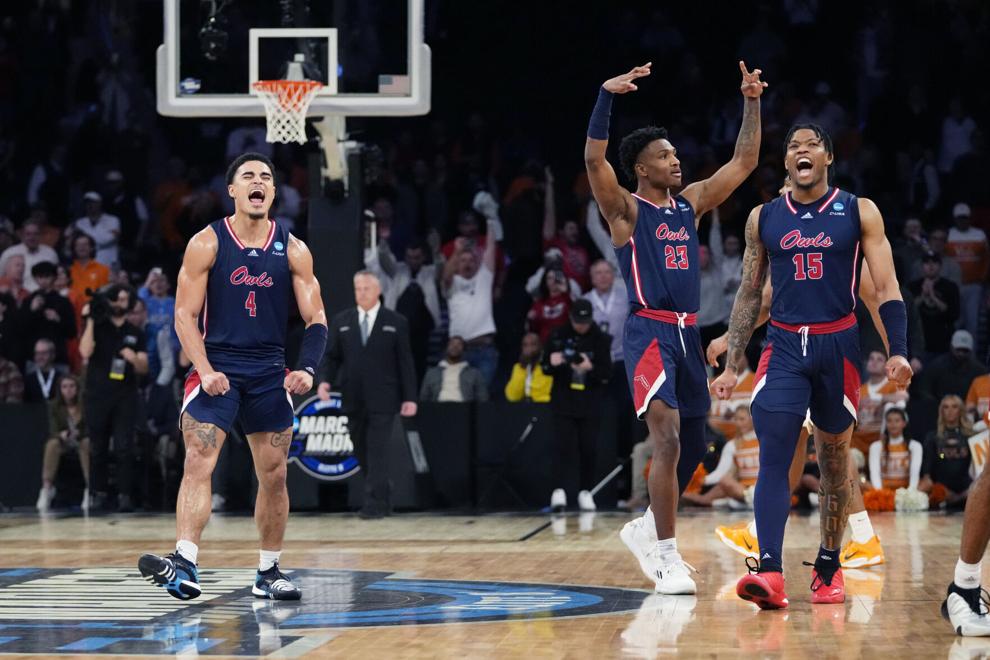 (9) FLORIDA ATLANTIC 62, (4) TENNESSEE 55: Ninth-seeded Florida Atlantic (34-3), playing in just its second NCAA Tournament, moved within a win of the Final Four by using a second-half push led by Michael Forrest to beat No. 4 Tennessee (25-11).
Even before the tournament started, this was the greatest season in FAU history. Now the Owls are one of the biggest stories in all of sports.
Johnell Davis led FAU with 15 points and Forrest finished with 11, eight in a crucial second-half run when FAU took control.
The Volunteers, who were looking for just the second Elite Eight appearance in program history, shot 33% — including 6 of 23 from 3-point range. Josiah-Jordan James and Jonas Aidoo scored 10 points apiece.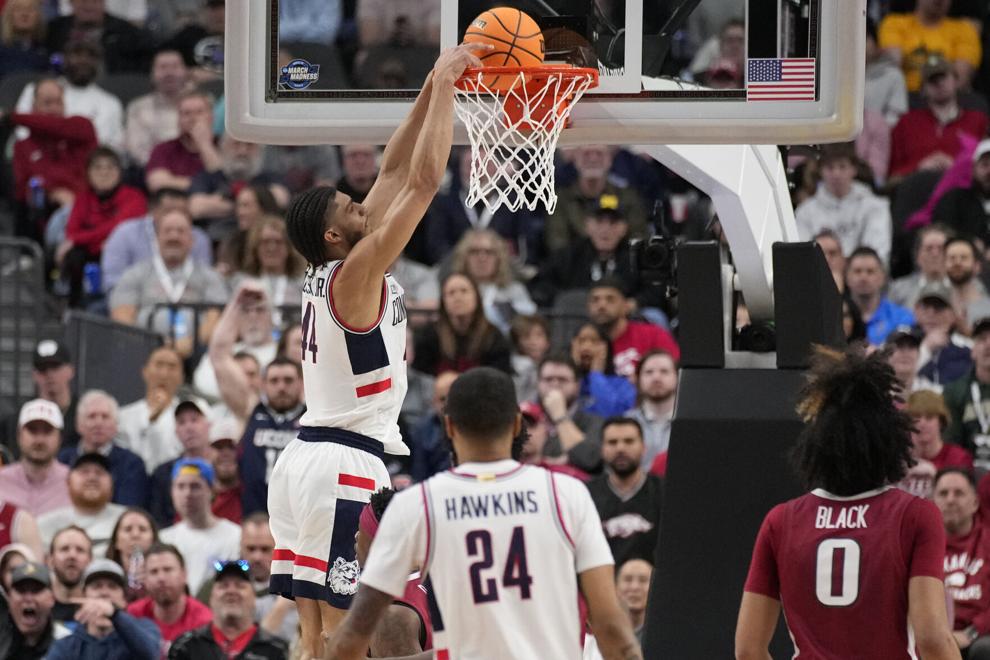 WEST
CONNECTICUT 88, ARKANSAS 65: UConn got 24 points from Jordan Hawkins and the fourth-seeded Huskies (28-8) are one step away from the Final Four after defeating No. 8 Arkansas (22-1) in a Sweet 16 matchup in Las Vegas.
UConn played like a team capable of winning its fifth national championship and first since 2014. The Huskies have outscored their three March Madness opponents by 62 points.
The Huskies never trailed and led by as many as 29 points when they went up 62-33. Arkansas answered with a 10-point run in just 27 seconds, but the outcome was never in doubt.
Adama Sanogo scored 18 points added 18 points for UConn. Anthony Black led Arkansas with 20 points.
GONZAGA 79, UCLA 76: Julian Strawther hit a 3-pointer with six seconds left to answer a 3-pointer by UCLA's Amari Bailey, lifting third-seeded Gonzaga (31-5) to a wild win over No. 2 UCLA (31-5).
The Bruins stormed back from an eight-point deficit in the final 1:05. UCLA took a a 76-75 lead on Bailey's 3-pointer with 12.2 seconds left. The Zags brought the ball up the floor and Strawther stepped into a 3-pointer, sending Gonzaga fans to their feet and the Zags into the Elite Eight.
Drew Timme led the Bulldogs with 36 points and 13 rebounds. Strawther added 16 points and 10 boards. Jaime Jaquez Jr. led UCLA with 29 points and 11 rebounds.