Look at the photo above this article. Take a good look.
Most of the players are smiling. The senior captains in the middle proudly display the plaque.
You wouldn't know the team had just lost.
The photo was taken after Salem's 2-0 loss in the Class D championship game of the 2008 Section II Girls Soccer Tournament. To understand what's happening here, you need to know the backstory.
That season was all about the backstory.
For years, the older players in that photo endured one loss after another. But when sectionals arrived in 2008, everything turned around. For a week, they were winners.
That team was a mix of ages and personalities, and they've since spread out across the country into a fascinating array of professions. Among them are a 911 dispatcher, a hemp producer, an archaeologist, a graphic designer, an Army reservist, a paralegal, an insurance underwriter, a horse farrier and a future pediatric psychologist.
Who can say how that 2008 season shaped their futures. One thing is certain — they've never forgotten it. They remember the good times. They remember the bad times. And they remember the teammate who was gone much too soon.
The bad days
The Salem girls soccer program had never had much success at a school better known for football, field hockey and wrestling. Sarah Buckowski remembered looking down a hallway with sectional plaques when she was young and thinking "where the hell are the girls soccer ones?"
It was particularly rough from 2005 to 2007, when the Generals went through a stretch of 40 games without a win. During the 2005 season, they were shut out in every game.
Let that sink in for a minute — an entire season without a scoring goal.
"We were being demolished," said goalkeeper Brianna Thibeau, who joined the varsity in 2006 as an eighth-grader. "Nobody in the school cared about our games. We were a laughingstock."
The Generals had to climb a steep slope in the early years of the program. They were a Class D school competing in the Wasaren League against bigger schools that often went to the state tournament.
But the players kept coming back.
"It was a little disheartening," midfielder Lauren Cameron said, "but everyone on the team loved the game enough to stick with it. You're stuck in a small town, what else are you going to do but play sports? Everyone banded together, worked hard and got through it."
"I never thought about quitting," said Katelyn Braymer, who began varsity play in 2005 along with fellow defender Shalyn Scribner. "We always had a real camaraderie, even though we were losing."
Things got better in 2007 when the Generals moved to the Adirondack League and started playing against schools their own size. They finally broke the winless streak with a victory against Fort Ann and finished that season 2-13.
The 2008 season dawned with promise. Thibeau, now a sophomore, was one of the area's top goalies. Braymer and Scribner led the defense as seniors. Shirley Waite, Delaney Dupuis and Buckowski had goal-scoring potential. Several players had offseason or club soccer experience.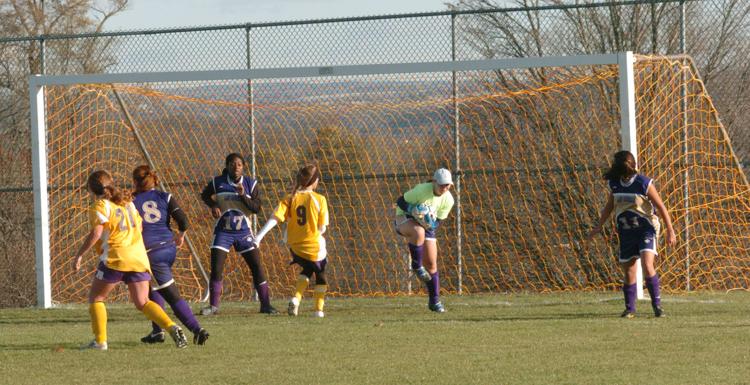 One of the least experienced people on the roster was the coach.
Susan Frisbee was in her first year with the varsity. She had coached modified soccer, but her personal background was in field hockey. Both Frisbee and her former players agree that some of the players knew more about soccer than their coach.
Frisbee relied on the veterans more than most coaches would. The players sometimes practiced on their own. And in retrospect, some players wondered if that situation didn't draw the team closer together.
"I remember (Frisbee) did the best she absolutely could," Scribner said, "but I also remember we took the lead in a lot of things. We were able to pick out each other's strengths and weaknesses and work off of that."
The Generals lost seven of their first eight games, but picked up steam at the end and finished the regular season 5-9. They drew the seventh seed for the Section II tournament. Ahead of them lay 370 miles of bus travel, a week of foul weather and a finish that none of them could have imagined.
Mud and soccer
For the quarterfinals, Salem was sent an hour south on state Route 22 to play second-seeded New Lebanon, a school that had 13 sectional titles and two state championships to its credit. Home teams rarely lose a matchup like that. Blowouts are common.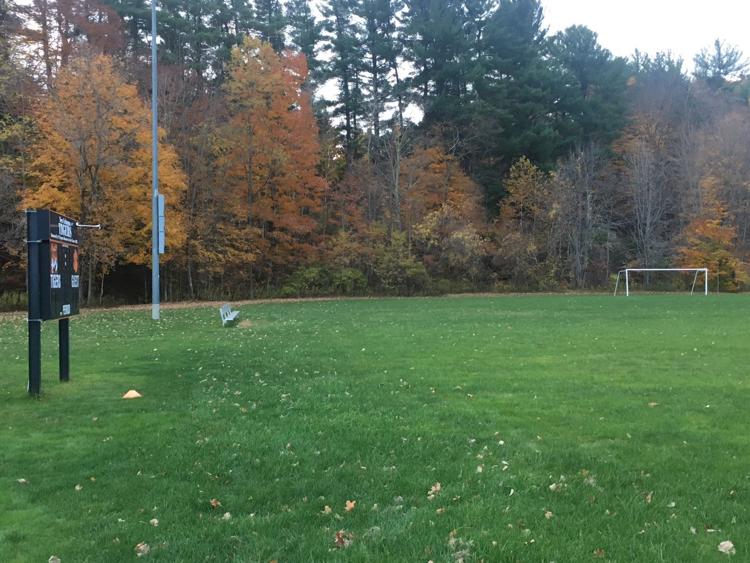 But Mother Nature had something to say.
"It was raining, it was freezing, my gloves were drenched," Thibeau said. "I remember this puddle in front of the goal. It covered some of the goal box. The ball would hit it and just go dead."
Every one of the players from that 2008 team vividly recalls the mud and muck of that game. Dupuis said it was "like playing in soup." Buckowski said "it was like we were in a trench."
But it was perfect weather for a scrappy underdog hungry to shed its past. One thing the Generals weren't afraid of was getting dirty.
Buckowski scored the only goal of the game, poking a ball past the New Lebanon goalkeeper late in the first half.
"I remember dropping to my knees when I scored, like, oh my God," she said.
The weather got worse as the game went along, but Salem kept hanging on. Late in the game, Braymer recalled one of the New Lebanon players yelling "how are we losing to this team?"
When it was over, the Salem players all slid into the mud puddle in front of the goal. Thibeau said she took her jersey off on the bus and splattered mud from the seat to ceiling.
Twelve years later, this is the moment the players remember as the high point of the season. It's a night that lives in their minds with a movie-like quality.
"It's one of those games, when it plays in my head, it plays like slow motion," forward Anea Isom said.
Road warriors
The Generals' next opponent was sixth-seeded St. Johnsville in a semifinal game scheduled for a neutral site with artificial turf. Mother Nature made another appearance, but this time it was to Salem's detriment.
The game was postponed twice because of weather. The original site was no longer available. The game was finally relocated to a lonely hilltop field in Fort Plain — right next door to St. Johnsville, but a nearly four-hour round-trip drive for Salem.
Cameron woke up sick that morning, but went to school so she would be eligible to play. She spent the afternoon in the nurse's office, made the trip, but got sick again on the bus. So the bus was late and Cameron couldn't play.
After a lackluster first half, there was tension in Salem's halftime huddle. One of the players was heard to exclaim, "we didn't drive two hours to lose!"
"I feel like we were kind of down that game," Thibeau said. "We were off, we weren't quite 100 percent. I don't know if it was (Cameron) getting sick or if we were just tired."
It was still scoreless with three minutes left when Shelby Tanaka sent a pass to the top of the box. Waite let go with a perfect shot that went in just under the crossbar.
A few frenzied moments later, the final whistle blew and the Generals were celebrating again. A pair of 1-0 wins — their only shutouts of the season — earned them a place in the Class D final.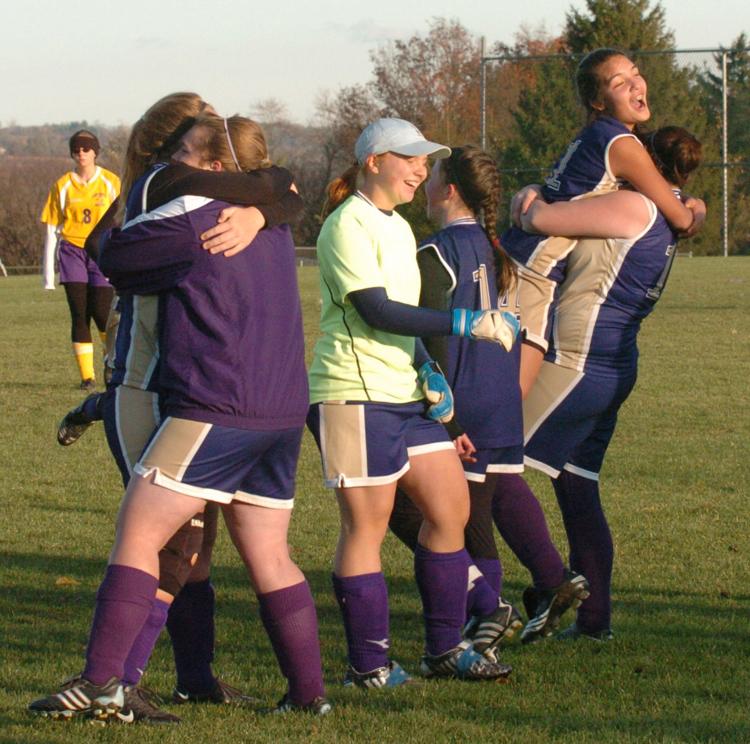 "From oh-and-40 to the Section II finals," Braymer said in a postgame interview. "This is what I've dreamed about since ninth grade."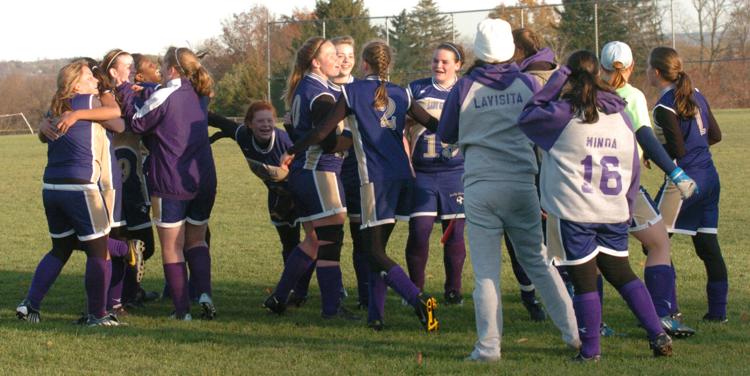 They played the next night at Broadalbin-Perth — another long bus ride — and lost to Northville, 2-0. The Salem players of 2008 are still annoyed that they were forced to play that game with no rest. Northville had played its semifinal a day earlier than Salem.
There were tears at the end, but they didn't last long. Braymer shouted something about being proud of their season. They weren't going to let the defeat steal away their sense of accomplishment.
And so there are smiles in the postgame team picture. They had a plaque for their hallway, payback for years of suffering, a statement that the bad times had been left behind.
"Of course you work that hard and get that far, it's heartbreaking not to get the title and go on," Cameron said, "but we had all been through so much together, we were proud of where we ended up."
But there was at least one more bad day in their future.
Disbelief
The roadside memorial sits in the grass at the intersection of state Route 22 and county Route 68, about 5 miles south of Cambridge. Two white crosses mark the spot where the collision happened on the night of June 9, 2012.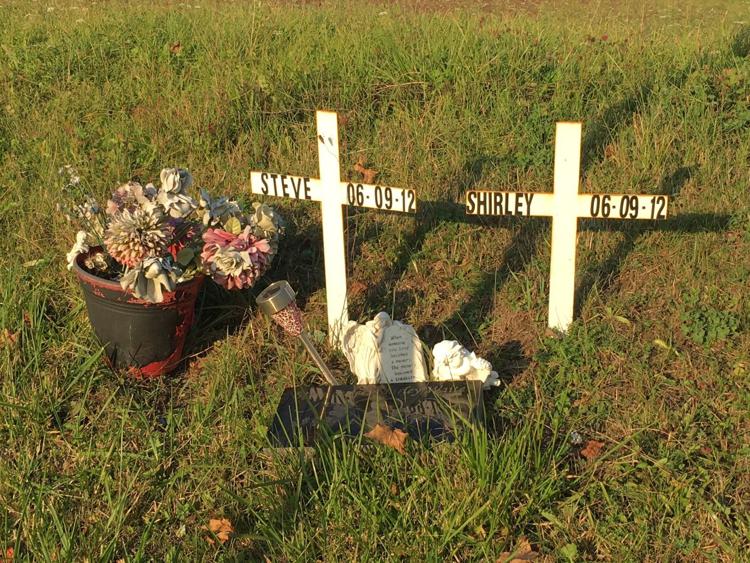 Shirley Waite, then 19 years old, was a passenger on a motorcycle driven by Steven Susee, her boyfriend. A car turned into their path and struck the motorcycle, according to police reports. Waite and Susee died at the scene.
The players on the 2008 Salem team were scattered to the winds when they found out about their former teammate. Many of them remember having trouble processing the news.
Camden Dumas was on a ship and had to get special permission to use a satellite phone. Scribner was at work, took the rest of the day off and said she cried all the way home. Dupuis was feeding horses when a friend's mother told her.
"I remember brushing it off, because I just didn't believe it," she said. "I was just kind of in complete disbelief that it happened and denial that it happened."
Buckowski was an exchange student in Belgium and found out through Facebook. Tanaka was camping and heard about it on the radio. Thibeau was in Army basic training and didn't learn about it for several days. The same was true of Braymer, who was in Mongolia and didn't find out until later, when she saw it on a website.
"I never envisioned someone that full of life to die at 19," Braymer said. "It was such a pointless death."
The Generals never would have gotten as far as they did in 2008 without Waite. She was the team's leading scorer with 13 goals.
"She played so hard," Thibeau said. "I admired her strength to power through. She was drenched in sweat at the end of every game."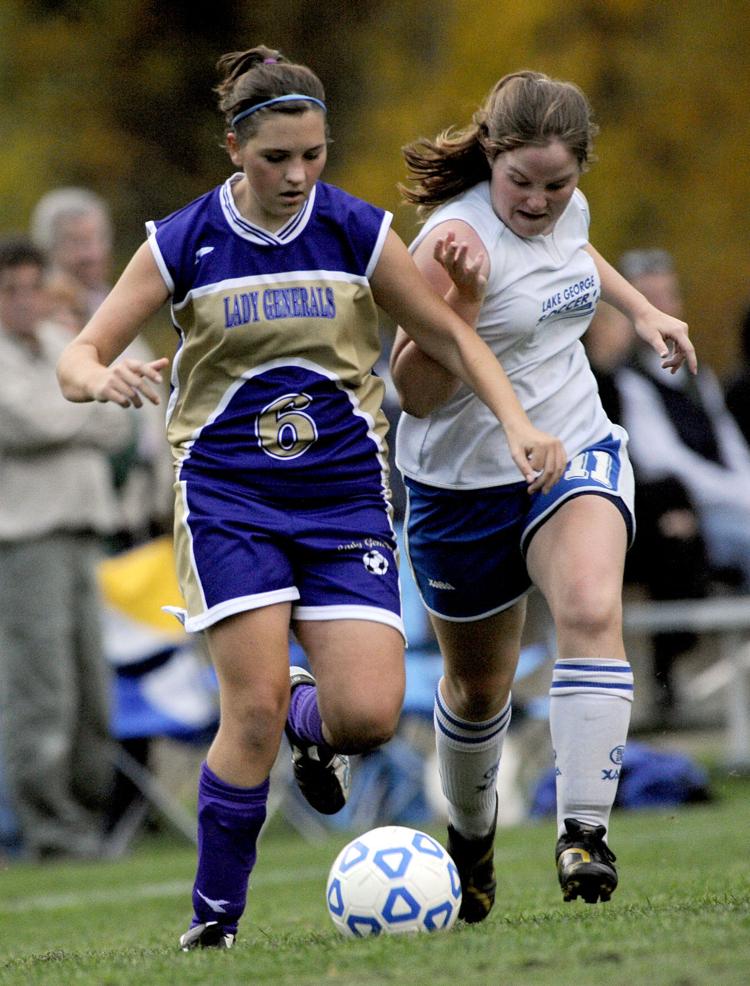 But when players on that team talk about Waite today, they mostly remember her personality, and especially, her sense of humor. She kept everybody laughing, those players say, sometimes in a crazy kind of way.
"Losing that sense of her light and laughter, having that gone, was just unexplainable," said Iris Rogers, a freshman on the 2008 team. "It really was a loss of light."
"To hear that such a young, promising, smart life like that is gone is just surreal," Cameron said. "I still can't believe it sometimes."
The team today
Since then, the members of that Salem team have spread out in all directions, each charting a different course. If their collective lives were a canvas, it would be splashed with every color in the spectrum.
The goalie's name is now Brianna Visconte, she lives in Syracuse and has a 2-year-old boy and a 6-month-old girl. She was named Section II's Class D Goalie of the Year in 2009, played soccer at Clarkson and SUNY Potsdam and has spent eight years in the Army reserves as an ammunition specialist.
Katelyn Braymer-Hayes got a master's degree in archaeology and worked in Alaska and Mongolia. She moved back to the area in 2019, has a 4-month-old daughter and works for Bennington College in alumni relations. Before the coronavirus hit, she drove past the roadside memorial to Waite and Susee every day on the way to work.
Shalyn Scribner spent three years in Fairbanks, Alaska, but also came back home. She's living in Hebron and works in quality assurance and training for Glens Falls National Bank.
Camden (Dumas) Azam played soccer for two seasons at SUNY Maritime College and now lives on Long Island, where she's a senior insurance underwriter for Geico. Delaney Dupuis played two years at Morrisville College and lives in Fort Collins, Colorado, where she's a farrier for Be Quick Horseshoeing.
Iris Rogers went into modeling after high school, then studied music at Purchase College. She's now involved in growing and researching hemp on her family's farm, including a new brand under the name Homestead Hemp 1787, but may yet get back into music.
Lauren Cameron lives in Columbia, Missouri, where she works for AAA as a social media specialist. Shelby Tanaka works in Sacramento, California as a graphic designer for a pool company.
Anea (Isom) Zimmerman, a junior forward back then, works the overnight shift as a 911 dispatcher in New Hanover County, North Carolina. She hopes to become a doctor and work in pediatrics.
Katie McKeighan, a freshman forward in 2008, is a clinical psychology doctoral student at the University of Hartford. She is starting a dissertation that involves developing a clinical manual for families experiencing still births. Her goal is to work in a children's hospital.
Minda (Wilkins) Vanderminden, then a junior defender, lives in Granville, has a 6-year-old son and works in the home health care industry. Stephanie Hamilton, a sophomore defender in 2008, became a speech language pathologist and lives in the Glens Falls area.
Buckowski works in Latham as a paralegal, specializing in social security disability. Occasionally she drives to Massachusetts, passing New Lebanon's soccer field on the way through.
More on our most recent "Where Are They Now" story on the 2008 Salem girls soccer team.
Susan Frisbee coached the varsity through the 2010 season. She later left her job as a Salem art teacher and is now director of the Cannon Free Library in Delhi.
In 2009, with several players returning, the Generals went 5-5-3, but lost in their sectional opener. The program has been much more competitive in the past decade, but has never reached the heights of that 2008 season.
Since learning of this story, the players from that 2008 team have reconnected through social media. They've had a chance to share memories of their magical postseason run as part of a Facebook group.
They've been trading stories about the mud, the bus rides, the wins, the losses, the good times, the bad times, and the teammate who is gone, but not forgotten.
Follow Sports Editor Greg Brownell on Twitter: @glensfallsse.
Be the first to know
Get local news delivered to your inbox!