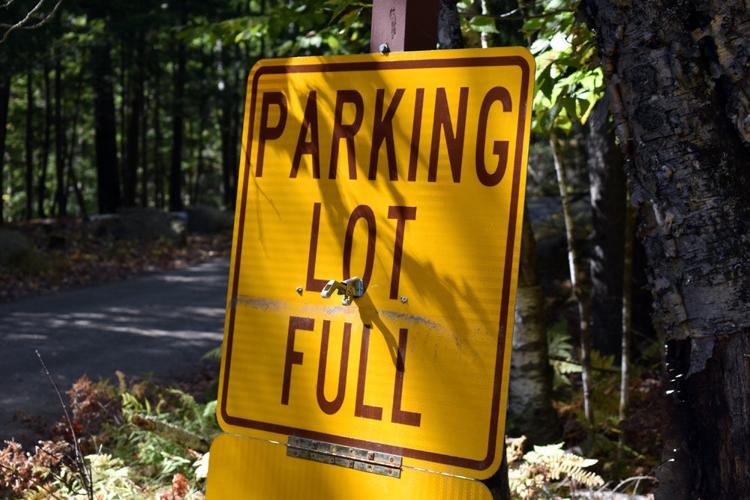 KEENE VALLEY — It was a perfect storm of natural beauty and a crush of people seeking it.
In the small hamlet of Keene Valley, leaves colored a rich orange and brown fell from the trees Saturday afternoon and scattered across state Route 73 like confetti. It was chilly, but not cold, and sunlight shone unfettered by clouds. Birds chirped and flew swiftly across Marcy Field, scouting for grub.
Hundreds of cars, carrying hundreds more visitors, cut through the idyllic fall scenery.
Starting early that morning, parking areas filled to capacity. By 7 a.m., vehicles began spilling from trailhead parking lots onto patches of grass, into the road and, in the case of one car parked at the Giant Mountain trailhead, onto trails. Some early-bird cars were spotted in that parking lot after 10 p.m. Friday, but it's unclear if those drivers camped there overnight, which is prohibited.
On the grounds of the AuSable Club, a historic private club in the hamlet of St. Huberts, groups of hikers walked in the middle of a road abutting a golf course, causing cars passing through to swerve in and out of their lane along the stretch to avoid them.
Dozens of hikers walked along Route 73, where the state Department of Environmental Conservation implemented a roadside parking ban more than four months ago in an effort to address safety concerns.
Scott van Laer, a state forest ranger speaking in his position as a union delegate, said he'd never seen the trailhead parking areas in Keene Valley so "jam-packed" with cars — and never seen so many cars parked, whether legally or illegally, in the vicinity of Route 73 — in his 20 years on the job.
Volunteers, local officials and available staff from state agencies rallied together to try to accommodate the influx. But multiple people on the ground said the town was ill-equipped to accommodate the wave of arrivals, and the number of people who arrived at trailheads looking to hike in the High Peaks overwhelmed available resources.
And the Columbus Day and Canadian Thanksgiving weekend — typically the busiest holiday of the hiking season — was still a week away.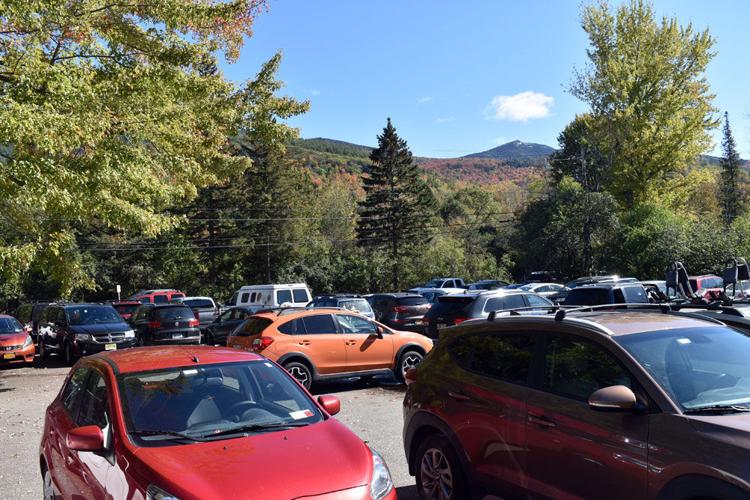 Visitors overwhelm town, ranger resources
Keene town Councilwoman Theresa Cheetham-Palen arrived at the Marcy Field parking lot just before 7 a.m. Saturday. Donning multiple coats and a hat to keep the sun from her eyes, she was volunteering her time directing traffic and offering information to visitors as a frontcountry steward.
By the time she got settled at her station, there were already more hikers waiting to board the town's shuttle to the Garden trailhead than the vehicle had the capacity for.
"Most people dealt with it pretty well," Cheetham-Palen said of the wait time to ride the shuttle. But as that wait got longer, some hikers grew frustrated.
"They asked why we didn't have another shuttle," she said. "We're a town of 1,000 people."
Two hours later, Cheetham-Palen called town Supervisor Joe Pete Wilson Jr. at home and told him about the onslaught of visitors.
Wilson pulled on his frontcountry steward uniform, grabbed his baseball cap and sunglasses, and drove to the field to help. Another town council member, deputy Supervisor Bob Biesemeyer, also pitched in — as did the chief of the Keene Valley Volunteer Fire Department, Rusty Hall, and a bus driver for the Keene Central School District who drives the shuttle for the town on weekends, John Ruggerio.
In the first two hours of operation, the town's shuttle service sold 130 tickets, Cheetham-Palen said. By noon, 241 tickets.
At one point there were so many people that Wilson and Biesemeyer started transporting hikers to trailheads using their personal vehicles. The only other bus driver in the hamlet, who also works at the Keene Central School District, was out of town transporting kids for a youth commission field trip.
"We just don't have the capacity in this small town to do more than we're already doing," Wilson said. "We can't keep up. It's just too much."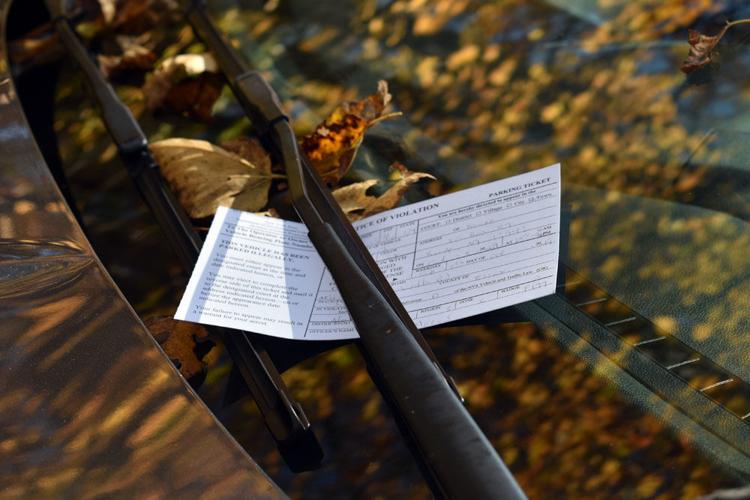 You have free articles remaining.
Hikers frustrated
Just this past weekend, rangers and environmental conservation officers handed out 73 parking tickets, according to Erica Ringewald, a DEC spokesperson. That doesn't include tickets issued by the New York State Police and the Essex County Sheriff's Office, who also issued tickets this weekend.
The department has also continued to direct visitors to try hikes in other areas in newsletters and other public notices.
Some out-of-town hikers at the trailheads along Route 73 expressed frustration that there wasn't up-to-date information available to inform them of whether the trailheads were busy before they made the trek to the Adirondacks.
Others, upon seeing the number of people in the hamlet, brought up the need for a permit system, according to Cheetham-Palen.
Van Laer said he saw one hiker, whose vehicle was blocked in, choose to abandon it and get a ride home. Others got more creative.
"There were pieces of paper on the windshield," he said. "On cars parked among rows of cars already ticketed earlier. It seems as though people parallel-parked between cars that were ticketed to try to blend in. I have not seen that before."
One hiker from the Clifton Park area who visited the Adirondack Mountain Reserve parking area Saturday afternoon said there wasn't enough "no parking" signage. She identified herself as Katie, but declined to provide her last name.
She was confused and annoyed when she and her family arrived back at their car after hiking to see that she'd gotten a parking ticket. She has been hiking in the Adirondacks for the last 20 years, and was aware of the DEC's roadside parking ban, but she didn't think her car, parked on the road leading out of the AMR parking lot, was in the no-parking zone.
"It's kind of frustrating, definitely," Katie said. "If there was a sign on this side of the road, we wouldn't have parked here."
Forest rangers were out in full force. Spotting the weather report paired with the peak fall foliage, the DEC added additional staff to the High Peaks Wilderness in anticipation of the increased traffic, according to van Laer. Altogether, five rangers and one supervisor were on duty.
"The rangers handled the influx as best as possible," van Laer said. "There's no gate on Route 73 to keep people from coming in. We have no control over the volume of traffic."
He said rangers got lucky over the weekend — there were no intensive rescues in the backcountry. In one case, where a person had trouble walking, the horde of hikers helped the straggler get to safety.
All of the available rangers were on the front lines writing parking tickets — and all of them were needed, van Laer said.
"We need enough staff to handle all this. The union maintains that this influx of users is great, but we need the staffing and infrastructure," he said. "These trailheads and roads were built for 1960s use.
"There's only so much we can do with what exists. Aside from fewer people and bigger parking lots, the department is doing everything they can."
"Important to us"
Before Wilson arrived at Marcy Field, he spent more than an hour that morning at Johns Brook Road, a narrow stretch that weaves uphill to the Garden trailhead.
Four cars were blocking an intersection there. They were ultimately towed away, something Cheetham-Palen said the town doesn't want to see happen.
"They're going to come out, and their car isn't going to be there," she said. "We don't want to tow cars. We want people to feel welcome."
The town of Keene, with its hamlets of Keene, Keene Valley and St. Huberts, have a combined population of 1,080 people, according to the latest census. Like many other Adirondack towns, businesses survive and thrive in this small community in large part because of tourism.
As more visitors stream into the Adirondacks to hike, many of them are choosing mountains in the High Peaks Wilderness. Wilson said the infrastructure just isn't there to accommodate them. That creates a scenario in which some visitors have negative experiences. That's not good for business.
"The town of Keene wants people here," Wilson said. "It's too important to us."