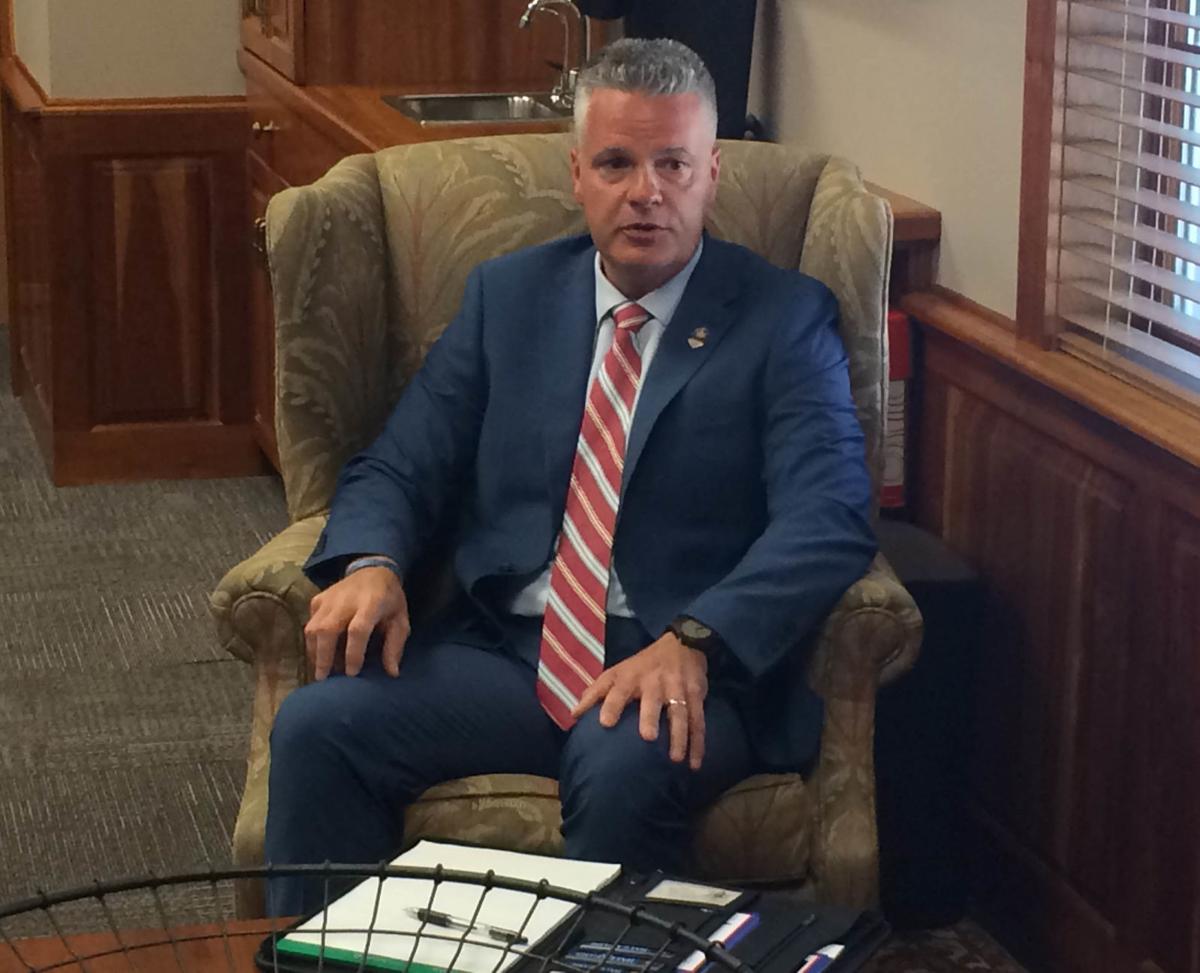 The professional experiences of Jim LaFarr and Shawn Lamouree are remarkably alike.
LaFarr has served for 27 years in the Warren County Sheriff's Office.
Lamouree has served for over 30.
Both started their careers in Lake George as patrol officers.
Both worked their way up through the ranks.
LaFarr was born and raised in Queensbury, attended SUNY Adirondack and has a son who now works in law enforcement in Lake George.
Lamouree is the son of a career police officer in Bethlehem and started at the Sheriff's Office after graduating from SUNY Brockport.
LaFarr is currently the head of the Office of Professional Standards and regularly handles complaints about officers.
Lamouree has been York's undersheriff for the past seven years and has taken over high profile responsibilities, such as preparing the budget and acting as liaison with the Warren County supervisors.
York thought highly enough of each of them to offer the undersheriff job after his first term, with LaFarr turning him down for family concerns while Lamouree accepted.
Republican voters are the winners here, with two outstanding candidates to choose from on Tuesday. As of now, there are no other declared candidates for the fall election.
What was clear almost immediately was that Lamouree's recent experience as undersheriff provides him with a wealth of knowledge about budgeting, how to obtain grants for programs and equipment, working with the supervisors and running the jail. There would be little in the way of a learning curve if Lamouree were to be elected.
You have free articles remaining.
He has also been intimately involved with all the key initiatives in the Sheriff's Office, from the Hometown vs. Heroin program to placing resource officers in schools.
Lamouree regularly cited the changes York made to the department, and it was clear that he hopes to build on that.
LaFarr spoke to us cautiously, saying he did not want it to appear he was criticizing the Sheriff's Office after being warned by York he could face "sanctions" if he did. York has denied that.
LaFarr pitched a more community-oriented cop-on-the-beat approach for those on the front line, and said he wanted officers to exit their patrol cars more often and be more involved in the community.
LaFarr said he believes it was a mistake for the Sheriff's Office to opt out of the Zone 5 Regional Law Enforcement Academy (because of the cost of dues), saying that any costs were more than made up for in free training of officers.
Both said the current budget was adequate in keeping Warren County safe, although Lamouree did ask for four new positions in last year's budget. One was approved.
But it was in talking about the jail that LaFarr showed significant concern.
Over a third of the Sheriff's Office employees are employed in the jail, and it has had its problems in recent years.
"The turnover rate is mind-blowing," LaFarr said, and suggested better management of the staff to show they are appreciated might help. "Absolutely, I would like to change the status quo."
Lamouree characterized the problems as more trickle-down, with new officers leaving for better paying jobs at the Department of Corrections. We were especially impressed with Lamouree's commitment to getting inmates the mental health and substance abuse care they need.
When there was push-back on getting programs in the jail, Lamouree ordered it be done because, "It's the right thing to do."
While Lamouree's experience over the past seven years was an obvious strength for some on the board, others wondered if, after 12 years of York in office, it was time for a fresh look at the department from someone like LaFarr.
"Anything I have done, I have been a student of," LaFarr said.
It was clear that both men had the professionalism and experience to run the Sheriff's Office at a high level, but LaFarr may be best positioned to take the department to the next level.
Post-Star editorials represent the opinion of The Post-Star's editorial board, which consists of Interim Publisher Brian Corcoran, Editor Ken Tingley, Projects Editor Will Doolittle and citizen representatives Connie Bosse, Barbara Sealy and Alan Whitcomb.