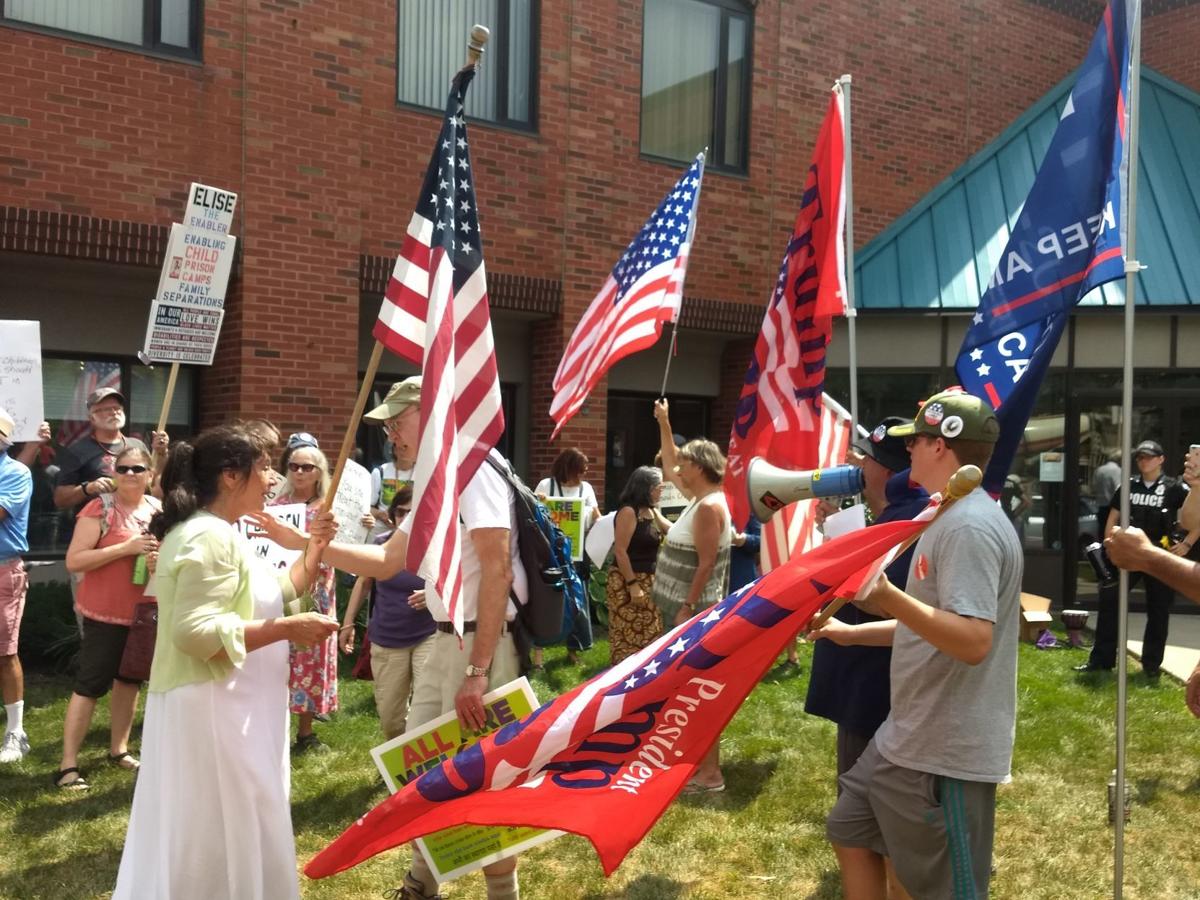 Surrounding someone and shouting in their face isn't protest, it's harassment, and we have seen instances of that recently in downtown Glens Falls, where pro-Trump and anti-Trump groups have been congregating at the same time.
We have also seen an organizer of a pro-Trump group using a bullhorn — including a siren function on the device — to drown out chants of people he disagrees with. In another instance, the entrance to the building that houses Congresswoman Elise Stefanik's office in Glens Falls was blocked by protesters.
Passions are running high on all sides in the current climate, and the state of our politics justifies that. We have no problem with people expressing strong feelings. But the anger that drives you to speak or shout your beliefs in a public place must be balanced with respect for the rights of others.
If the city has to get police officers involved in guaranteeing that everyone can move around and speak up without having their way blocked or their voices drowned out, we support that.
Public safety is protected, too, when dueling protest groups — pro-Trump and anti-Trump, for example — are kept out of each other's faces. Things can get ugly fast — as they did in Charlottesville during the "Unite the Right" rally in 2017 — when political protest is allowed to cross over into physical attacks.
Public safety will also be safeguarded by banning protesters from Centennial Circle. The small traffic circle, with its five separate entrances and exits, is too chaotic to accommodate chanting, marching, sign-waving protesters, too. The city has lots of other downtown sidewalks fit for marching. It also has City Park, big enough for hundreds.
Speaking of hundreds of people, when large rallies are planned, organizers should be required to notify the city ahead of time. No fee should be charged — this is why we pay taxes — but city officials should know, so they can make sure there are no scheduling conflicts and the police can be alerted.
Not every little downtown gathering should be required to notify the city days ahead of time. If a handful of folks decide on the spur of the moment they want to hold a vigil in the park that evening, they should be allowed, even though they haven't had time to give the city notice.
In Washington, D.C., the National Park Service requires permits for protests on the National Mall of 25 people or more. Saratoga Springs also uses the 25 people or more standard.
Permits may not be necessary, and the word connotes a granting of permission that doesn't fit with the lawful exercise of constitutional rights. But requiring notification is justified for larger events, and requiring that everyone respect the rights of others is justified, too.
Demonstrations are a good thing. We'd rather live in a community where people care enough to come out and march than one in which apathy, or fear, has taken over. We have reasons to fret about the state of our democracy, but political protests aren't one of them. We hope to see more protests in Glens Falls, with everyone who wants to express their views being able to do so.
Local editorials represent the opinion of the Post-Star editorial board, which consists of Editor Ken Tingley, Projects Editor Will Doolittle, Publisher/Controller/Operations Director Brian Corcoran and citizen representatives Connie Bosse, Barb Sealy and Alan Whitcomb.