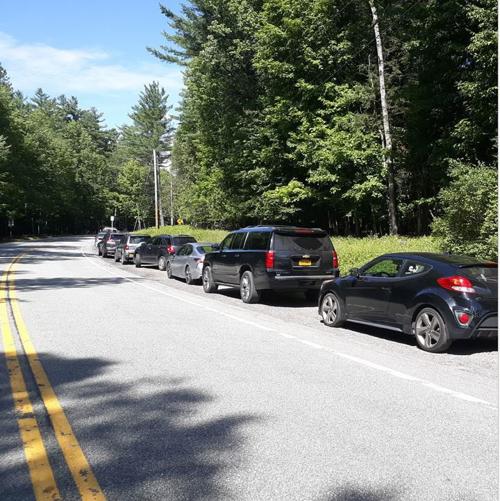 As more and more people come to the Adirondacks to visit and venture into the wilderness, a consensus is forming that the Forest Preserve, and especially the High Peaks region, needs more protection than it has been getting.
Numerous stories this summer have reported on the growing popularity of hiking, the overflowing of parking lots near High Peaks trailheads and the crowds on trails and summits.
We're as surprised as anyone to be talking about crowding in the High Peaks. We have long thought the difficulty of most of the climbs — the length from trailhead to summit and the ruggedness of the trails, not to mention the black flies and the frequently miserable weather — were enough to limit the appeal of High Peaks hiking to a core of experienced climbers, along with the occasional intrepid guest.
But we were wrong. Many more people will do four or five hours of steep climbing over rocks and roots just to get to the summit (going down can be even harder) than would 25 years ago. We're not sure what is driving the influx, although knowledgeable Adirondackers have cited the influence of social media platforms, where posting photos of yourself in beautiful natural settings is all the rage.
Regardless of the reasons for the change, we agree with the leaders of the Adirondack Council and many others that the flood of wilderness tourists must be managed so they don't end up appreciating the woods so much they destroy their wild character. It benefits everyone to make sure trails aren't being widened into highways by the tramp of hiking boots and forests aren't being despoiled by hikers using them as outhouses.
Just as important, wilderness tourists have to be educated to respect the ruggedness of the Adirondacks. Rangers have been run ragged in recent summers, taking care of unprepared hikers who, in some cases, go skipping into the forest in sneakers, with a cell phone in their pocket and without water.
You have free articles remaining.
Education is a critical part of the equation — to inform hikers of how they should behave and what they need to carry; and also to let visitors know about all the lovely, but less well-known walks they can take without having to share the trail with scores of other hikers.
Huge portions of the Adirondack Park remain empty or nearly so, even in August. The problem is not that too many people are coming to the Adirondacks to hike; it's that too many of them choose to undertake the same hikes.
One tactic to steer people away from the most heavily used region, just begun last week by Essex County, is a shuttle bus that runs from Lake Placid, where most of the area's hotels are located, north toward Whiteface Mountain instead of east toward the High Peaks. The shuttle ferries visitors to the trailheads for a couple of beautiful but relatively easy hikes.
Shuttles are a great way to encourage use of trails less traveled, and that can make all the difference when it comes to environmental damage. Also, shuttles relieve congestion in parking lots and prevent the dangerous overflow onto the shoulders of narrow mountain roads that we have seen a lot of in recent summers.
Adirondack Council officials have suggested a parking reservation system that would leave a certain number of spots available on a first-come, first-served basis and open the rest in groups that would be staggered based on location. So, for example, park residents could get first crack at a certain number of spots, then state residents, then everyone else. A nominal fee could be charged for reservations, with the money used to maintain the lots.
We can imagine an extensive shuttle service making stops in Lake Placid and at trailheads throughout the region, in Keene Valley, Wilmington and Saranac Lake. We can also imagine the state investing in staff so that, for example, stewards can be stationed at trailheads as well as summits, to ensure that hikers are prepared for the climb before they start.
The best thing would be a comprehensive plan to spread out wilderness tourism and relieve congestion at hotspots. Second-best would be to jump right in with certain strategies, like a parking reservation system or an expanded shuttle service, and see how well they work. Either way, some of our most beautiful Adirondack spots are getting loved to death, and the time has come to save them.
Local editorials represent the opinion of the Post-Star editorial board, which consists of Editor Ken Tingley, Projects Editor Will Doolittle, Publisher/Controller/Operations Director Brian Corcoran and citizen representatives Connie Bosse, Barb Sealy and Alan Whitcomb.