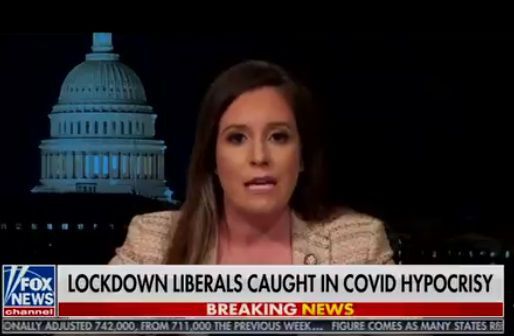 On Nov. 20, a man named Ben Domenech, well-known in Washington, D.C. as a spouter of political opinions but unknown everywhere else, used his Twitter account to accuse Gov. Andrew Cuomo of murder:
"Andrew Cuomo deserves to be on trial for the elderly people his nursing home order directly murdered. Instead, he's getting an Emmy."
Our congresswoman, Elise Stefanik, retweeted it, but at some point later, removed the Tweet from her feed. That has been the only time, since the election, she has stepped back from a series of vehement attacks on the governor of her state.
Here is a sampling from the last week:
Nov. 23, on Cuomo criticizing sheriffs for saying they wouldn't enforce COVID restrictions:
"Worst Governor in America strikes again calling Upstate sheriffs dictators. I proudly stand with our duly elected Upstate Sheriffs! Unlike NY's tyrannical embarrassment of a Governor (who is despised Upstate), we proudly back the Blue! And we are GRATEFUL for our Sheriffs!"
Nov. 23, referring to Cuomo's stated intention to spend Thanksgiving with his mother and two daughters (a plan he later changed after criticism):
"This is one of the many reasons why Cuomo is the WORST Governor in America. His arrogance and hypocrisy knows no bounds. Do as I say, not as I do. Rules for thee, but not for me. Family for me, but none for you. A despised, hypocritical, tyrannical, hubris-laden Governor."
Nov. 23, referring to a Fox News clip:
"WATCH. I joined Guest Host @TGowdySC & Rep. @leezeldin on @seanhannity to talk about the WORST Governor in America. Cuomo wants to stop our families from safely spending Thanksgiving together ... meanwhile, thousands of seniors died due to his COVID nursing homes policy."
In the clip, a grinning Stefanik calls Cuomo "Doctor Death" and "the worst governor in America" and calls his work on the coronavirus an "abject failure."
Nov. 25, in reaction to a Washington Examiner story about Cuomo's Thanksgiving plans:
"This is one of the many reasons why Cuomo is the WORST Governor in America. His arrogance and hypocrisy knows no bounds. Do as I say, not as I do. Rules for thee, but not for me. Family for me, but not for you."
Nov. 25, reacting to a news clip of Cuomo being greeted by protesters in the Rochester area:
"Worst Governor in America strikes again."
Nov. 27, on Cuomo's reaction to a Supreme Court decision, allowing church gatherings despite state restrictions:
"The Worst Governor in America calls the United States Supreme Court irrelevant. The Worst Governor in America believes he has the right to shred New Yorkers Constitutional rights. The Worst Governor in America continues to be a disgrace"
Nov. 30, reacting to story in the NY Post on the shuttering of numerous small businesses:
"Small businesses are the backbone of a healthy Main Street economy. This is inexcusable & a failure of state leadership. I worked to successfully deliver > $250m to small businesses in #NY21 through the CARES Act while the worst Governor in America shut them down w/ zero support."
On Tuesday, Stefanik did an interview on Newsmax, a cable channel to the right of Fox News, in which she defended President Donald Trump's efforts to overturn the presidential election and called Joe Biden's margin of victory in Georgia, Pennsylvania, Arizona and Wisconsin "razor-thin."
Biden's margin in Pennsylvania, the biggest prize of the four, was more than 80,000 votes, almost double Trump's margin over Hillary Clinton in 2016.
Stefanik also said on the show, "there are examples of people who are dead, casting ballots," and, in reference to the tight race in New York's 22nd District between Congressman Anthony Brindisi and his challenger, Claudia Tenney, said, "There are dead people who have cast votes right there."
Although that sounds like an amazing story, what happened was three people in the district who cast their ballots in early voting died before Election Day. This was detected by election inspectors and, per New York law, the ballots were thrown out. The system worked as intended.
On Monday, Stefanik called for the withdrawal of Joe Biden's nomination of Neera Tanden to lead the Office of Management and Budget, because of her past criticisms on Twitter of Republicans, such as her use of the hashtag "Moscow Mitch" in reference to Mitch McConnell.
"This radioactive reception is deserved," Stefanik wrote. "This nomination must be immediately withdrawn. Her vicious hate-fueled statements disqualify her from any senior level Cabinet or any Senate confirmed position now or in the future."
As pointed out by Brian Mann, National Public Radio's reporter in northern New York, it's rich for Stefanik to criticize a political nominee for tweets, considering the aggressiveness of her own Twitter feed and the lies and insults that riddle the Twitter feed of the president she continues to support, Donald Trump.
We are flummoxed by the behavior of our congresswoman. Her campaign against an honorable opponent, Tedra Cobb, was relentlessly negative. Instead of getting back to business after the election, she has spent her time supporting tales being told by Trump and his lawyers that have been discredited in courts nationwide.
She can't stop blaming the governor for deaths in nursing homes, but why isn't she pushing for a stimulus bill that would provide New Yorkers and millions of other Americans with pandemic relief they need?
She seems not to have assimilated that Trump lost the election. He also lost a lot of the local area — carrying Warren County by just 57 votes and losing Saratoga, Rensselaer, Clinton and Essex counties by substantial margins.
We don't know what her loyalty to Trump buys her now, as his time in office gets short and his destructiveness to the country's institutions grows. She was elected to serve a large district in upstate New York, home to people of various political persuasions, all of whom could use an effective advocate in Congress. We'd love to see her recall that soon.
Local editorials are written by the Post-Star editorial board, which includes Ben Rogers, president and director of local sales and marketing; Brian Corcoran, regional finance director and former publisher; Will Doolittle, projects editor; and Bob Condon, local news editor.