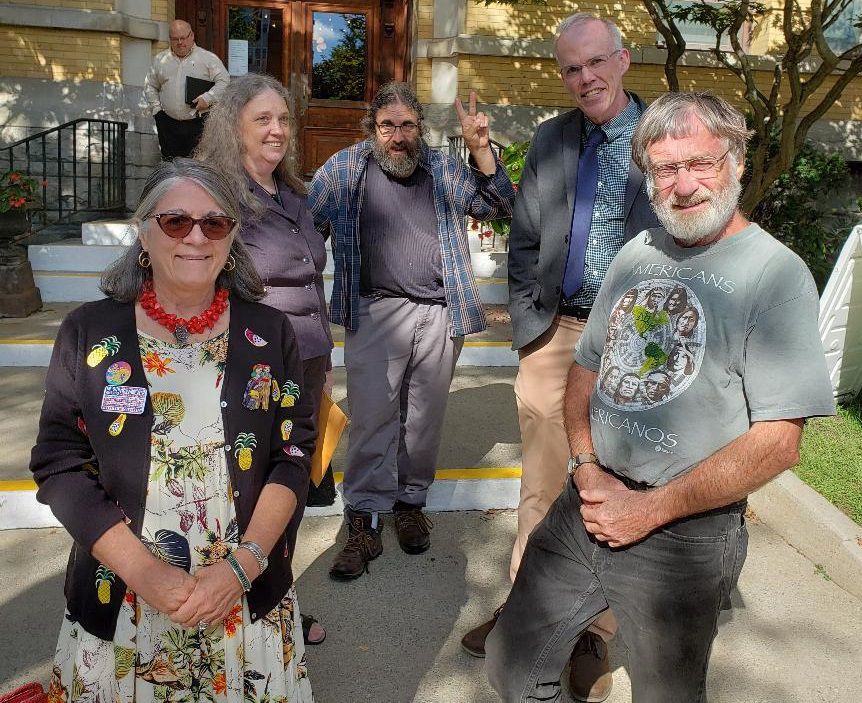 If Rep. Elise Stefanik ever actually spent time in her office in downtown Glens Falls, she would only have to look out the window to understand the contentious debate going on in her district.
It has been robust, boisterous, and at times, a little ugly right here in Glens Falls.
That's American democracy at work.
We get to yell, scream, and sometimes misbehave, so our viewpoints can be heard.
That's a big part of Rep. Stefanik's job. She is supposed to be listening, not only to those who agree with her, but especially to those who don't.
That may not be pleasant, but it is important.
Unfortunately, we fear Rep. Stefanik has stopped listening.
During a demonstration on immigration outside her office last month, six people were arrested.
Their crime? They wanted to talk to Rep. Stefanik.
They suggested they talk by phone or on Skype.
They were told the office was immediately closing and that the police had been called.
GLENS FALLS — The attorney for the six people arrested last month for refusing to leave the Glens Falls office of U.S. Rep. Elise Stefanik is …
They were arrested for trespassing.
After their court appearance in Glens Falls on Thursday, a reporter snapped a photo of this dastardly group of desperados that had forced the closure of a congressional office. It is published on this page.
We don't want the Glens Falls 6 to take offense, but they were a little beyond middle age, and frankly, they didn't look that dangerous to us.
In court on Thursday, their lawyer argued that the charges should be reduced, because they never ventured beyond the public lobby of the congresswoman's office.
Our newsroom has some experience in this regard. It is not unusual for a reader to come to the newspaper and demand to talk to an editor or reporter.
Here's how we handle it: We talk to them.
Often they have complaints, often they are irritated and occasionally even threatening, but we talk to them and listen to their complaint.
As far as we can remember, we haven't had anyone arrested.
That type of frank one-on-one talk with constituents appears to be absent from your toolbox as a sitting congresswoman.
Instead of picking up the phone, or making an appointment for a later time, she had six people arrested.
Let's consider that for a second. A sitting congresswoman had six people arrested in Glens Falls because she didn't want to talk to them.
Earlier this month, we chastised Rep. Stefanik for having one of the worst records among upstate members of Congress for holding town hall meetings.
She has held none during the summer break.
The day after we chastised Rep. Stefanik for not holding any town hall meetings, a press release appeared on her website celebrating her 1,000th event since taking office in 2015.
The event was the Bassmaster Elite Series Tournament in Waddington.
Apparently, you need a fishing license if you want to hold court with our congresswoman.
We've heard complaints from many readers that Rep. Stefanik has not responded to serious questions about such issues as gun control and immigration.
They say their phone calls go unreturned and their letters unanswered.
We might suggest asking about fishing.
It's hard not to come to the conclusion that Rep. Stefanik is going out of her way to avoid seeing any of us in the 21st Congressional District, especially this editorial board.
While we believe we have been fair in our criticisms, we are always available to hear her side of the story.
While Rep. Stefanik had a robust schedule of community events at the end of July — these are mostly photo opportunities for constituents or tours of businesses — she did make a congressional fact-finding trip to Israel in the middle of the month, which should help dairy farmers in Washington County immensely.
We were surprised to learn that she also held an economic development roundtable in Corinth on Aug. 22 that was lightly attended, according to a story in the Albany Times-Union.
When we asked our friends at the T-U how they learned of the event, they said they were alerted by the congresswoman's office.
The Post-Star was not alerted, which might explain why it was lightly attended.
We understand it is no fun to stand up and answer difficult questions, but that is the job of every member of Congress.
To show she understands this, her office should drop the charges against the Glens Falls 6 in the name of free speech.
Post-Star editorials represent the opinion of The Post-Star's editorial board, which consists of Interim Publisher Brian Corcoran, Editor Ken Tingley, Projects Editor Will Doolittle and citizen representatives Connie Bosse, Barbara Sealy and Alan Whitcomb.
Catch the latest in Opinion
Get opinion pieces, letters and editorials sent directly to your inbox weekly!