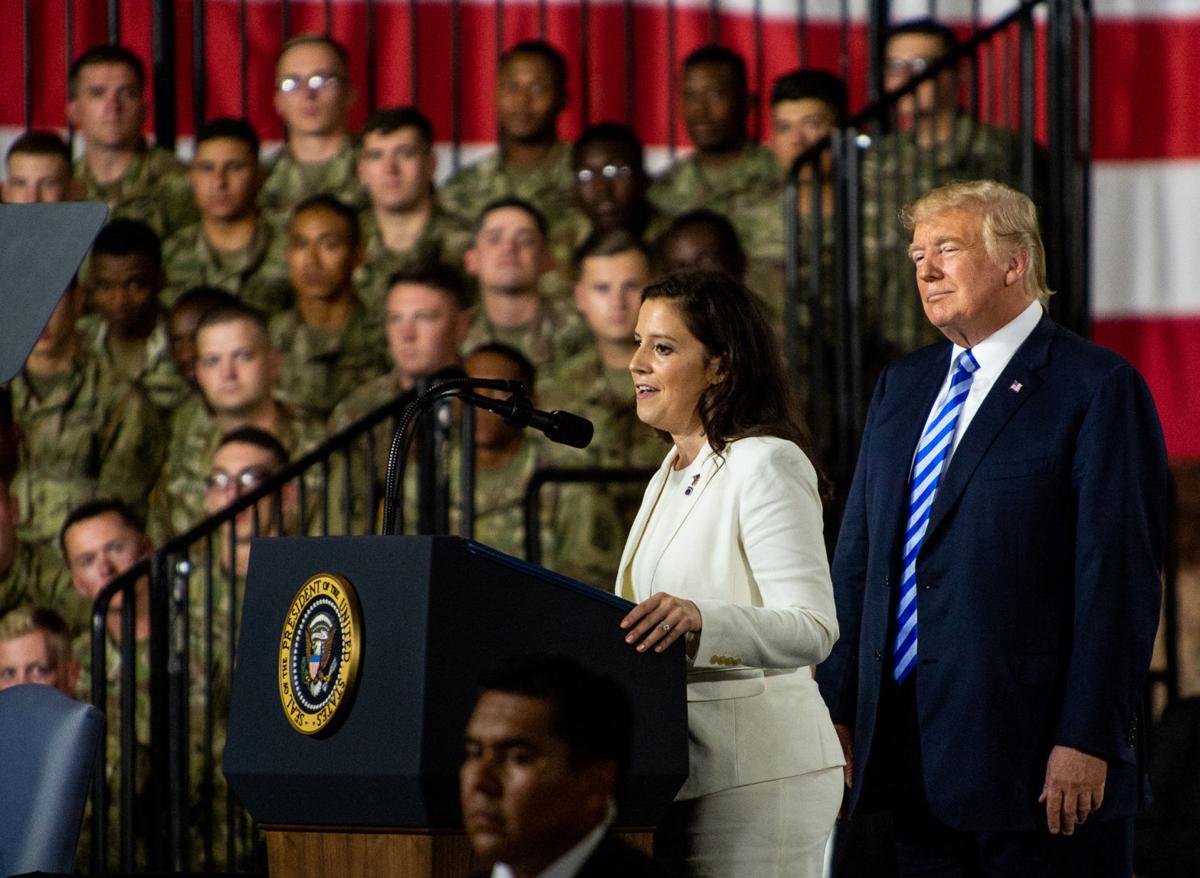 What a difference five years makes.
In November 2014, Elise Stefanik became, at 30, the youngest woman ever elected to Congress. She was unpolished and unsure of herself.
In August of that year, as she was campaigning, she held a press conference in front of the Glens Falls Senior Center to talk about her support for Social Security and Medicare. She took a few questions, then was asked to clarify her position. Abruptly, she walked away.
The press conference, scheduled for half an hour, lasted just 8 minutes.
Despite her inexperience and the occasional attack of nerves, she won the election and seemed to be working hard in Washington. In 2016, The Post-Star supported her for re-election.
She had come to the newspaper earlier that year and expressed confidence the Republican nominee would not be Donald Trump, whom she seemed to hold in low regard.
"I will support the nominee, and I'm sure that will not be Donald Trump," she said.
Things have changed for Stefanik, who now embraces a bad president to safeguard her job. She no longer gets flustered by tough questions — mostly, she doesn't give anyone the chance to ask them. Instead, she parrots the Trump line on Fox News and lets her attack-dog spokesman argue with reporters on Twitter.
If her integrity has been sacrificed, that isn't worth a shrug. She calls for the whistleblower to be outed and avoids talking about the way Trump held military aid to Ukraine hostage to his demand for an investigation of Joe Biden.
She will differ with Trump's policies here and there. But when it comes to critical questions of presidential character and patriotism and job performance, she is a loyal mouthpiece for Trump's talking points.
We have seen so many people with good reputations trying to salvage what is left of them after leaving the Trump administration. Even the former speaker of the House, Paul Ryan, tried to speak out after working with Trump for a year and a half, then fleeing Congress:
"We've gotten so numb to it all. Not in government, but where we live our lives. We have a responsibility to try and rebuild. Don't call a woman a 'horse face.' Don't cheat on your wife. Don't cheat on anything. Be a good person. Set a good example. And prop up other institutions that do the same. You know?"
Ryan talked about how incompetent Trump was, how bad his instincts and impulses were, and how hard he, Ryan, had worked to keep Trump in check to protect the country.
But the effect of Ryan's work was to legitimize Trump while he consolidated his grip on the Republican Party. That grip is now strangling our institutions and undermining what does, actually, make America a great country.
Stefanik is an adult, with more resources than most people, and she makes her own choices. But it is sad to see a young person with promise and energy and intelligence sink to this.
In a different time, she could have grown into a position of power and respect; instead, she is another Trump acolyte, tossing buzzwords to the mob and crying "fake news" at every fact she wishes would go away.
It's not too late for her to choose honesty and honor. But we fear that won't happen, because she has been going the opposite way, becoming more partisan, more disingenuous and irrational.
Someday, maybe, Elise Stefanik will be far enough removed from the Trump era that, like Paul Ryan, she will admit how bad it all was. But it won't matter then. Now is the time to speak up. Later will be much too late.
Local editorials represent the opinion of the Post-Star editorial board, which consists of Editor Ken Tingley, Projects Editor Will Doolittle, Publisher/Controller/Operations Director Brian Corcoran and citizen representatives Connie Bosse, Barb Sealy and Alan Matrose.
Catch the latest in Opinion
Get opinion pieces, letters and editorials sent directly to your inbox weekly!