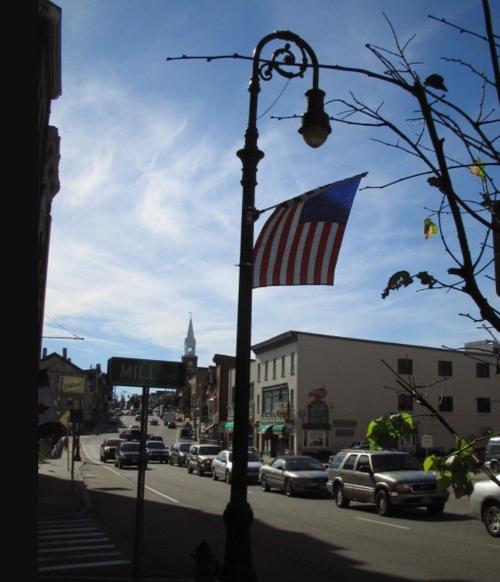 The police reform mandate imposed by the state has been treated by some local police departments as a burden, by some as an opportunity and by at least one as a joke.
That one is Malone, a village of about 5,600 people in northern Franklin County, close to the Canadian border. Three state prisons are located in Malone, which makes the prison system the community's largest employer.
Prison work is harsh and stressful. But the report of the Malone police reform committee, which goes into florid detail about the village's history and the caring, supportive nature of the community, mentions the prisons once in passing and does not comment on the influence of prison employment on the community.
The report, written by retired professor Calvin Luther Martin, reads more like a presentation to a county historical society than a police reform plan. It has to be read to be believed, so here are some excerpts:
"Beginning in the '70s, Malone began a long, steep decline. The chief culprit was globalism … Malone fell victim to a series of international free-trade agreements.
"We are happy to report that under the current mayor and board of trustees, the village is experiencing a renaissance. Lazarus is out of the grave."
"It is significant that Malone is extraordinarily homogeneous in terms of country of origin. The predominant cultural and social heritage is French-Canadian. … And what's not French-Canadian tends to be of Irish origin."
"Such African-Americans as there are in town are remarkably few and, for reasons not entirely clear, they seem transient, living here a year or two and then leaving. …
"As for gays and lesbians, etc., the committee could see no evidence that there is any police discrimination against them.
"In sum, the committee found no evidence that the police are racially or otherwise discriminatory toward any villagers."
"Being a real, honest-to-god community, people are well aware of acts of heroism and compassion and kindness from the police." [The report then details a bad accident in which an officer stayed with and spoke to a teenager who was badly injured and trapped in a car. She later died at the hospital.] " … She began her journey into eternity with an angel, Patrolman Mark Smith, holding her." [The report then recounts a "spectacular fire on Morton St several years ago," in which two officers helped to rescue a man. After the man was safe, the report says, "Preve and Hebert held their breath, said a prayer, and fled the inferno. They then resumed their shift."]
"It's worth adding that the police are not infrequently injured by people they are endeavoring to apprehend. Chief Premo can speak to this from personal experience, for he has on at least one occasion been injured by someone deranged." [The report tells another story, of a sergeant who was "brutally beaten by an enraged man." It concludes, "When reinforcement arrived, the sergeant calmly stood up and arrested the man. The sergeant then went to the hospital to have his injuries treated. Such is the mettle of this police department."]
Of Chief Christopher Premo, the report says, "… By all accounts and indices, he is an outstanding chief. … He has recruited superb officers and molded them into a lean, efficient, community-oriented squad. … The committee is unequivocal in its support of Chief Premo. We give him and his officers a standing ovation."
Under "Recommendations," the report includes suggestions for the police to participate, "as appropriate," in mental health training and crisis intervention and recommends the department use a speech recognition program for record-keeping. It then suggests the state spend less money on renewable energy projects and more on subsidies for upstate towns and villages: "We are aware that the billions being poured into wind energy have, so far, produced negligible power to the state grid. This being a polite way of saying that the money appears to be chasing a fantasy."
Finally, the report devotes a long paragraph to the outstanding attributes of the mayor, Andrea Dumas, who is also on the reform committee. It ends with this: "The mayor meets with the chief several times a week. The committee anticipates that the two of them will work closely in bringing these recommendations to fruition. And should they hit a roadblock, we have no doubt that, between them, they will figure out an ideal workaround, just as Malone has done for the past 200 years, and counting."
This is not a report on police reform. It is a collection of one man's historical anecdotes, lionized tales of police heroism, flattery of the mayor and political opinions. As an official document, it's an embarrassment.
Malone's officials indicated to Emily Russell, a reporter for North Country Public Radio, they might make changes to the plan (her story appears in Tuesday's paper, on the front of the local section).
This is an example of what is wrong with the way some communities have approached the reform mandate — the defensiveness, the failure to dig for ways their department could do better.
The reports must be sent to the state by April 1, and we doubt reports like Malone's will be substantially rethought or amended. The only appropriate course now is for the state to reject this report and any others like it and insist they be redone — seriously this time.
Local editorials are written by the Post-Star editorial board, which includes Ben Rogers, president and director of local sales and marketing; Brian Corcoran, regional finance director and former publisher; Will Doolittle, projects editor; and Bob Condon, local news editor.